It is amazing sometimes that just by browsing the news you can piece together a totally different picture from a single original news item. Here are three items I came across in the past few days:

Pickens: Oil Will Reach $300 a Barrel
"Oil legend T. Boone Pickens, now CEO of BP Capital, says oil prices will continue to rise… So, 10 years from now, the price of oil could well be $300."
DOE to Spend $300 Million on Alternative Vehicles
"The U.S. Department of Energy..will allocate nearly $300 million from the American Recovery and Reinvestment Act to help fund the development of alternative fuel and energy efficient vehicles displacing approximately 38 million gallons of petroleum per year."
**Note: To put it in perspective, based on the US EIA data, dometic gasoline consumption is estimated at 378 million gallons PER DAY.
U.S. Automakers' Small-Car Output May Outstrip Demand
General Motors Co. (NYSE:GRM), Ford Motor Co. (NYSE:F) and Chrysler Group LLC plan a 63% boost in small-car production capacity by 2015 that may outstrip demand since consumers may not be ready for that many small autos. The small-car push is being driven in part by the U.S. requirement that auto fuel efficiency rise about 40% to an average of 35 miles per gallon by 2016. Automakers also are tapping sources such as the Energy Department's $25 billion loan program to develop more fuel- efficient vehicles."
Related Thoughts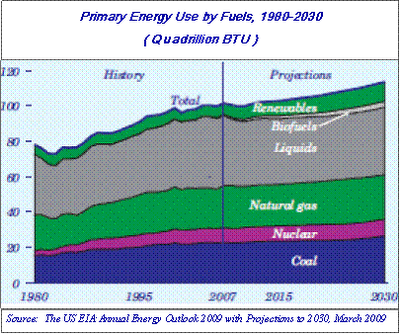 Unlike other commodities, oil has a long, complex and global chain of supply going from offshore platforms, pipelines, tankers, ports all the way into storage, refineries and ultimately, gas stations. This is one of the reasons that oil is probably the most volatile commodity attracting the most speculators. Demand, mostly from exploding emerging economies, had outstripped supplies over the past 5 years. Speculators further exacerbated the market fundamentals and drove oil prices to historical highs last year.

Now, high oil/gasoline prices, the economic crisis and concerns over global warming have been three of the major factors leading to an increasing interest in alternative fuels and vehicles. The battery powered electric vehicle market is slowly developing while the hybrid electric vehicle market, including plug-in hybrid electric vehicles ((PHEV)), and electrical vehicles ((EV)) could move ahead more rapidly. Fuel cell vehicles, however, are in the prototype state and most likely will be late to fully participate in the big new green transportation game. Meanwhile, natural gas vehicles (NGVs) and hydrogen as alternative fuels for vehicles have their own infrastructure and storage challenges.

A study dated March 2009 by the IEA Hybrid & Electric Vehicle Implementation Agreement representing 12 member countries including the US, France & Italy, noted that the growth of the sales share of hybrids is expected to continue; however, supply might be limited due to the battery production bottleneck. The study further projects the share of hybrid cars in 2015 for new car sales is expected to below 10%. And the EV share of new car sales in 2015 is expected to be well below that 10%. The forecast by Just-Auto in 2009 believes that conventional hybrids such as the Prius from Toyota Motor (NYSE:TM) will represent 3% to 8% of global light vehicle production by 2015. Other plug-in vehicles, such as Volt by General Motor (GRM) will take a much lower share.

Some of the most cited reasons EVs or PHEVs are not used on a large scale includes high initial purchase price as batteries are still expensive, concerns over adequate supplies of electricity; the lack of production and maintenance infrastructure, and limited battery range. Though alternative vehicles still have ways to go due to various production and technical constraints, the evolution and growth is bound to continue through aggressive government subsidy policies and consumer demand.

However, the fact remains that most of the alternative energy and vehicle industry currently are not economically competitive with conventional industries without substantial government funding and subsidies (i.e., taxpayers' money). Another fact: We are still in the midst of the longest U.S. recession since the Great Depression with a real unemployment rate at 16%. In light of our newly upward revised $9+ trillion budget deficit running in the next 10 years, now is probably not the time to spend billions to fund programs not directly reviving the economy. It makes common sense that those funds could be better utilized elsewhere in the economy to create a more immediate impact.

We also need to come to a common understanding that the world needs all sources of energy, conventional as well as alternative. Worldwide energy consumption is projected to rise more than 50% by 2030, with most of that growth in emerging economies, such as China and India. Even if the use of renewables doubles or triples over the next 20 years, the world is likely to still depend on fossil fuels for about 70-85% of its energy needs, based on various forecasts. (see graph)

It is imperative that we keep investing and developing in all forms of energy to maintain a healthy and competitive energy market without any favoritism or politics. Otherwise, the emergence of lithium (used in batteries to power EVs) as a strategic commodity, and the geopolitics associated with electricity as the primary vehicle power source will mean that the alternative fuel or the hybrid/EV battery market could end up with the same volatility and speculation as the current crude oil market.

Disclosure: No Positions