Detroit's bankruptcy filing has sparked significant interest among municipal bond investors. Although Detroit represents the latest (and the biggest) in a recent string of high profile filings, municipal bankruptcies are still rare events. We will consider Detroit's options and the prospects for investors in its bonds in a future article. First, though, we will take a tour of the recent Chapter 9 landscape in Part 1 of this article. Then, we will take a look at some of the recent notable bankruptcies and distressed credits in Part 2.
Chapter 9 of the bankruptcy code was originally enacted by Congress in 1934 during the Great Depression. The law was originally deemed unconstitutional by the Supreme Court because it interfered with the sovereign power of states guaranteed under the Tenth Amendment to the U.S. Constitution. Congress has long since tweaked the law to ensure state sovereignty.
Chapter 9 cases are rare. According to "Bankruptcy Basics," a publication of the Administrative Office of the U.S. Court System, fewer than 500 municipal bankruptcy cases were filed from 1934 to 2011. Yet, five of the six largest cases in municipal bond history have occurred over the past five years.
| | | | |
| --- | --- | --- | --- |
| Municipality | Debt | Population | Year of Filing |
| Detroit MI | $18.0 billion | 701,000 | 2013 |
| Jefferson County AL | 4.2 billion | 659,000 | 2011 |
| Orange County CA | 2.0 billion | 2,400,000 | 1994 |
| Stockton CA | 1.0 billion | 292,000 | 2012 |
| San Bernardino CA | 492 million | 213,000 | 2012 |
| Vallejo, CA | 175 million | 116,000 | 2008 |
Source: James Spiotto, Chapman and Cutler, via the New York Times
As with the other chapters of the bankruptcy code, Chapter 9 provides municipalities with relief from creditors for a limited period of time, so that the municipality can craft and negotiate a plan for reducing its debt. It differs from the other chapters, however, by taking a much more hands-off approach to the reorganization process. For example, unlike corporate bankruptcies, there is no procedure for liquidating the assets of a municipality and distributing the proceeds to creditors because court authorized liquidations would interfere with states' rights.
The role of the bankruptcy court in Chapter 9 cases is generally limited to approving the bankruptcy petition, confirming the debt adjustment plan and ensuring its implementation. The bankruptcy court may become more involved in certain cases to resolve interjurisdictional disputes.
Since the court cannot interfere with governmental powers or property rights, it has substantially less involvement in the daily activities of municipal debtors. Municipal debtors can also borrow money and hire professionals without bankruptcy court approval. Trustees appointed by the court do not have supervisory authority over the municipality. The municipality has no reporting obligations to the trustee. The trustee's role is therefore usually limited to appointing the creditors' committee.
There is one important limitation on the principle of states' rights. A state cannot force creditors to accept a reduction of their claims by passing a law that mandates a specific debt structure (i.e. composition of debt) for the municipality. Doing so would violate the "Contracts Clause" of the U.S. Constitution. Any reduction in creditor claims, therefore, must be incorporated into the debt adjustment plan and either agreed to by the creditors or forced upon them under the process and procedures for plan approval specified under the bankruptcy code.
With these limitations, one of the primary powers of the bankruptcy court is the right to declare the municipality eligible for relief under Chapter 9. If the court determines that the municipality is not adjudicating its case properly and fairly, it can revoke the municipality's eligibility and dismiss the case.
In order to be eligible for the protections afforded under the federal bankruptcy code, a municipality (defined as a political subdivision or public agency or instrumentality of the state) must demonstrate that:
It is authorized as a municipality under the laws of its state (or by the proper authorities within the state) to file for bankruptcy protection;
It is insolvent;
It has or wants to develop and implement a plan to adjust its debts; and
It has either:
a. Reached agreement with a majority of creditors in each class that it intends to impair to a debt restructuring plan;
b. Negotiated in good faith with any creditors from which it has not obtained the required consents to its debt restructuring plan;
c. Been unable to negotiate with such creditors because negotiations are impractical; or
d. Believes that a creditor may seek to obtain a preference.
Chapter 9 is often a difficult process. Creditors typically oppose eligibility, which can delay the acceptance of the petition by the bankruptcy court. Although demonstrating that current resources (i.e. revenues and reserves) are not sufficient to meet operating expenditures and service the debt is often straightforward, municipalities have other potential sources of revenue at their disposal, (for example, they can raise taxes and obtain funds from the state) which could avoid or limit any potential impairment. Once the petition is accepted by the court, the parties must then turn their attention to negotiating a bankruptcy plan.
The purpose of Chapter 9 is to protect municipalities from creditors while they negotiate a plan for adjusting their debts. Those adjustments can include extending maturities, reducing interest and principal payments and refinancing existing debt obligations. As with corporate bankruptcy filings, municipal debtors benefit from the "automatic stay" that prohibits creditors from takings actions against a debtor in order to enforce their claims. Municipal debtors also have the right to accept or reject executory contracts. They can keep any existing contracts provided that they fulfill all of their terms, including paying all arrearages.
Unlike corporate debtors, however, municipalities are not bound by the process established under section 1113 of the bankruptcy code for rejecting labor contracts. (This would interfere with states' rights.) Instead, they only have to show, after a careful analysis, that the municipality is burdened by the labor contract, that it would be better off without it, and that it has been unable to negotiate a better agreement with the employees covered under it.
The municipality must propose a bankruptcy plan either with the filing of its petition or at a time designated by the bankruptcy court. Creditors do not have the right to propose any alternative plans. The bankruptcy court will confirm the plan if (A) the plan meets the requirements under Chapter 9 and other applicable provisions of the bankruptcy code; (B) provision is made to pay all expenses associated with the plan and such expenses are reasonable; (C) the debtor is not prohibited by law from implementing any aspect of the plan; (D) certain claims (as specified under section 507(1) of the code) which are entitled to be paid in cash will, in fact, be paid, unless some other arrangement is made; (E) any regulatory or electoral approval required under nonbankruptcy law has been obtained; and (F) the plan is in the best interest of creditors and is feasible.
The plan is deemed to be in the best interest of creditors if a majority of the creditors of each class of impaired claims votes in favor of it. If a class of claims is unimpaired, its vote is not required. The municipality can affect a "cram down" of the plan (i.e. force the plan on dissenting creditors), if a majority of at least one class of impaired claims votes affirmatively and the debtor can show that the plan does not discriminate unfairly and is fair and equitable.
One of the big issues facing the Detroit bankruptcy is the potential treatment of holders of the city's general obligation bonds. The bankruptcy code clearly states that such bonds are general unsecured obligations. Accordingly, the municipality can and often does suspend interest and principal payments on general obligation bonds in a bankruptcy proceeding. Municipal bond investors have generally held the belief that such bonds would have a preference in bankruptcy proceedings over other unsecured claims, especially pension obligations.
Meanwhile, municipal revenue bonds, such as water and sewer system bonds, are entitled to be paid from the revenues generated by the assets that they financed (after deducting operating expenses). If the surplus revenues generated by these assets are sufficient, they will and typically do receive payment of interest and principal during the course of the bankruptcy proceedings.
Pension obligations are generally unsecured claims that may have additional protections. For example, many states provide support or guarantee the pension plans of their municipalities. Such support could conceivably eliminate or help to offset any potential impairments that would be imposed by municipal debtors.
Compared to the potent provisions available under Chapters 7 and 11 of the bankruptcy code, which provide significant tools to protect the rights of both debtors and creditors and give the court powers to influence the course of the restructuring process, Chapter 9 is clearly much more of a blunt instrument. Although the protections afforded to states' rights under the Tenth Amendment to the Constitution clearly limit the bankruptcy court's ability to steer the bankruptcy process, certain provisions, such as the determination of Chapter 9 eligibility and bankruptcy plan voting procedures do offer some valuable tools for the court to protect the rights of creditors. Like many things in life, the best outcomes in Chapter 9 filings are often those that require all interested parties to share fairly in the pains caused by the debt restructuring.
The Growing Pension Tsunami
Pension costs are a very large and growing burden for many states and municipalities. By most estimates, the collective pension liabilities of the 50 states exceeds $1.0 trillion. Moody's says that these pensions are 52% underfunded. States are paying only about 80% of their required annual contributions.
Few states have begun to address this problem. Only a handful have converted their pension schemes for new workers from defined benefit to defined contribution. Some states may tweak their offerings by pushing out retirement ages, lengthening the salary period upon which the pension amount is calculated or reducing payout formulas, but these remedies in most cases can only be applied to new workers.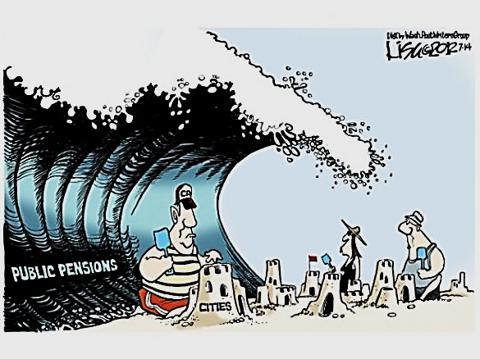 Lisa Benson, Washington Post Writers Group
In most states, government worker pension plans are protected by state law or sometimes enshrined in state constitutions. As the Economist has pointed out recently, the ability to modify governmental pension plans may rest on whether the pension obligations are viewed as property interests or contracts. If property interests, then changes are fairly straightforward. If contracts, then it is much trickier, because any effort by the states themselves to change the contract by passing new legislation could run afoul of Contracts Clause of the U.S. Constitution.
As more baby boomers retire, the ranks of pensioners will grow steadily. For many municipalities, pensioners already outnumber active workers. Left unchecked, pension and retiree healthcare costs represent a growing burden that will eventually become unbearable for many state and local governments. How and when this problem will get solved, however, is unclear. Final outcomes and the potential impact on municipal bondholders will vary depending upon the individual circumstances - including the laws, demographics, financial position and economic condition - of each municipality and state.
Meredith Whitney and the Muni Bond Scare of December 2010
With the onset of the financial crisis, huge holes began to open up in state and local government budgets. The Obama administration helped to plug these gaps by including $160 billion of grants and transfer payments to states in the Federal government's stimulus program. This gave the states (and their municipal governments) time to align their operating costs to lower levels of tax revenues. Most states cut spending sharply. Many state and local government workers were laid off.
In a December 2010 interview on CBS's 60 minutes, Meredith Whitney caused a stir by predicting that between 50 and 100 municipalities with hundreds of billions of debt outstanding would default on their outstanding debt obligations within the next 12 months. Besides the strains already evident in state and local budgets, Ms. Whitney based her prediction in part on the imminent Spring 2011 expiration of the Federal government's stimulus.
To be sure, muni bonds were already slipping by the time of Ms. Whitney's 60 Minutes interview. They continued to slide after the interview, causing full year performance for the muni bond sector to drop sharply. In 2010, the Barclay's Municipal Total Return Index earned 2.3%, down from 12.9% in 2009. Investor flight also forced issuers to trim back their offerings from $460 billion in 2010 to $320 billion in 2011.
Ms. Whitney's assertions were challenged immediately by many municipal bond analysts. Of course, her predictions of hundreds of billions of defaults within a 12-month time frame did not come true. Most states are now reporting rising tax revenues and increasing budget surpluses, due in large part to the steady recovery of the U.S. economy. However, some of the recent gains may prove to be temporary. For example, a large part of the revenue increase in most states is due to a one-time rise in capital gains taxes, as investors sold stocks ahead of anticipated increases in federal tax rates.
With Detroit's $18 billion bankruptcy filing on July 19, concerns about widespread defaults in the muni sector have once again resurfaced. Ms. Whitney has reiterated her prediction of a coming wave of municipal bankruptcies. (A recent op-ed by her in the U.S. edition of the Financial Times was entitled "Detroit may start a wave of municipal bankruptcies.") Others, including Standard & Poor's and Morningstar do not see Detroit as the start of a new surge in bankruptcy filings.
The more important observation by Ms. Whitney in her FT article centers on the potential impact of the precedents that Detroit's bankruptcy filing may set. Because the city's financial problems are so deep, it is likely that significant concessions will have to be made by taxpayers, city workers (and retirees) and investors. Long-held beliefs, such as the priority of general obligation municipal bonds over pension claims, could conceivably be upended. The resolution of these issues could very well reverberate throughout the muni sector and have a meaningful impact on the recoveries by bondholders in other municipal bankruptcy filings across the country.
Improving the Transparency of Municipal Bond Issues and Issuers
Besides their growing pension and retiree healthcare burdens, Ms. Whitney was also critical about the lack of transparency in municipal credits, which she said was among the worst that she had ever seen. State and local governments are notorious for the stinginess of their disclosures, but a number of initiatives have been undertaken to begin to improve transparency.
One of these is EMMA, the Electronic Municipal Market Access website, a service of the Municipal Securities Rulemaking Board (MSRB). EMMA is the official repository of municipal bond disclosure documents, including official statements and continuing disclosures. It has a variety of market statistics and trading information on individual bonds (captured from the NASD's Trade Reporting and Compliance Engine (TRACE)). It also has educational resources for investors and financial advisors.
There has also recently been a push to improve market performance reporting, through the development of new indices. Many brokerage firms and some independent publications, such as Bond Buyer and Standard & Poor's, offer their proprietary market indexes and performance statistics for a fee; but the SEC is pushing for the development of benchmark indexes that are freely available and not subject to manipulation.
Some of the effort to improve disclosure has been initiated by the issuers themselves. For example, earlier this year the Commonwealth of Massachusetts launched www.massbondholder.com, a website that offers documents including information statements, continuing disclosures, comprehensive annual financial reports, budget documents and economic data. The Commonwealth also holds quarterly conference calls, replays of which are available on the website and posts copies of investor and ratings agency presentations there. In time, the state hopes to offer individual investors the ability to buy bonds directly through the website.
Other states have websites that facilitate the sale of their municipal bonds. For example, the state of California offers bonds through its website, www.buycaliforniabonds.com, but the site has very little in the way of disclosure.
The improvement of transparency in the muni market is a work in progress. The availability of market data, such as benchmark index performance figures and pricing and trading information on individual bonds should get better over time. Market ETFs have already carved out a sizeable niche and have helped shed more light on short-term market price moves.
Efforts are also underway to improve the timeliness and quality of issuer financial disclosures. Significant progress has already been made and more may be on the way. Investors will likely continue to push for better disclosures about pensions and retiree healthcare liabilities, for example; but it remains to be seen how far municipalities will go, especially those that face significant financial pressure.
Disclosure: I have no positions in any stocks mentioned, and no plans to initiate any positions within the next 72 hours. I wrote this article myself, and it expresses my own opinions. I am not receiving compensation for it (other than from Seeking Alpha). I have no business relationship with any company whose stock is mentioned in this article.