Last April, I wrote about eBay's revenue growth being an indicator of Amazon's growth rate due to recent converging trends between the two companies. As it turns out, the predictive value of eBay's results held in Q2.
The Relationship Revisited
Prior to 2011, there was not much of a distinguishable relationship between eBay and Amazon growth rates. Since then, however, there has been a pretty tight relationship between growth rate movements - albeit on slightly different scales.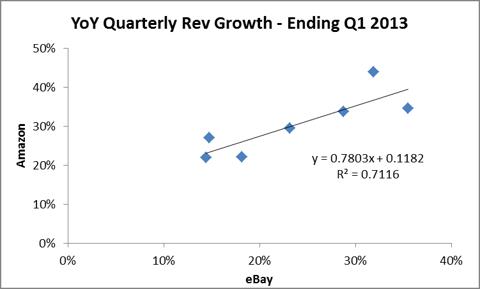 Without going into as much detail as the previous article, the updated equation used to calculate Amazon's Q2 growth rate is shown above. The goodness of fit metric (R2) actually increased from .63 at the end of Q4 to .71 when including Q1 data. Including the most recent Q2 data (which would be used to predict Amazon's Q3 growth rate when eBay reports Q3 earnings) increases the R2 to .75.
The Prediction
eBay reported revenue growth of 14.1% on July 17th. eBay's results (plugged into the above equation) implied a 22.8% growth rate for Amazon, which was on the high end of Amazon guidance (13% to 26%) and just a nose hair above revised consensus (22.4%). Roughly a week later (July 25th), Amazon reported Q2 revenue growth of 22.4%, in line with revised consensus and just a bit below the results predicted by eBay's growth rate.
The below chart shows actual Amazon growth rates over the last eight quarters compared to the predicted rates from the relationship to eBay over the same time period.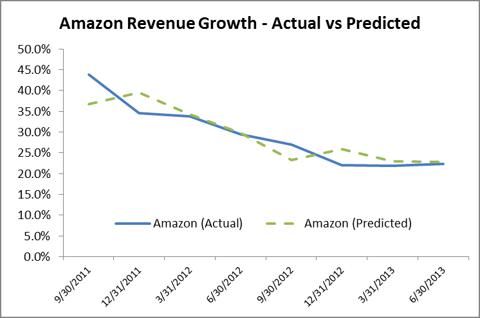 The Implications
It's no secret that Amazon does not trade on actual earnings, rather the stock seems to follow topline growth and 'future expectations'.

*YCharts
Though I would not use this approach as a standalone prediction of Amazon's growth rates, it can certainly be used as a sense check against other predictions. (Amazon guidance, consensus estimates, channel advisor reports, etc).
Having a well-rounded point of view on top-line growth is a good arrow to have in the quiver. Signs of slowing revenue growth could raise the risk of Amazon not being able to grow into its investments, which could impact the 'future expectations' portion of the stock price. Granted, Amazon's stock has continued to increase in the face of slowing revenue growth, but the company has continued to outpace overall e-commerce growth. Should Amazon ever fall below total e-commerce growth, the stock would likely come back down to earth.
Disclosure: I have no positions in any stocks mentioned, and no plans to initiate any positions within the next 72 hours. I wrote this article myself, and it expresses my own opinions. I am not receiving compensation for it (other than from Seeking Alpha). I have no business relationship with any company whose stock is mentioned in this article.