The 13 closed end fund (CEF) types on average were up 0.6% for the week ending 8/28/09. The S&P 500, as measured by the SPDR S&P 500 ETF (NYSEARCA:SPY), registered a gain of 0.4%. On an aggregate, unweighted basis, the weekly price increase for 630 CEFs was up 0.7%.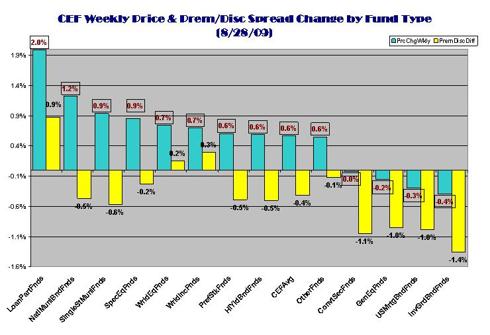 The weighted 51 CEFs comprising the Claymore CEF Index registered an average increase of 0.6% for the week. The 630 CEFs' aggregate, unweighted current distribution yield is 7.4% and is trading at a 4.6% discount (7.5% versus 4.2% the previous week, respectively). Year-to-date, CEFs on average have extended their price appreciation to 36.1%. (Click here for YTD CEF Performance)
The Eqcome CEF Fear Index increased for the week with 0.4% decline. The unweighted average price change was up 0.7% versus 1.1% for the related NAV. The CBOE Volatility Index (VIX), which typically moves inversely with the stock market, was off 1.0% as the S&P 500 (SPY) logged in an advance of 0.4%.
CEF Weekly Fund Type Performance: LoanPartFnds was the strongest fund type for the week, up 2.0%. This group is typically responsive to either an increase in credit quality or an expectation of higher inflation. (Typically the net asset value is based on loans that float with LIBOR or the prime rate.) The average spread between the price and NAV (PrcNAVSprd) was 0.9% indicating that investors were bidding up the group.
The strength in munis carried over from the previous week. NatMuniBndFnds and SingleStMuniFnds were up on average, 1.2% and 0.9%, respectively. The muni PrcNAVSprd indicated that NAVs increased greater than prices. This may indicate an upward revaluation of muni asset values. JPMorgan Chase stepped up with a $1.5 billion loan for California to finance its outstanding IOU's.
At the other end of the spectrum was USMrtgBndFnds down 0.3%. This was a curious mix considering better housing numbers and further deterioration in the regional banking sector; bank failures rose to 84. InvGrdBndFnds was the biggest laggard, off 0.4%.
If one were to pair the performance of LoanPartFnds and InvGrdBndFnds, the one common characteristic is credit quality. Yet their performance was disparate cancelling out that element. The other common element is inflation expectations. LoanPartFnds would benefit and InvGrdBndFnds would be negatively impacted. Whether investors' expectations regarding inflation are starting to creep into portfolio construction is something to which one should be attentive.
Price/NAV Weekly Spreads: Despite poor weekly price performance of InvGrdBndFnds, this fund type experienced the widest PrcNAVSprd at -1.4%, indicating the share prices lagged the NAVs.
The greatest positive PrcNAVSprd was for First Trust Active Dividend Income Fund (NYSE:FAV), up 8.9%. FAV was the CEF that experienced the greatest negative spread last week. There was no recent news regarding FAV. FAV is currently trading at a 15.9% distribution yield and at a premium of 12.7%. A high, sustainable distribution yield and a double digit premium are typically not compatible.
(A positive spread between the change in price and NAV could be viewed unfavorably subject to other metrics. This is because the stock has advanced greater than its underlying NAV. All things equal, they should move in tandem. The opposite would also be true.)
Eaton Vance Insured New Jersey Municipal Bond Fund (NYSEMKT:EMJ) experienced the greatest individual negative spread at -9.1%. There is also no stock specific news. EMJ had raised its distribution at the end of July by 5.8% to a monthly rate of $0.0754 per share. Over the last year, EMJ on average has sold at a premium. Currently, its premium is 4.9% with a current yield of 6.6%.
Curiously, another New Jersey muni CEF also experienced a significant negative spread. BlackRock New Jersey Muni Income Trust (NYSE:BNJ) at -7.5%. Earlier in the month, S&P maintained New Jersey's credit rating but sighted concerns regarding its debt burden and growing unfunded pension liabilities. Moody's on the other hand cut NJ's credit rating outlook to negative from stable while Fitch reaffirmed the state's AA- general obligation debt rating. Whether a downgrade is imminent would be a place to look for this kind of price reaction. Somebody knows something.
Market News: Investors are still struggling with the nascent signs of an economic recovery, i.e., housing and technology, and the retrenchment of consumers which represents 70% of GDP. As we enter September, which has on record been the worst month for stocks, we could see a major pull-back as investors maintain a "hair trigger" in this dangerous terrain. Get your list of favorite CEFs ready, as any major pull-back will likely be a significant buying opportunity. We're likely at the beginning of the end. (Click Here for Next Week's Economic Calendar.)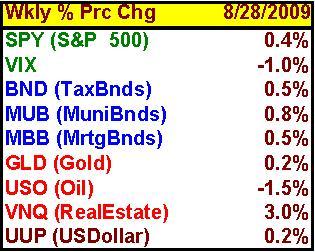 ETFs: Fixed income (Blue) generated a positive performance.
Given increased investors' uncertainty, more investments are still flowing into bond funds.
While the US dollar ticked up, there is no real conviction in significant currency moves.
Real estate continues to demonstrate strength in the midst of increased negative sentiment regarding commercial real estate rents, vacancies and values. VNQ represent some of the stronger REITs that have bolstered their balance sheets and may be in a position to buy properties at distressed prices. (Click here for ETF YTD sector performance)
CEF Insider Trading: The only significant insider buying this week was in MBIA Capital/Claymore Managed Duration Investment Grade Muni Fund (NYSE:MZF). The Participants of a proxy solicitation for MZF purchased another 31,375 shares at an average $12.196 per share for a total cost of $382,653. This brings the total acquisition for the month of August to $800,378.
There was some new, small insider buying of a non-material nature. MJG IV Limited Partnership purchased 1,000 shares of Gabelli Convertible Securities Fund (NYSE:GCV) at 5.49; Stephen J. Bacica, CFO of MCG Capital Corp (NASDAQ:MCGC) purchased 5,000 shares at an average price of $3.10 per share for a total outlay of $15,500. Mr. Bacica raised his holdings to 150,000 shares. There was scattered indirect buying of Neuberger Berman Intermediate Municipal Fund (NBH) by BankAmerica, its sponsor. (Click here for Insider Summary.)
CEF Focus for the Week: Alliance-Bernstein Global High Income Fund (NYSE:AWF) is a CEF with a long operating history dating back to 1993. Since 1974, AWF has raised its monthly distribution 3 times to its current monthly distribution rate of $0.0925 per share. It's trading at a distribution yield of 9.4% and a discount of 5.9%. Its management fee is 1.01%.
Enjoy the last days of summer!
Disclosures: Long SPY, GAM and AWF