"CEOs are paid for doing a terrible job. If the system wasn't so messed up, guys like me wouldn't make this kind of money." -Carl Icahn
(click to enlarge)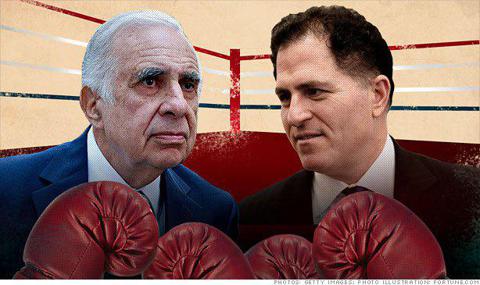 While Michael Dell seems to be nickel-and-diming shareholders, we think there is still a significant chance of a deal being completed within the next few months. Today the board of directors of Dell (DELL) released some new information on the potential buyout. The board is refusing to alter the terms of the shareholder vote that counts non-votes the same as no votes. This puts some roadblocks in front of the Michael Dell/Silver Lake deal as Allthings D, Arik Hesseldahl puts it,
"That sets up a circumstance where 25 percent of shareholders who oppose the buyout, combined with 27 percent of shareholders who have, for one reason or another, not voted at all, add up to a majority of 47 percent. Since in this case a 43 percent majority is all that's needed - Michael Dell is not allowed to vote his 14 percent of shares - the combination of dissident shareholders, including the activist investor Carl Icahn and non-voting shareholders, will kill the buyout deal."
While we really don't think Michael Dell and Silver Lake are completely out of the bidding war, we do think the price of a full-fledged takeout will have to be significantly higher than Icahn to induce a majority vote. We also feel that Icahn's current proposal is sufficiently better than anything from Dell/Silver Lake, as it allows for some participation in the future upside of the company through the warrants. Icahn views Dell's share price at a fair value of roughly between $15.50-18.00, however, we think Icahn envisions even more upside longer term. We think there is approximately $500-$750 million of cost cutting potential over the next 2-3 years. Another possibility to lower the leverage would be to sell or spin-off the retail business and retain the growing services business. Either way we feel almost all metrics on Dell's shares point to a valuation significantly higher than the current price of $12.45.
"We believe that the total value to tendering stockholders would be approximately $15.50 to $18 per share, as compared to Michael Dell/Silver Lake's offer of $13.65 a share," Icahn said in a letter to shareholders. "Because Icahn and Southeastern have agreed not to tender their shares, if you choose to tender, a minimum of 71% of your Dell stock would be purchased at $14 per share, plus the warrant."
We feel there are a few scenarios investors should consider with regards to the proposed buyout offers. Michael Dell and Silver Lake have by far the lowest offer currently at $13.75, a premium of only 10.4%. Whereas Carl Icahn's offer is adequately higher at $14, which is a slight premium to the Dell/Silver Lake deal. However, that takes into account a zero value for the optionality of the warrants with a strike price of $20. We think that the warrants are worth at least $2 being conservative, Icahn suggests the value at up to $4 per warrant. So the total potential return from Icahn's offer is roughly 28-44% depending on the value placed on the warrants.
So what happens if both offers fail?
If both offers are rejected by shareholders, which may actually occur, it may turn out to be the best outcome for long-term Dell investors. As the existing shareholders will have the opportunity to fully participate in the future growth of Dell. It should be fairly clear to readers that both parties (Icahn and Dell/Silver Lake) think there is substantial value in the shares of Dell currently (north of $20 in our estimate). It should be a good sign to the market, however, given the recent trading, a number of investors and traders have apparently sold on the news today. While there may be some short-term disappointments, we feel that there are many scenarios in which investors can achieve a low risk 15% return, or possibly even higher if Icahn succeeds or both deals fail.
If you just compare the share price of Dell to its closest competitor, Hewlett-Packard (NYSE:HPQ), you will see the tremendous run-up Hewlett has had in the past 12 months. During this period Hewlett has outperformed Dell by over 30%, it is even higher if you compare the trough to peak levels between the two. We feel if there was no deal at all from Icahn or Dell/Silver Lake that Dell shares would trade approximately 30% higher 6 months after the failed takeover attempts. While this is a fairly simple arbitrage strategy we feel the market has totally missed the opportunity to earn a very low risk 15-30% return.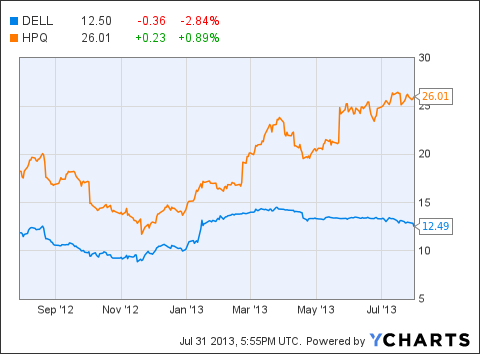 Disclaimer: This report is intended for informational purposes only and you, the reader, should not make any financial, investment, or trading decisions based upon the author's commentary. Although the information set forth above has been obtained or derived from sources believed to be reliable, the author does not make any representation or warranty, express or implied, as to the information's accuracy or completeness, nor does the author recommend that the above information serve as the basis of any investment decision. Before investing in a security, readers should carefully consider their financial positions and risk tolerances to determine if such a stock selection is appropriate.
At any time, the author of this report may trade in or out of any securities that are mentioned in the report as long or short positions in his own personal portfolio or in client portfolios that he manages without disclosing this information. At the time this report was published, the author initiated a long position in DELL either in his personal account or in accounts that he managed for others.
THIS REPORT IS NOT A RECOMMENDATION TO BUY OR SELL ANY SECURITIES MENTIONED. THE AUTHOR ACCEPTS NO LIABILITY FOR HOW READERS MAY CHOOSE TO UTILIZE THE INFORMATION PRESENTED ABOVE.
Disclosure: I am long DELL. I wrote this article myself, and it expresses my own opinions. I am not receiving compensation for it (other than from Seeking Alpha). I have no business relationship with any company whose stock is mentioned in this article.