Last week I wrote that recent economic data, including the Conference Board's Leading Economic Index (LEI), lead me to conclude that the US recession is over.
The bad news is that the coming cyclical recovery will be unlike recent recoveries; a more sluggish US consumer and a deteriorating fiscal position for the US government remain key risks.
My conclusion: The US economy will see a few quarters of strong growth as we snap back from depressed conditions, but longer-term growth prospects remain subpar.
The following chart is worth well more than a thousand words: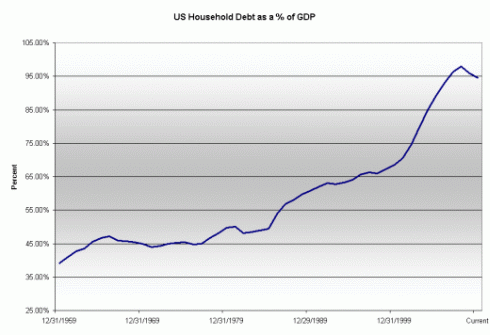 Source: Bloomberg
This chart shows US household debt as a percentage of GDP going back to 1960. As you can see, US household debt stood around 40 percent of GDP back in late 1959 and rose only slightly, to about 45 percent, in the 1970s.
The big growth in consumer leverage occurred during the post-1982 bull market. This is one of the primary reasons the US consumer became an engine of world growth from 1982 through 2007.
The American consumer bought the US (and in many ways global) economy out of every downturn over this time frame. This is also a major reason that the recessions in the early '90s and in 2001 were so mild and short-lived.
Although that was truly an amazing run, I see the 2001-to-2007 period as the American consumer's last run as the primary engine of global growth for the foreseeable future. As I noted last week, the US savings rate has begun to rise sharply off recent lows.
And, as the chart above illustrates, US consumers are beginning to pay down debt; the US household debt-to-GDP ratio is just beginning to fall from a recent high near 98 percent.
If the world's afterburner of growth is now flaming out, the obvious question is what factors will contribute to a cyclical recovery in the US economy over the next few quarters. And, even more importantly, the world now needs a new growth engine that can replace the US consumer in coming years.
The most obvious near-term boost for the US economy is normalization in inventories. Check out the chart below of US non-farm inventories over the past decade.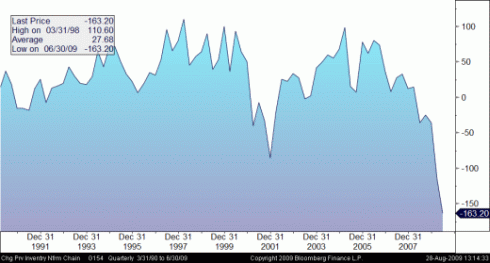 Source: Bloomberg
This chart shows the quarterly change in business inventories. As you can see, this number fell below zero in both the early-'90s and 2001 recessions as businesses cut back on production and sold down their stocks of goods.
But the cutbacks during those mild recessions simply don't register in comparison to what's happened since late 2007. Inventories have plummeted at an accelerating pace.
But the inventory cycle is now turning in favor of growth. Business inventories are ultra-lean right now, even as there are signs of demand picking up, albeit from low levels.
If history is any guide, companies have probably gone overboard in cutting their inventories and will now be looking to do some restocking.
Given the rapid drawdown in inventories, the snap-back should be equally dramatic. This inventory restocking is one of the first impulses of growth the economy typically sees in a recovery, and I expect this cycle to be no different.
Another factor to watch for is that some of the trends that have been major headwinds for the US in recent years are now either moderating or reversing. Chief among those is the US residential housing market.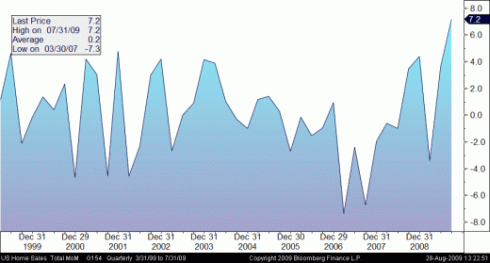 Source: Bloomberg
This chart shows the month-over-month percent change in US existing home sales. A declining pace of sales has actually been a drag on US economic growth since late 2006 but has now turned positive once again.
Granted, a record number of these sales are foreclosures. But foreclosures aren't all bad; when sold foreclosed houses pass from weak holders (banks and delinquent borrowers) into stronger hands at prices that more closely reflect economic reality. Foreclosures may not be a pleasant prospect, but they have been a necessary catharsis from a nasty residential housing bubble.
And I just picked existing home sales for illustrative purposes. Charts of recent Case-Schiller home price data or housing starts would paint a similar picture: The US residential housing market has bottomed, and inventories of unsold homes should drop sharply in coming months.
Housing has been consistently shaving points off economic growth statistics for the past few years but could soon become a minor tailwind.
Even more interesting from a longer-term perspective is the following chart: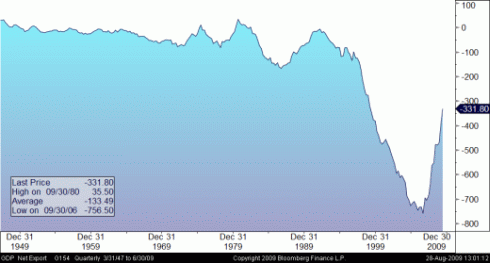 Source: Bloomberg
Anyone who's sat through Economics 101 will remember that imports subtract from GDP and exports add to GDP. This chart shows the net exports figure, total US exports minus total US exports.
As you can see, this number is negative and has been consistently so for decades. That means that the US runs a trade deficit, spending more on imports than it makes on exports.
This chart is in many ways related to the first chart in today's issue: Americans' willingness to borrow and spend has been a big driver in the growth of imports. That's because many of the goods Americans have been consuming are of non-US origin. While consumption adds to GDP, these big negative and declining net exports have acted as a drag.
But note the recent trend. Since late 2006 net exports have soared. Although still negative, this chart shows net exports back at the same level as the mid-'90s. And the data is skewed somewhat by the fact that oil and energy-related products account for a significant portion of US imports.
This makes some sense. After all, in recession, with consumers spending less and importing less oil overall, imports have declined significantly, improving the net export picture.
What's more interesting from a longer-term perspective is that declining imports are only one facet of this improvement; check out my chart below for a closer look.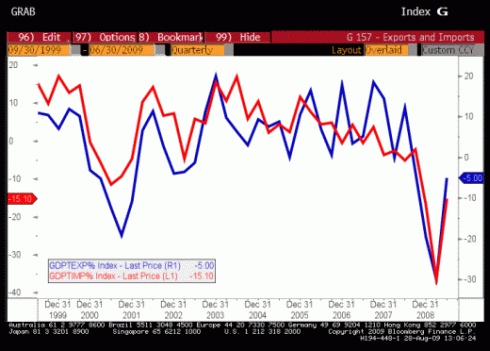 Source: Bloomberg
This chart shows the quarterly change in US exports and imports going back to the late '90s. What you can see is that in recent years export growth has actually picked up steam. And, as the recession started in late 2007, exports actually held up even as imports began slipping.
Also interesting is the fact that US export declines have begun to moderate more quickly than the declines in imports. This suggests that recovery in overseas demand, particularly in developing countries, has helped to power a Renaissance in American exports, even as import demand remains relatively weak. The data also suggests a good deal of this export recovery is actually manufactured goods.
The weak dollar also plays a role in encouraging exports and discouraging imports. I also suspect that relatively low US natural gas prices are helping manufacturers; energy prices add to manufacturing costs.
But this does suggests that rising foreign consumption could help offset a weaker US consumer in coming years. This plays into my long-held thesis that the emerging markets are taking over as the main engine of global growth.
My long-term roadmap for the US equity markets is the 1968-to-1982 period. Over this time, the S&P 500 essentially marched in place; in fact, if we include inflation, the purchasing power of a dollar invested in the S&P 500 in 1968 fell more than 50 percent by 1982.
There were several impressive cyclical moves for the broader market in the context of that long-term trading range, and certain sectors and foreign markets performed well.
While no two time periods are the same, there are similarities. I recommend investors focus longer-term on investing in emerging markets and in sectors, such as energy, that have growth tied to emerging market demand.