In the past several months, there has been a great debate on whether or not Tesla (NASDAQ:TSLA) can continue its growth now that it has posted a profit. In my article several weeks ago, I noted that Goldman Sachs came out with a price point of $84 per share for Tesla, while Deutsche Bank has set theirs at $160 and Dougherty and Co., are saying $200 a share. Dougherty and Co., believes in the long term Tesla can do 200 to 500 thousand units at a lower price point, but still justifying the $200 a share price tag, given a 25% gross margin, at around $15 EPS. This potential is not out of the question as there were approximately 14.5 million vehicles sold in 2012 and there is currently a lot of excitement about hybrids and pure electric vehicles (EV's). However, how long will investors have to wait for Tesla to get up to 200-500 thousand vehicle sales per year? Investors should look at the reality of reaching this goal in 3-5 years, which is what the current stock price is currently being traded on, future earnings growth, or future price per earnings.
So let us assume the following for the sake of trying to see if Tesla can make those growth targets in 3-5 years:
1. Government policies will not change after the 2016 elections and the government will continue to be very favorable toward electric vehicles with the numerous discounts for this industry (from production to the consumer purchasing the EV).
2. Tesla will continue to hit all margin targets (industry leading gross margins of 20%+).
3. New emerging technologies such as hydrogen, natural gas and others will not develop into major contenders.
4. Tesla will not delay the Model X any further and release it at the end of 2014.
5. Tesla will hit its Gen III Model release date at the end of 2016.
6. Tesla will achieve its remarkable engineering and production goals of supplying an EV with a 200 mile range at around a $35k price point, the Gen III model.
Given these six points, we can now look at the current landscape of the EV's. In this chart we see currently available EV models and future EV models.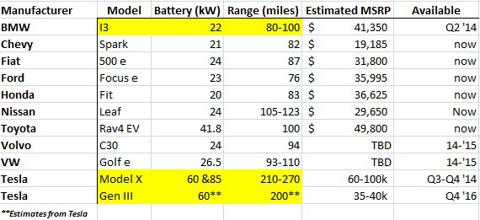 The first thing to notice is that the EV market is quickly becoming crowded, with more and more manufacturers jumping into it every year, including BMW, Chevy (NYSE:GM), Ford (NYSE:F), Toyota (NYSE:TM) and others. There is actually a lot more models out there, but I simply wanted to point out the fact that there is a great variety from the top manufacturers. I also wanted to highlight the BMW I3, which was recently announced to debut sometime in Q2 of 2014. It will feature a 22 kW battery and a range of about 80-100 miles. The price point will be different depending on the credits the buyer receives at the time of purchase, but will roughly be around what the Tesla Gen III is targeted to sell for in late 2016. A big reason for highlighting this comparison is that the BMW name is one of the most recognized brands in the world and they have a huge head start on Tesla right now. So by the time the Gen III comes out the engineers at BMW might be on a generation of the I3 that will feature a comparable battery, range and price. BMW will also have a lot more experience with any bugs with this long range EV and will have been in this market for a two years longer. It should also be noted that the Volvo C30 electric and the Volkswagen Golf electric will be out in the next several years and will start to grab market share a full year or two before Tesla's affordable model will be out. There are also a lot of concepts in the works right now and might be launched before the Gen III or at the time of Gen III launch, which will offer even more competition.
So after taking a look at the future competition for the Tesla Gen III model, which all of the investment firms are betting on, let us take a look at the current hybrid and EV plug-in market and how it is growing. According to InsideEVs.com, here are the stats from last year and thru June of this year: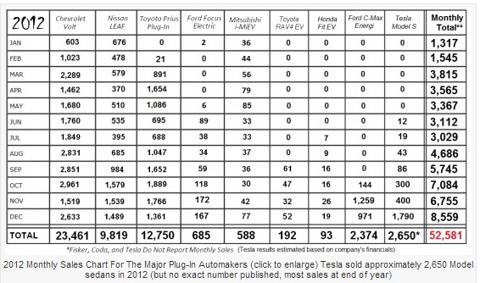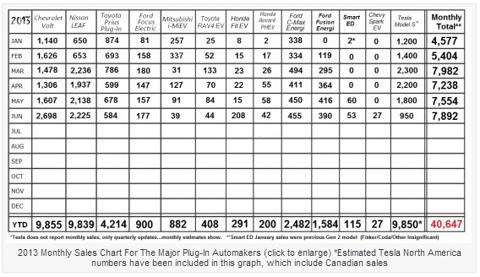 For the sake of argument and easy numbers, since if Tesla comes out with a 200 mile EV for $35 thousand, we will say that all of the hybrid plug in users will most likely just buy a pure electric vehicle. So last year the market was roughly 50 thousand units and through June of this year it is already at over 40 thousand. So if we estimate on the high side we will end 2013 with roughly 125 thousand units. So in 2015, lets double it again, to 250 thousand, then to 500 thousand in 2016 and to 1 million by 2017. So by 2018 the market (this is extra-ordinary extrapolation) can be selling 2 million plug in EV's. Which would be approximately 14% of the current number of all vehicles sold in the United States. Some will argue that this growth is achievable in this market, due to tighter emission regulations, growing need for electric vehicles in countries like China and higher cost of gasoline, but some may say this is a very aggressive estimate. However, if we accept this growth, that would mean that Tesla would need to own roughly 25% of the market in 2018, to sell 500 thousand units. That would also mean that the Tesla Gen III model would have to fly off the assembly line in the first year and sell most likely near 100 thousand units, while the Model S and Model X (not yet released) would have risen from the current level of 20 thousand units to 400 thousand units, a 2000% increase in 5 years.
While I agree that electric vehicles are here to stay and the market will grow, barring any favorable regulations to the oil industry, the sales projections that some firms are giving Tesla are just mind boggling at this point. There are a ton of manufacturers in the EV space and a lot more that will join in the next several years. On top of that, there is also a growing list of hybrids that continue to have longer ranges and compete with the pure EV. This Plugincars.com article shows a growing list of hybrids that will be hitting the showrooms soon, including the much anticipated Cadillac ELR, with a combined range of 300 miles. Thus, although I do not have much doubt that Tesla will continue to experience success, I believe the growth targets by some analysts are completely unrealistic given the competition and uncertainties. Uncertainties like whether or not the online sales model will hold up in court, will cost efficiencies in battery technology continue to grow or will they plateau, and how many real competitors will Tesla have when the Gen III comes out. Given all of these uncertainties, I am more likely to side with the Goldman Sach's estimate of 100 to 200 thousand units in 3-5 years rather than Dougherty & Co.'s 500 thousand units in the future. However, in this video with Andrea James, Dougherty & Co.'s Tesla Analyst, she doesn't give a specific timeline for the 500 thousand units mark, so she might be estimating that the timeline is longer than 3-5 years, which most price points from analysts are based on. So the careful investor needs to step back from projections that are way into the future and ask themselves what kind of EPS will the company bring 3-5 years down the line, which a lot of institutions buy on.
Disclosure: I have no positions in any stocks mentioned, and no plans to initiate any positions within the next 72 hours. I wrote this article myself, and it expresses my own opinions. I am not receiving compensation for it (other than from Seeking Alpha). I have no business relationship with any company whose stock is mentioned in this article.