Introduction
In this article I'll have a look at Garmin's (NASDAQ:GRMN) freshly-published financial results, which have beat analyst expectations. I'll also have a look at the updated balance sheet, which will result in my investment thesis at the end.
The financial results
Garmin reported revenue of $696.6M in Q2, which is a 3% decline from $718.2M in the same period last year. This was caused by the decline in sales in the automotive department where revenues dropped 12% to $344.7M. This was partially offset by the revenue increase in its other divisions, which all showed revenue growth.
The net income came in at $172.5M, down from $185.9M last year, which results in an EPS of $0.88, down from $0.95 last year. Looking at the H1 numbers, EPS came in at $1.34 versus $1.40 last year.
The next image shows the revised guidance of the company, as it now expects a slightly lower operating income, which will partially be offset by a lower tax rate. This results in an unchanged EPS guidance, although I expect the EPS to come in on the lower end of the guidance, so I'm aiming at a net profit of $2.25-2.30 per share.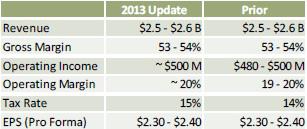 Garmin had a free cash flow of $186M in Q2, which was used to reward the shareholders with a $88M dividend and $13M share repurchase.
The Balance Sheet
Looking at the balance sheet, Garmin currently has a working capital of $1.46B, which is obviously very robust, but down from $1.63B at the end of December last year. The book value comes in at $17.23/share, which is down from December's $18.05/share.
Investment Thesis
The company is trading at a relatively expensive price-earnings ratio of in excess of 16, which seems to be a bit too high for me, considering the declines in revenue. This high share price is obviously supported by Garmin's generous dividend, which currently stands at a yield of almost 5%.
I might be looking at writing a Put 30 January 2014 for an option premium of $0.63. This would generate an annualized return of 4.2% (before broker costs). And if I get the shares assigned to me at the exercise price of $30, the dividend yield increases to 6% (if the company continues its quarterly payout of $0.45/share). For the longer-term believers, writing a Put 25 January 2015 might also be an option to grab a $1.60 option premium, which also has an annual return of approximately 4%. Should Garmin's dividend remain stable at $1.80/year, the company would yield 7.2% at a $25 share price.
Disclosure: I have no positions in any stocks mentioned, and no plans to initiate any positions within the next 72 hours. I wrote this article myself, and it expresses my own opinions. I am not receiving compensation for it (other than from Seeking Alpha). I have no business relationship with any company whose stock is mentioned in this article.