Dollar Financial Corporation's (NASDAQ:DLLR) fourth quarter earnings came in at 39 cents per share, ahead of the Zacks Consensus Estimate of 35 cents per share. However, total revenues declined to $124.4 million from $150.3 million in the same quarter last year.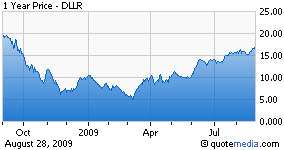 GAAP net loss was $1.30 per share, compared to a profit of 50 cents per share in the prior-year quarter. Results were affected by increasing unemployment through all the sectors of the economy, negatively impacting consumer lending volumes, thereby shrinking earnings.

Also, included within the results was a charge of $57.5 million related to Dollar's long-standing Canadian class action litigation and a one-time charge of $4.5 million related to severance and other store closing expenses, including the closure of underperforming financial services stores in the U.S.

Due to the current global recession, consolidated consumer lending revenue on a constant currency basis was $74.9 million, reflecting a moderate decrease of $2.2 million year over year. Total money transfer revenue on a constant currency basis was approximately flat with the prior-year period.

Other revenue, excluding the impact of changes in currency exchange rates, increased by 20.5% year over year, primarily as a result of additional pawn gold scrap and retail sales in the U.K., additional foreign exchange product revenue in the U.K. and growth in the debit card business in Canada.

For fiscal 2009, Dollar Financial reported GAAP net income of 7 cents per share, compared to $2.08 per share in the previous year. Pro forma net income for the year was $1.90 per share, versus $2.10 last year. Annual revenue decreased to $527.9 million from $572.2 million in the preceding year.

In the midst of the economic downturn, Dollar has taken a cautionary approach to credit decisions by reducing the amount it is willing to loan certain customers. As a result, its loan loss provisions declined to $11.7 million from $13.6 million in the year-earlier quarter.

Dollar maintains approximately $75.0 million of excess cash available to fund additional growth and acquisition activities, or alternatively to pay down indebtedness.

For fiscal 2010, Dollar Financial anticipates earnings of $1.90 to $2.10 per share, excluding a special charge of 40 cents per share.

The company indicated plans to significantly expand its global store base and extend some of its other geographic platforms such as expanding in new provinces in Poland, and perhaps in other countries as well. Dollar Financial expects to open between 30 and 40 de novo stores in the U.K., while the number of its de novo stores in Canada is yet to be determined.

Though the current economic turmoil is dragging Dollar's earnings, we believe that its diversified business will serve as a cushion. The company made four acquisitions during the year, which will also accrue to its earnings gradually. Therefore, on a long-term perspective, we expect the company to be profitable.