As you evaluate individual stocks on a fundamental basis, the following chart may be a useful benchmark.
Ideally, you would not purchase individual stocks with the issue selection risks involved, unless the fundamentals are more attractive than the benchmark. You've got to know the benchmark fundamentals first to do that.
This chart should help.
click image to enlarge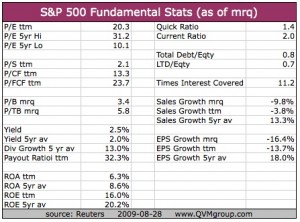 These stats may also be of use to you in evaluating the condition of the index itself versus its recent and 5 year history.