By Bob O'Brien
They are still at it, and even during the passing of one of the U.S.'s most famous and legendary Senator's, the healthcare debate has taken appeared to have taken new angles. I write as an investor and not as a policy maker or political analyst. It is not my goal to debate the political implications of anything, but the implications as an investor and/or trader. I can't help but notice how the healthcare debate tide is turning once again.
It is turning in favor of more government intervention which leads to smaller profits for Healthcare companies like Aetna (NYSE:AET), United Health Group (NYSE:UNH), and Well Point (WLP).
Here is a chart for Aetna which is pretty good proxy for the Healthcare trade and the stock appears to have peaked and could test its lows of mid-June.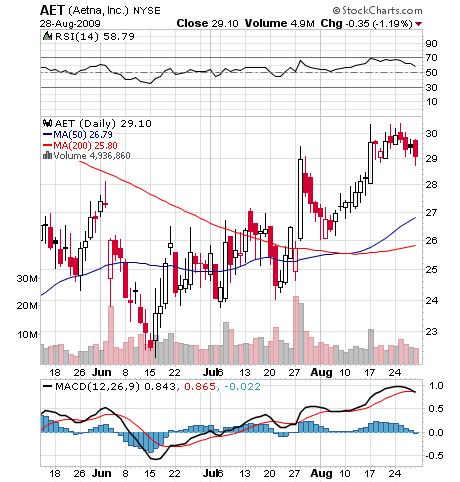 Ted Kennedy has been a champion for the side of Universal Healthcare for years, and you can't under-estimate how a man's passing can inspire others to carry out their lifelong goals. In fact when Lyndon Johnson took the Presidency after the assassination of John F Kennedy, many people could hardly recognize him anymore. He became completely dedicated to John F. Kennedy's lifetime goals.
Regardless of anyone's legacy, the Healthcare debate for the Democrats goes on and as long as they have super majority the cause will endure and their dream will never die. The debate definitely seems to have evolved to a place where the Republicans have become more defensive and I have noticed more and more of them saying that they are for healthcare reform.
If the Democrats can get united behind something like co-ops or any other major reform, and pick off a couple of Republicans along the way, you will probably see some of these healthcare stocks go below their mid-June lows.