Have you ever wondered what happens to your stock trade between the time you hit "submit order" and the moment the trade is executed? Since most traders see an almost instantaneous fill, many assume that the process is seamless and predictable with the trades either executed on the NASDAQ or NYSE depending on which exchange the stock is listed on. In actuality, there are many moving parts and most trades only have a 50/50 chance of actually being executed on one of the two major exchanges listed above.
Trading systems such as Direct Edge and BATS Exchange Inc., are becoming major players in the cut-throat world of equity execution. Over the past two years, these two exchanges have grown their combined market share of US equity executions to 22.6% from just 6.3% in July of 2007. At the heart of this growth is the practice of high frequency trading which is run by computers swiftly executing trades in order to capture minuscule mispricings and profit from rapid-fire buying and selling.
While computerized day trading is by no means a novel concept, the most recent evolutionary mutation known as "flash trading" has the major exchanges crying foul and has even caught the attention of Congress and the SEC. At issue is the practice of previewing some orders to a select group of market participants in hopes of matching a trade, before showing the bid or ask to the entire market. The process is completely invisible to the naked eye as the trades are shown and executed in milliseconds, but the accusation is that the method freezes some market participants from being able to access these initial trade prices.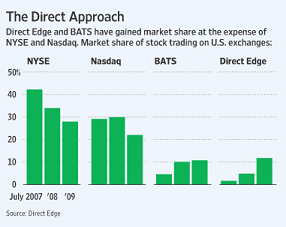 Direct Edge is owned by an assortment of public and private entities including Knight Capital Group Inc. (NASDAQ:NITE), Citadel Investment Group, and Goldman Sachs (NYSE:GS). The company justifies its flash trading by stating that it has a duty to its clients to find the very best executions possible for them and the rapid preview to market participants allows them to get liquidity and price improvement. If the orders are not immediately matched, they are then posted on major exchanges and become available to all market participants.
Regardless of the competitive issues, the process is certainly a very profitable business. According to the Wall Street Journal, flash trading only accounts for 5% of Direct Edge's trading volume, but makes up 25% of profits due to the high margins. It seems that clients are willing to pay a premium for Direct Edge's access to dark liquidity pools and other flash trading participants.
Lest you believe that high frequency trading is occurring at the expense of the average retail investor, it is interesting to note that TD Ameritrade (NASDAQ:AMTD) among other retail brokerages have access to these high frequency trading operations. Rebates from Direct Edge who pays for order flow has allowed AMTD to offer low execution costs for customers which is a direct benefit to the individual investor.
Knight Capital Group, Inc. has been building a strong business based on its partial ownership of Direct Edge as well as its expanding domestic and international trading business. During the second quarter, NITE saw its revenue increase by 65% over last year and has recently divested its hedge fund business which was becoming a burden and a distraction. Looking forward, the company should benefit from increased trading volumes which will be driven by both an expanding market as high frequency trading causes the number of executions to climb, as well as through market share gains as nimble exchanges take volume from the traditional NYSE and NASDAQ exchanges.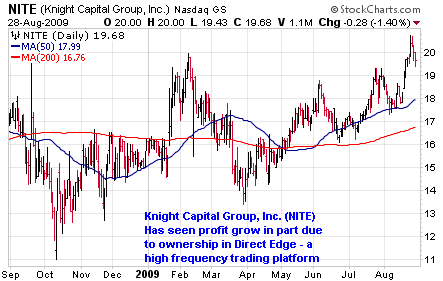 Disclosure: The ZachStocks Growth Model has a long position in NITE as well as NYX