Baker Hughes' (BHI) announced acquisition of BJ Services (BJS) is all about BJ Services' pressure pumping business. Apparently, Baker Hughes has decided the lack of such services represents a material hole in its portfolio, especially given the fact both the financial and oilfield markets view Baker Hughes as a primary competitor of highly integrated Halliburton and Schlumberger – both of which provide pressure pumping services globally.
There's also an argument that Baker Hughes' lack of pressure pumping (and possibly other services) has contributed to its less-than-stellar record as of late when it comes to winning integrated project management contracts (IPM). IPM contacts have been in the news as of late as Schlumberger (NYSE:SLB), Weatherford (NYSE:WFT) and Halliburton (NYSE:HAL) have all won contracts of these types.
That said, we are somewhat skeptical that in the long run the industry will continue it move toward integrated service contracts. The admittedly limited ratings information we have on IPM does not suggest to us that clients are particularly satisfied with what they have been receiving when it comes to IPM. [Click on the following to read our prior each of these suppliers: BHI, BJS, HAL, SLB and WFT.]
In general, BJ Services should represent a relatively good fit with Baker Hughes. BJ rates well overall in EnergyPoint Research's independent customer satisfaction surveys, especially in the domestic North American markets. As a reminder, pressure pumping is comprised of two primary services: cementing and hydraulic fracturing. BJ offers both, while Baker Hughes currently offers neither. In cementing services, BJ Services currently rates just ahead of Halliburton as the leader in EnergyPoint's customer satisfaction surveys, while Schlumberger is rated third.
However, in terms of hydraulic fracturing, a service that has become very important in unlocking the potential of the domestic shale gas plays, BJ is rated second in our surveys -- it's rating trails Halliburton by a relatively large margin. The point here is that although BJ is a pressure pumping player, it's more well regarded by customers for its cementing than fracturing services.
And unfortunately, cementing is not viewed to be nearly as much of a value-add service as fracturing is these days.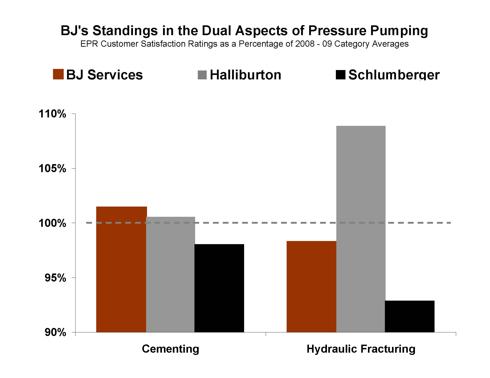 It should be noted that with BJ's pressure pumping services, Baker Hughes is adding a relatively cyclical business to its portfolio. There's significant over capacity in the domestic market and expectations are that it will take several more quarters before the market recovers. In addition, our data suggest BJ's international ratings performance is not as strong as its North American operations.
Unfortunately, Baker Hughes has struggled with its own international performance. As a result, there's a question as to whether two companies with weaker international operations can make a more effective combination in those markets. While in the long run one would have to assume the combination has the potential to be an incremental plus for Baker Hughes's international business, there's still no guarantee that it will.
Furthermore, it will clearly require that Baker Hughes figure out how to do some things with BJ Services in international markets that heretofore it has not been able to do with its own business.
Finally, we note that both Baker Hughes customer satisfaction trends have been somewhat troubling over the last few years (BJ Services' ratings have also begun to weaken as of late). In 2004 and 2005, Baker Hughes typically rated ahead of both Halliburton and Schlumberger in our surveys, in large part because of a well defined culture and a very focused approach to its business.
However, over the last few years, the company has seen its ratings lead evaporate. In fact, in some markets, the company is now rated closer to the middle of the pack in key product and service categories.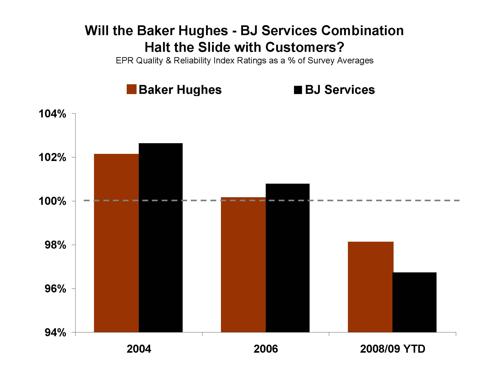 Disclosure: No positions