With all the flash and glitz of solar and wind power, geothermal has been largely under the radar, misunderstood and mostly ignored. Maybe investor interest will increase with the recent announcement of $350 million in new investment in geothermal technology under the Recovery Act and the recent over-subscribed ($87 million) initial public offering by Magma Energy Corp. (OTCPK:MGMXF).
Geothermal energy has quietly been growing amongst other renewable energy sources because of a few key characteristics which make it increasingly attractive and commercially viable. I predict a decade of unprecedented growth for the geothermal industry, and outstanding long-term gains for investors in select geothermal stocks. To boot, this is a clean energy resource we have plenty of right here at home and one in which the U.S. has a leadership position with about 30% of worldwide capacity.
Scientists estimate the heat flowing from the interior of the planet at over 40 million Megawatts - MW - of power which will continue being generated for billions of years. I'll call that renewable by our standards. There is 50,000 times more energy available from geothermal resources than all the oil and gas combined, but contrary to other earth borne energy sources it is essentially clean, free and limitless. It is right under our feet and all it takes is to tap into it.
Geothermal energy is broadly divided in two radically distinct segments: electricity generation and heating and cooling systems. Between the two everything is different: the underlying science, the technologies, the markets and the companies involved, dictating we treat them independently. Part 1 focuses exclusively on the geothermal electricity generation segment.
Geothermal electricity generation
The word geothermal literally means the heat of the earth. Typically, a geothermal reservoir forms when underground water is heated by hot rocks, themselves heated by magma, deep in the earth's crust. The hot water and steam are more often than not trapped in porous rock under layers of impermeable rock. These are conventional hydrothermal resources, the only ones used commercially at the present time. They are found at depths ranging from 300 to 10,000 ft, and yield water temperatures between 194° to 662° Fahrenheit. Some, the best of the best, provide dry steam with little or no water.
Naturally, the first spots being exploited are the obvious ones where the heat of the earth pushes through to the surface in visible displays like geysers and other hot vents and springs. This explains why the most active geothermal energy production is located on the edges of tectonic plates where there is plenty of volcanic activity. There are many such places on earth, with southern Europe offering maybe the most ancient records of geothermal power uses by the Romans thousands of years ago. Places like Iceland and the Pacific "ring of fire" offer countless hot spots. In the U.S., geothermal resources are mostly concentrated in the Western states and Hawaii.
The principle is simple: you drill into a geothermal reservoir, install pipes to bring the hot water and/or vapor to the geothermal plant where it turns the turbines to generate electricity. In practice it is much more complicated than that and it takes a lot of proprietary technologies, experience and knowhow to be successful with projects of this magnitude.
Today's geothermal industry really got its start back in the seventies and eighties spurred by the oil crisis. This is when the first giant developments such as the Geysers field of northern California took place. This early push gave the U.S. the lead which it still holds to this day.
As U.S. geothermal investments faded due to lower oil prices during the nineties, much of the development activity shifted to South East Asia, the Philippines in particular, and Iceland. The Philippines are today a strong #2 with about 1,200 MW of capacity. Iceland has long been the poster child of renewable energies which account for a full 100% of their electricity generation, including some 24% from geothermal energy. Further, geothermal powers 87% of their heating needs!
Today, according to the Geothermal Energy Association - GEA, worldwide geothermal electric capacity exceeds 11,000 MW, enough to meet the needs of 60 million people, from over 200 geothermal plants operating around the world.
In the U.S., out of a total of about 3,000 MW of online geothermal electricity generation capacity, California leads the way with 2,605 MW, followed by Nevada with 333 MW. As can be seen below, geothermal is the 4th largest renewable energy source for electric generation with 16.6 billion kWh (kilowatt-hour) or 4.6% of the total, after hydropower (72%), wind (15%), and biomass (8%).
Total U.S. Renewable electricity generation by source, 2008 (360 billion kWh)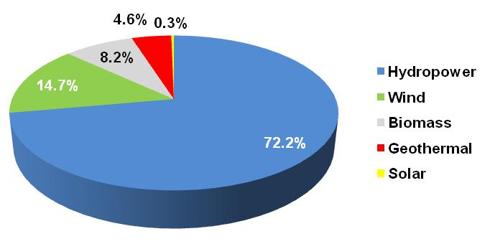 Source: The Green Investor, EIA
The capacity factor is how much of the nominal capacity can a plant produce over the course of a year, ideally 1.00. Nuclear is the highest with a 0.90 capacity factor and geothermal is at 0.84. Utilities love the high capacity factor of geothermal because it provides them with steady baseload power around the clock, all year round. In contrast, solar photovoltaic is at the low end of the scale with only 0.20.
The following lists offer the main advantages/disadvantages of geothermal.
Advantages of geothermal electric generation:
Continuous, 24-hour per day baseload availability. High capacity factor (84%)
Low levelized cost of energy, $42 - $69/MWh
Mature and proven technology, yet still evolving
Reliable, high efficiency, clean and renewable energy
Secure and U.S. based energy resource
Large number of untapped natural resources in the Western U.S. and Hawaii, and around the world (Nevada is poised to overtake California in the next couple of years)
Land use compares favorably with wind (about 3 to 1 advantage), solar (8 to 1 advantage) and coal (9 to 1 advantage)
Low water usage, none for binary air-cooled plants
Disadvantages of geothermal electric generation:
Capital costs ~ $3,400 per KW installed (high compared to wind, hydropower, municipal solid waste and landfill gas)
Long development cycle
Dry hole risk/cost (you drill but do not hit a geothermal reservoir)
Bureau of Land Management - BLM - permitting critical bottleneck to new development
Transmission network availability
It is worth pointing out that despite the high up-front capital costs, geothermal has a very competitive levelized energy cost (which factors in the capital costs over the life of the plant). Still, a dominant component of these capital costs is the exploration phase and the drilling of expensive non-productive dry holes. Between applying the more modern geophysics surveying technologies developed in the oil and gas exploration to increase the hit rates and the promising new "EGS" research described in Part II, the capital costs are expected to shrink in the coming years and be amortized over longer periods as the useful life of geothermal plants is extended.
With growing oil supply concerns and unprecedented price volatility on one hand and the advent of carbon policies around the world on the other, I expect that the next decade will see an unprecedented level of new investment in geothermal. Reinforcement of our own views on geothermal market growth comes from several market research studies forecasting that geothermal generation will nearly double between now and 2015, with installed capacity exceeding 20,000 MW worldwide and nearly 6,000 MW in the U.S. In fact, Emerging Energy Research reports that "The global geothermal pipeline already exceeds 9,000 MW of projects under development – which, if executed to completion, will nearly double the installed global geothermal capacity built up over the past 30 years." For its part, the GEA identifies about 5,500 MW of new geothermal power plant capacity under development in the U.S.
To keep this article to a manageable size I elected to cut it in two pieces with Part II containing a look at the future of geothermal energy, key trends and technology developments and, most importantly, the geothermal stocks we like here at TheGreenInvestor.com. But I could not leave you here without at least one stock recommendation.
No, it is not Magma. We fear the stock got overhyped and with a market cap of some $461M Magma is a little too frothy for our taste. Granted, their CEO Ross Beaty is legendary for successfully building and divesting mining companies, and their projects portfolio looks impressive, but the company today produces a grand total of 8 Megawatts (Net). If you are to pick only one geothermal stock, it has to be Ormat Technologies, Inc (NYSE:ORA).. They are the big go-to play in this sector and will remain the leader for a long time to come. Their technology, directly or indirectly, powers over half of the new geothermal capacity added in the last 12 months. Their financials are impeccable. In the 12 months ended June 30, 2009 they grew their revenue by 44% and their earnings by 45%. Not bad in the midst of a global recession. Despite the recent price weakness, this is a long-term buy.
Disclosure: The author is long ORA