Brazilian banks have been on a tear this year, with both Itau-Unibanco (NYSE:ITUB) and Banco de Bradesca (NYSE:BBD) returning more than 100% year to date. Economists think Brazil is coming out of its recession, with The Economist stating that the country could see a return to 4%-5% in 2010, as Brazil is less dependent on the US as an export market and is forging ties in Asia, notably with China, on energy accords.
Over the last month however, ITUB and Bradesco, respectively the number 1 and 2 private banks, have been dragging, due to overall negative sentiment on Brazil in August, which has not been helped by President Lula's much discussed plan for the government to take greater control of oil reserves via the worlds fourth largest oil company Petrobras (NYSE:PBR), which has seen some investors pulling back on Brazilian ADRs.
There are reasons to be bullish however, as Finance Minister Guido Mantega commented last week that Moody's Investors Service is signalling that it may upgrade Brazil to investment grade. The banking system has been going through a wave of consolidation, with state owned Banco de Brasil jostling with ITUB and Bradesco for the top spot, all helped along by an 8.5% interest rate.
Bradesco has done well with it's half year results, beating analyst estimates, mainly propped up by its sale of a partial stake in VisaNet, the Brazilian Visa (NYSE:V) affiliate, which provided the bank with a much needed $1.5Bn cash injection. Bradesco still retains a 26.5% stake in VisaNet after the IPO.
"The worst might be over in terms of defaults," Chief Executive Luiz Carlos Trabuco Cappi said in a conference call with journalists. "With the formal economy and wages growing, the trend for default rates after reaching the peak is to edge lower."
Similarly, Itau-Unibanco had a healthier than expected half year, with profits only dropping by 14%, mainly due to bad debt provisions, which had doubled on 2008. Lending is expected to expand 10% to 15% in 2009 and should grow as much as 25% next year as Brazil emerges from recession, Chief Financial Officer Silvio de Carvalho said in a conference call with journalists.
"We have clear signs that credit has become an important factor in the economic recovery now underway," Carvalho said. "Everything leads us to believe that the crisis is behind us."
Looking at both of these stocks, they have both been recording higher lows and higher highs for the last 6 months, which to me makes them an attractive prospect. Add in the positive sentiment from Moody's, Fitch and Standard & Poor regards the Brazilian economy and there is certainly a feeling of comfort there.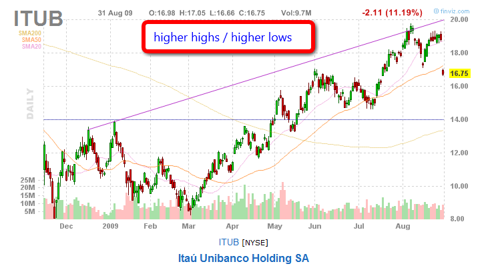 Looking at ITUB in particular, their ambitions to become a full service provider in all aspects of financial services took a step further last week when the bank merged it's fledgling insurance business with specialist firm Porto Seguro, allowing it to now offer health and life insurance products to its 50 million customer base, this only 3 days after Bradesco and Porto had ended similar talks.
"The two companies have a lot to explore together," said Kelly Trentin, a banking analyst at the SLW brokerage in Sao Paulo. "Financial stability in Brazil and rising family income make it more likely that people will look for more insurance products."
So for me, Itau-Unibanco is the horse to back in this race right now.