As if there are no such things as Zombies (A.K.A. "The Walking Dead"), this rapidly growing media company is still under-the-radar, and is held mainly by institutional investors. Few individual investors own shares (estimated at about 8-10%), yet many people pay AMC Networks (NASDAQ:AMCX) in one form or another, including advertisers, content distributors, competing media networks, music and theatre fans, and large mass viewing audiences. Those that do not know the company usually know the names of this corporation's increasingly popular and acclaimed shows, and this is bound to increase, possibly on a "Hockey-Stick" trajectory, along with equally commensurate returns in viewership, advertising revenue, content and distribution profits, international growth, and share price appreciation.
AMC Networks: About the Company
AMC Networks Inc. (AMC Networks) is a holding company and conducts substantially all of its operations through its subsidiaries. AMC Networks owns and operates several of cable television's brands delivering content to audiences. AMC Networks operates in two segments: National Networks, which includes AMC, WE tv, iO TV, IFC and Sundance Channel, and International and Other, which includes AMC/Sundance Channel Global. The international division also includes the international programming business, IFC Films, it's independent film distribution business, and AMC Networks Broadcasting & Technology, its network technical services business. The company's national networks are distributed throughout the United States through cable and other multi-channel video programming distribution platforms. In addition to the company's United States distribution, AMC, IFC and Sundance Channel are available in Canada, and Sundance Channel and WE tv are available in other countries throughout Europe and Asia. Further details can be found on the corporate website.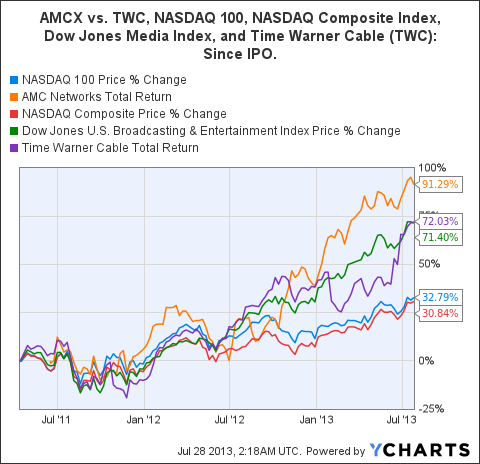 Company Background
AMCX had its IPO on July 01, 2011, as spin-off from Cablevision (NYSE:CVC) under the Rainbow Media Group, a former CVC operation division which is no longer a public company. AMC Networks came public in 2011, but the company history dates back prior to 1980, at the dawn of cable T.V. Its roots stem from a division of Cablevision Systems Corporation. The origins of AMC started out as a subsidiary called Rainbow, created to do what it continues doing today, which is creative, niche program content. The first platform to show the content is a familiar channel that still exists today, a well-known name, Bravo. SportsChannel was Cablevision's first cable programming, started in 1976, and expanded from New York City to broadcasting in the New England region, and soon expanded to Chicago.
American Movie Classics, known also as AMC, was the first 24 hour cable network. Another first occurred when the parent company launched the first regional cable channel. NBC partnered on some channels in 1989. Liberty Media went into partnership and shared the expanding national SportsChannel in the Midwest, Florida, and the Pacific coast.
Cablevision brought the evolution of developing the first satellite-based cable content delivery with advertising added to this platform. In 1994, Rainbow brought out the Independent Film Channel, or IFC, first to deliver a wholly-dedicated venue for independent film producers. Rainbow bought the Madison Square Garden Properties in a partnership with ITT, and had rights that included the New York Knicks and the New York Rangers, as well as the Madison Square Garden broadcast content known as MSG Network.
Brazil was a large step into the global footprint, with expansion into most of Latin America. A deal for cable programming with Carlos Slim and TVA Cistem de Televisao has also enlarged AMCX's market share. In 2008, the company acquired Sundance Channel from the famed late actor Robert Redford's partnership holdings. Redford formed the network with the goal of increasing exposure to independent films and producers, emphasizing critically acclaimed actors, producers and films, in a dedicated venue.
From 2009 to currently, AMCX has expanded into China, Singapore, Hong Kong, and Korea. This international expansion is ramping up, and will continue to be integral growth story.
Past and Current Successes and Acclaims
AMC Networks has been achieving critical success and increased viewership with films and series' such as the 2006 debut of "Broken Trail" (AMC TV), the mini-series starring Robert Duvall and Thomas Haden Church, the 2008 launch of "Mad Men," and then a rapid host of original content such as "Breaking Bad," "The Walking Dead," "Hell On Wheels," "Braxton Family Values," "Bridezillas," and "Portlandia." "The Killing," a thrilling crime drama set in Seattle, resumes its' third season on AMC TV. Most recently, 2013 saw the release of "Rectify," now on in the second season via the sundance Channel. The Walking Dead spring 2013 season finale drew 12.4 million viewers, 8.1 million of them were adults. Mad Men's Season 6 premiere drew a 3.4M audience, but the season finale dropped a bit, down to 2.7 million, on par with the previous season, and averaged 2.5M viewers during the entire season 6. Those are still respectable figures. Breaking Bad grabbed the attention of 2.8 million viewers. Clearly, AMCX is building and leveraging brand name recognition, for its shows, as well as for itself.
Growth Strategy and Trends
In the media and entertainment industry and sectors, which to some extent includes certain telecommunications brands, there is current industry strength in advertising, media M & A activity, a wider growing global distribution, and overnight exposure for filmmakers that suggest strong future growth and expansion. Referring to "overnight success," this is increasingly possible due to the internet and telecom, encouraged by, and flourishing with help from companies such as Google (NASDAQ:GOOG), Facebook (NASDAQ:FB), Twitter, Netflix (NASDAQ:NFLX), Yahoo (YHOO), and a host of other companies and platforms. The exponential entrepreneurship of promising start-ups will accelerate this trend, as well as "steeling-up" brand name strengths and brand recognition.
AMCX is capitalizing on nearly all of these platforms. A recent example has been the launch of innovative off-shoot reality shows, such as "Comic Book Men," that has entranced a new audience, and a unique viewership. AMCX has also maximized profits from The Walking Dead's success. Due to the show's huge popularity, AMCX created a live interview and interactive Q & A platform following each weekly episode, called "The Talking Dead." This too has been a success. Moves like that are astute, and they buy one extra hour of increased viewership, "buzz" on Twitter and online, draw online traffic to AMCX's website, and generate advertising revenue. AMCX is a very shrewd and media-savvy operator.
AMC's cable channels, IFC Productions and Next Wave Films, both do production and have rapidly growing financing arms: IFC Films, Radio City Music Hall, and Radio City Productions, and still possess a leasing contract until 2022. Also included are Fox Sports Net and fuse, which is an all music platform targeting teen and young adult viewership.
The firm is growing the internet and online platforms. AMCX also owns the film-focused websites filmsite.Org, filmcritic.com, amctv.com, and is building out video-on-demand (VOD) content offerings via VOOM, a large Hi-Definition cable network platform, as well as mobile accessibility. All of these are still in an early development stage. The company is also expanding and renewing its affiliate deals with DISH Networks (NASDAQ:DISH).
An excerpt from an Oct. 8, 2012 press release demonstrates the trajectory of exposure to new audiences and the growth rate for media generally, and AMCX specifically:
"Entertainment Heats Up Online for 50 Million U.S. Hispanics"
"DramaFever Strikes Cross-Border Deals with LatAm and Spanish TV Networks, iTunes, Netflix and Launches New Bilingual Player and "En Espanol" Site, Free Starting October 8."
NEW YORK, Oct. 8, 2012 /PRNewswire via COMTEX, via MarketWatch/ -"Lines continue to blur between entertainment and technology as DramaFever reveals great news for 50 million U.S. Latinos, marketers and content partners. DramaFever, a leading global online video platform backed by MK Capital, YouTube and Machinima cofounders, AMC Networks, Bertelsmann Digital Media Investments, and NALA Investments (the investment vehicle for the family that created Univision and Televisa), is rolling out new Spanish-language shows, a new bilingual player with built-in social features and a new integrated site "En Espanol."

New deals with TV networks and producers in Argentina and Spain, as well as with iTunes and Netflix deepen the company's penetration in North and Latin America.

DramaFever reports it now has one of the largest licensed U.S. collections of Spanish-language primetime TV and telenovelas available online for free to Americans and Canadians. Latin Americans can now also visit DramaFever.com to begin watching an ever expanding library of hit TV dramas, action, comedies and music shows from Korea, China, Taiwan, Japan, Philippines, and Singapore. Hulu, and now Netflix and iTunes customers can find DramaFever's curated selections of popular South Korean dramas. Global visitors to DramaFever can connect around shows and stars in both English and Spanish, thanks to the bilingual player and enhanced site, which automatically detects a viewer's region and has features to predict language preference, target ads, and limit videos to only those outside of a content partner's existing market."
AMCX has an acclaimed and sterling reputation as a "go-to" producer for a growing independent filmmaking industry. It owns NYC's historic Waverly Theatre and has revamped this forum into a NY "Mecca" for collaboration with independent producers. They serve and grow promising film talent much like venture capital (VC) and "incubator" firms do, and accelerate the burgeoning growth in independent filmmaking, aided by the internet platform and accessibility.
My personal "gut-feeling" is that the strong and intact management team at AMC keep an ever-watchful eye on trends and disruptor breakthroughs in media content, and surely took notice of the overnight success of the Si-Fi Channel's original movie "Sharknado." It will likely try to repeat that model, regarding the showing of that made for t.v. production being shown at movie theatres. If so, it will be able to gain traction in the theatre industry. I also predict that a partnership/distribution agreement of some sort will originate with Netflix in the not too far off future, and maybe one with Facebook, now that Facebook's just demonstrated monetization capabilities with advertising, and all the user trends in FB continue to grow. We'll have to see.
Company and Sector Risks
Potential risks for both the media industry and its' sub-sectors include the omnipresent regulatory overhang such as a la carte programming and Net Neutrality, FCC oversight, ratings losses on content, loss of a partner or affiliated distribution rights (as what occurred with DISH in 2012), consumer trend shifts in content delivery choices and pricing, and debt. AMCX holds a large debt service on its balance sheet, which they are prudently focused on, and handling in a speedy fashion. This risk appears to be addressed and managed well, and diminishing balance sheet debt burdens will be one of my key focal metrics.
A slowdown in media and broadcast M & A activity and market sentiment, as well any advertising slowdown are unlikely near term, with corporate balance sheets flush with cash at most companies. There is the potential consumer sentiment and decreasing purchasing power, and an economic improvement is needed to stimulate consumer purchasing. Advertising increases will spur some spending. Further supporting advertising trends are strength in some travel and leisure segments, as well as strong auto sales trends, with the large motor companies spending more on ads. Home sales and housing-related spending and ads are steady, as well as the necessary ad support for back to school shopping. Holiday shopping is coming shortly, so a general seasonal increase by retailers should also provide advertising revenue.
Valuation Metrics
Q1 2013, reported in May, had strong growth in revenue, up 17.1%, and adjusted operating cash margin [AOCM] grew by 19.5%. Primetime ratings for AMC were up ~30%, in both the 18-49 & 25-54 age range, a key demographic. Advertising revenue was up 26.9%, distribution revenues up 11.7% to $21 million Y-O-Y, totaling $196M. Expenses increased 17.3% ($30M), due to costs of programming related to new content, and net income/continuing operations increased to $62M, or .85c per share (vs. last year's $43M/ .60c). Cash flow was a negative $46M in the quarter due to litigation-related federal tax payments of $81M, but will be offset by the availability of $20M in tax credits in Q3, and periodically in future quarters. Outstanding debt equaled $2.2B, cash on hand totaled $555M, and international revenue was basically flat as some viewership fees decreased, but were offset by expanding networks.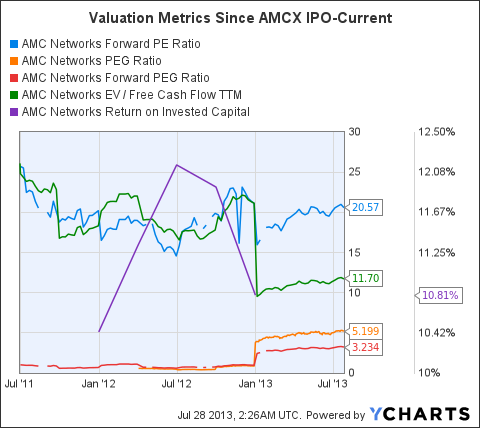 AMCX Forward PE Ratio data by YCharts
Recent Progress and Performance
The Walking Dead, which set all-time records for the most viewed episode in cable history, starts another season on August 11. The show is notable for past ratings and viewership and outrated "The Voice" and "Modern Family" in viewers. IFC has a few newly planned shows pending. "The Spoils of Babylon," a production by Will Farrell, and "The Birthday Boys" is being produced by Ben Stiller and Bob Odenkirk. These are in the production process now. Note Q1 highlights made by management included discussions stating that the Sundance Channel has reached critical momentum, and is transitioning to an advertising-based model-the typical AMCX "Modus Operandi." WE tv has grown by 66% during the past 5years, and by double digits during the 2012 CY in the key women group 25-54, a powerful and influential demographic.
Advertising revenue for the full year 2012 is up by 29% YOY, and production and distribution increased by 12% YOY. Dish Networks paid a hefty settlement fee as described below, and more quarterly payments are due to AMCX, so settlement payments are pending. DISH viewers missed an entire season of all of the previously offered AMC channels and shows (as well as the VOOM HD platform that AMCX owns), including the hit shows, but the original agreement is again back in place. AMC also had some excellent P.R. and promotions at 2013's Comic-Con convention, featuring "Breaking Bad" cast and crew members, and of course," Comic Book Men."
Valuation
As of March 31, 2013, the company had about $2.2 billion of debt outstanding, with cash and equivalents of $554 million (including certain proceeds from a litigation settlement between Cablevision and AMCX vs. DISH). Its net debt to EBITDA ratio was 3.7x, based on trailing Adjusted Operating Cash Flow [AOCF] of $490 million, down from 5.1x as of the spin-off of AMCX on June 30, 2011. In 2012 the company paid down $150 million on a term loan in addition to $250 million in prepayments in 2011. AMCX continues to deploy excess free cash flow toward de-leveraging. That is important, as the one metric that seemed potentially troublesome to me is the high debt level. Source: AMCX 2012 10-K
Earnings reported for Q1 2013 Earnings reported for Q1 2013 in May had 1Q revenue of $382M, net profit amounting to $61.5M, and earnings per share of 85c. Earnings are on track for more decent growth in FY 2013. S & P noted in May that they would consider upgrading AMCX's rating (currently rated at 4 out of 5 stars) if the company can keep adjusted leverage below 4x on sustained basis. The PE is high as well, at 31.8x, but this company is a fast growth company, so it does deserve a premium valuation based on growth and consistent success, both organically, with affiliate and partnership content distribution, and expansion of platforms and regional expansion. The forward P/E is approximately 18.5x, and AMCX has a forward earnings yield [PEG] growth rate of 1.4, a reasonable value for its fast growth. Fiscal 2012 full year and Q4 growth beat Street consensus estimates by ~25%.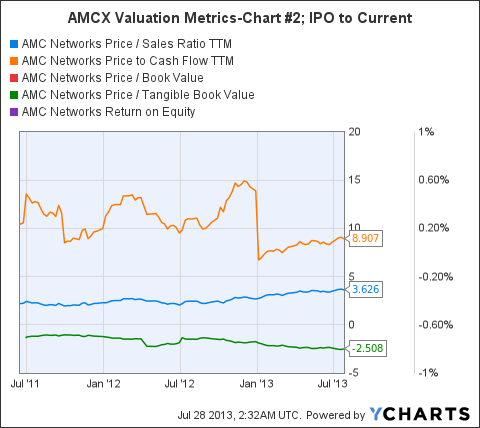 AMCX Price / Sales Ratio TTM data by YCharts
Market capitalization is $4.9B, a mid cap, with 77.2 million shares outstanding. Average volume (10D) is 327.7K shares. The 52-week high is $70.65, hit as recently as May 09th, and the respective low was $37.47. Currently, AMCX closed on Friday, July 26th at $67.89. Trailing twelve month (TTM) earnings per share were $2.14. AMCX does not distribute dividends at the present.
Outlook
AMCX will report Q2 2013 earnings on August 08th. My take is that the shares may retrace back to the June 2013 lows (in the $62-64 range), due to many hit shows being in-between summer season (prior to the new season premieres), and also because of fewer viewers and traffic during the vacation period (mitigated by high school and college summer vacation). Consumers will not be spending as much time watching television. More internet and mobile traffic may offset the slower summer seasonal trend. Advertising traffic is not supported by new content during this between season lull, even though reruns are popular.
August 8th is the Q2 earnings release, and new seasons and shows will commence August 11th. Any sort of meaningful pullback in AMCX shares is welcome, as this stock has barely looked back since the IPO date. Continue to expect double-digit growth in the viewing audience.
The well-known bankers Sterne Agee recently initiated coverage of AMCX with a "Buy" rating. I should also note that famed billionaire hedge fund investor John Paulson has AMCX as his second favorite small cap stock. His hedge fund company, Paulson & Co., is huge, with around $12.7B in assets under management [AUM].
While Paulson's holdings include much larger equity positions in large and mega cap firms, hedge funds add a notable percentage of alpha via the positions in smaller-capitalization stocks (as much as 1.2% per month). Wall Streets' general coverage of AMCX is positive, and we will be lucky if there happens to be a substantial pullback in its stock, barring a negative surprise in earnings or revenue.
There's market risk galore these days, so any of the comments from the Federal Open Market Committee [FOMC], Ben Bernanke, or the other Federal Reserve voting members' assent or dissent could force a general downturn, as well as any other economic reports due out next week. Other earnings related news, particularly in the media sector, could cause a sector sell-off as well. AMCX could be one of the few companies this earnings season that could show some revenue growth, and that will cause likely upgrades, estimates, and a quick share price appreciation.
Recommendations (and my personal strategy)
I have learned (the hard way) years ago, to incorporate into my discipline never to put on a full position in any stock at once, so I usually wait for a pullback before deciding how much to buy to start an investment. Opportune entry points are crucial to successful investing, as equal as deciding if, or when, to sell, and the likelihood that selling also allows a later date to reinvest at a lower price is a necessary consideration. Usually there are other opportune (reentry) points, and external factors tend to bring that criteria into the realm of possibility and probability. I missed the downturn in May on AMCX, and last Friday had shares down about 2%. That is the most opportunity this company's shares have given investors in the last two months. I was busy adding to Sandisk (SNDK), down 5-6% for the day.
I believe AMCX has upside potential for a positive 30-35% share appreciation by year end 2013, and can double in a three year period. Using the "Rule of 72," by dividing 72 by three (the three year period), indicates a 24% annual growth rate (OTCPK:CAGR) by my growth estimates. Pullbacks of 10% or greater, barring fundamental deterioration in the company, would be a gift and should be bought on weakness.
AMCX is also a potential takeover target. The market cap size is just right, although I think that this strong and ambitious management team has loftier plans. If AMCX becomes involved in M & A activity, its management is the type that would deal itself back out eventually with an exit strategy, probably negotiating an Activision Blizzard (NASDAQ:ATVI) type deal. Vivendi (OTCPK:VIVHY, OTCPK:VIVEF) was as close to legally "robbed" as deal-making can get, with regards to selling ATVI back to management. AMCX officers are capable of securing an equally lucrative deal structure in that scenario. Now that would be "Breaking Bad!"
With all the upside potential in AMCX, I've resigned to buying 10-15% next week sometime (before earnings), and see if news of any kind can cause a further drop. If not, I'll wait until after the August 8th earnings report, listen to the conference call, and go from there. As an investor, I want to get to know the management, and listening to them is the best way (short of a personal meeting). For those readers that look at the10-K and 10-Q, but do not listen to the available online webcasts, I highly recommend that they do.
The tone, flavor, nature of questions, and the answers heard on the conference calls can tell a listener a lot. Not only does one get to know management in a better way, but the words, emphasis, possible brushing-off of questions, hesitation, and confidence are as telling as poker reads and tells. That, to me, is invaluable. I've also learned a lot from the analysts' questions, as well as their competence individually, and in comparison to one another. Each of us learns to know whom to trust and rely on in life, and in general, and whom we can delegate to without losing sleep over any given situation. The same applies here. Money is riding on it.
Happy Alpha Hunting, Folks!
Disclaimer: Investment information contained within this article is not intended as investment advice. This content is not published with any intent to sell, promote, market, distribute, or advertise any company or investment products mentioned. These are the writer's opinions, and material facts contained within all the related content may differ materially, is subject to change, and disseminated from multiple sources. Past returns and performance are not indicative of future performance. All investors should do individual and suitable due diligence before making any investment decisions as a result of any facts, information, or opinions in this article.
Disclosure: I am long SNDK. I wrote this article myself, and it expresses my own opinions. I am not receiving compensation for it (other than from Seeking Alpha). I have no business relationship with any company whose stock is mentioned in this article.
Additional disclosure: I may initiate a long position in GOOG. I may also take either long or short positions in NFLX and YHOO within the next 72 hours.