Introduction
Military spending, despite budget deficits and sequestration, remains the largest budget item and is expected to be over $600 billion during the U.S. 2014 fiscal year. ITT Exelis (NYSE:XLS) is well-positioned to benefit from military spending and specifically spending on new communication and high-technology programs due to its expertise in these areas. Most of us have heard about the $436 hammers and $7,600 coffee makers purchased by the military in the 1980s. Imagine the profit capabilities for buying a secure military communication system where price comparison is much more difficult than when buying a hammer. In addition, the company should continue to benefit from its recent expansion into aircraft components and military base management, a multi-million restructuring, and increased international demand for its products and services.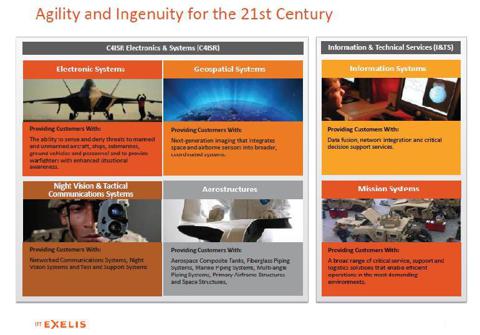 Exelis' businesses. Source: Exelisinc.com
Valuations and fundamentals
Exelis has about 188.1 million shares outstanding for a market capitalization of about $2.7 billion and an enterprise value of $3.3 billion. The company's balance sheet had $185 million in cash, $2.2 billion in defined benefit plans liability, and $649 million of long-term debt as of March 31, 2013. While the balance sheet does not look very healthy, the long-term debt does not have to be repaid until 2016 ($250 million) and 2021 ($400 million) and the company has a $600 million bank credit facility available.
Also, the company plans to freeze its defined benefit plans as of Dec. '16. The defined benefit plans have estimated benefit payments of about $400 million a year. It is somewhat concerning that the plan has a rate of return of 8.5%, which seems somewhat high as explained in this Wall Street Journal article. Even more, the Exelis is lowering its discount and estimated future compensation increase rates, which could be making its pension obligations seem less than they are actually. Below is a table comparing valuation and fundamental metrics for Exelis and those of competitors Harris (NYSE:HRS) and Northrop Grumman (NYSE:NOC).
| | | | |
| --- | --- | --- | --- |
| | XLS | HRS | NOC |
| Market capitalization | $2.7B | $6.3B | $21B |
| Price-to-earnings (est.) | 10 | 12.6 | 12.7 |
| Price-to-book value | 2.6 | 4 | 2.2 |
| Price-to-sales | 0.5 | 1.2 | 0.8 |
| Latest quarterly revenue growth vs. a year ago | -16.6% | -12.1% | 0.0% |
| Gross margin | 21.3% | 33.8% | 22.2% |
| Operating margin | 9.4% | 15.7% | 12.4% |
| Price-to-CFO | 4.5 | 7.2 | 9.6 |
| Dividend yield | 2.8% | 2.8% | 2.7% |
| International sales (last annual report) | 10.0% | 6.9% | 6.0% |
| 1-year total return | 55% | 37% | 37% |
Source: Reuters, CapitalIQ, SEC filings, author's calculations.
Data as of July 31, 2013.
CFO - cash flow from operations.
No two companies are the same. According to the valuation and fundamentals measures in the table above, Exelis seems undervalued compared to Harris and Northrop based on price-to-earnings and price to sales ratios. All three companies have almost the same military style dividend yields. In terms of margins, Exelis has the lowest gross and operating margins. However, the company is finalizing its restructuring program and margins should improve from current levels.
In addition, Exelis derives the largest portion of its revenues from international sources compared to the other two companies in the group. The international portion continued to grow in Q1 '13 after the company signed multi-million contracts with South Korea (for a geostationary imager) and the Australian Navy. Importantly, Exelis, similar to Harris, is engaging non-military customers. For example, during 2010, the U.S. Department of Defense and the intelligence community represented 72% and 82% of Exelis and Harris revenues, respectively. The shares decreased to 69% and 70% in 2012 for Exelis and Harris, respectively. Northrop consistently derives over 90% of revenues from U.S. military and intelligence customers. Interestingly, a top U.S. general salary is about $300,000 per year according to therichest.com, while the top five executives at Northrop earned a cool $65 million in 2012.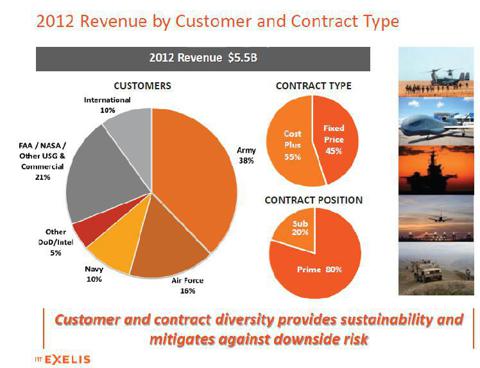 Exelis' revenue breakdown. Source: Exelisinc.com
The military budget
The U.S. military budget is the highest budget of any military in the world. In fact, it is more than two times the military budget of the entire European Union (the U.S. population is about 316 million vs. 500 million population of the European Union). The military budget excludes spending on the departments of Homeland Security (about $50 billion a year) and Veterans Affairs (about $130 billion).
While sequestration and budget uncertainties have impacted military spending, it is estimated that military spending was cut by $41 billion for the U.S. fiscal year 2013 or about 6.7% of the total budget. The military budget for fiscal 2014 (beginning in Oct. '13) is projected at $615 billion, virtually unchanged from the 2013 budget of $614 billion. It is likely that, due to the Budget Control Act, military budget will be cut by $52 billion, or less than 10% and across the board.
This cut is likely to affect Exelis and Harris more than Northrop as Exelis and Harris have a larger exposure to short-cycle businesses, such as information technology products and support services. Short-cycle businesses are easier to cut than fighter jet orders, for example. On the other hand, the amount allocated to cyberspace in the budget is increasing from $3.9 billion in fiscal 2013 to $4.7 billion in fiscal 2014. Exelis has a large business focused on critical networks and electronic warfare, areas that are priorities in the military budget. While it is difficult to measure the impact of the budget cuts, it is likely that Exelis will be minimally affected. In addition, the company is growing its international business, which should further soften U.S. military spending concerns.
Recent developments
During the first quarter of 2013, Exelis revenues decreased by over 16%, the sharpest decrease within the peer group. While both C4ISR (Command, Control, Communications, Computers, Intelligence, Surveillance and Reconnaissance) and Information and Technical Services experienced double digit revenue declines in the quarter, the company did have important wins in the first half of 2013:
Completed the acquisition of C4i, which provides software supporting mission critical communications - this acquisition will allow Exelis to expand its technology offerings, an area expected to continue to grow faster than conventional military products and services.

Signed a number of contracts with international customers - international reach will be key in future growth initiatives.

The U.S. Navy awarded Exelis' first base operations management contract in Romania - this will provide further avenues for growth and signifies the importance of communications and IT in future military operations.

Completed the major phase of expanding its composite structures facility near Salt Lake City - composite structures are becoming increasingly important in military and commercial aircraft as opposed to pure aluminum. Composites are lighter and more efficient. Currently, Exelis is providing composite structures (manufacturing and assembly) for Lockheed Martin F-35, Sikorsky CH-53K, Boeing 7 series and Airbus A380 aircraft.
In addition to growth initiatives, Exelis is also completing a major restructuring, which should start producing benefits in Q2 '13. Also, it is converting into a shared services organization. All this should contribute to improved margins for the rest of the year and beyond.
Similarly, Harris and Northrop are controlling costs in light of lower government spending. Harris seems to be expanding faster into non-military products and services as it is providing communications systems to the Federal Aviation Administration, healthcare organizations and private companies. And Northrop should benefit from expanding of unmanned aerial vehicles use (with its Global Hawk and Triton programs). Northorp's X-47B completed in Jul. '13 is the first ever carrier based arrested landing of unmanned aircraft. Also, it is expected that the FAA will soon allow hybrid aircraft (between helicopter and fixed wing aircraft), which could benefit Northrop, as well as Exelis and Harris to a smaller extent.
Both Harris and Northrop are buying back shares. During their latest quarters Harris bought back 2.8 million shares for $140 million, while Northrop bought back 6.1 million for $489 million. Harris and Northrop have $130 million and $4.6 billion remaining for share repurchases under their current authorization plans. These buybacks are likely to improve the per share performance for Harris and Northrop going forward but will have no impact on operating margin comparisons. Exelis is not expected to repurchase significant amount of shares in the near future due to its weak balance sheet.
Conclusion
These are not easy times for the military industry and it is even more difficult for investors to select the winners from the losers. As evidence of the budgetary constraints facing military suppliers, both Harris and Northrop were absent from the 2013 Paris air show. On the other hand military spending is rising in certain technological and communications areas. For example, the Navy awarded a $15.3 million contract to Northrop to upgrade the software on the MQ-4C Triton unmanned aircraft to Windows 7 from Windows XP.
As demand for complex and secure communication systems increases, companies such as Exelis (and to some extent Harris and Northrop) are likely to benefit more than traditional military product and services providers. In addition, Exelis seems to be controlling costs well and is expanding internationally and in the commercial areas. Finally, the relatively small size of Exelis makes it an ideal acquisition target if and when consolidation in the military industry accelerates. All this together with relatively undervalued shares make investment in Exelis worth considering at this time.
Disclosure: I have no positions in any stocks mentioned, and no plans to initiate any positions within the next 72 hours. I wrote this article myself, and it expresses my own opinions. I am not receiving compensation for it (other than from Seeking Alpha). I have no business relationship with any company whose stock is mentioned in this article.