The news out of China last night has markets trading higher, and Asia saw some strong moves in China and Japan last night. Europe is looking strong this morning and futures here in North America are all green. With the earnings that have been trickling out this morning, we think that the futures shall only gain strength and the conference calls we see scheduled for today should also provide strength. We have a lot of economic news due out this morning and that will be key, especially the jobs numbers.
Chart of the Day
We noticed that the advance/decline line on the NYSE is trending lower once again, and we are watching intently as the last time this happened we saw a bit of a correction. Watch to see if we break below 20k, which could indicate a larger correction/pullback ahead.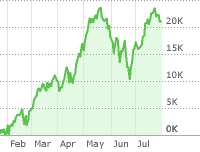 Source: Ameritrade.
We have economic news due out today and it is as follows:
Challenger Job Cuts (7:30 a.m. ET): N/A
Initial Claims (8:30 a.m. ET): 345k
Continuing Claims (8:30 a.m. ET): 2995k
ISM Index (10:00 a.m. ET): 51.5
Construction Spending (10:00 a.m. ET): 0.2%
Natural Gas Inventories (10:30 a.m. ET): N/A
Auto Sales (2:00 p.m. ET): N/A
Truck Sales (2:00 p.m. ET): N/A
Asian markets finished higher today:
All Ordinaries -- down 1.52%
Shanghai Composite -- up 0.57%
Nikkei 225 -- up 0.89%
NZSE 50 -- down 1.36%
Seoul Composite -- up 0.22%
In Europe, markets are trading mostly higher this morning:
CAC 40 -- up 0.55%
DAX -- up 1.22%
FTSE 100 -- up 0.03%
OSE -- down 0.09%
Retail
The report yesterday from the New York Post regarding J.C. Penney (NYSE:JCP) and CIT Group (NYSE:CIT) appears to be incorrect, and Penney shares were rising in pre-market trading this morning. For those who are unaware, late in the session yesterday the Post reported that CIT had cut financial support to suppliers of J.C. Penney after meeting with Penney executives and having looked over the books. Shares fell 10% as that news would have posed serious liquidity risks for J.C. Penney moving forward as they would have most likely been forced to provide cash upfront to their suppliers in order to receive the goods to fill their stores. The good news for investors is that the report was untrue and J.C. Penney has discussed the issue with CIT and announced this morning that CIT has made no decision to go this route. Now investors' focus can shift toward the court case, which we should have some news on today.
Consumer Goods
Bill Ackman took a few hits yesterday with J.C. Penney shares under pressure and Herbalife (NYSE:HLF) shares rising on the news that George Soros had taken a long position in Herbalife not too long after he had removed funds from Ackman's hedge fund. Shares in Herbalife finished the day higher by over 9% to close at a new high of $65.50/share on volume of 15.7 million shares. We would remind readers that Soros is the legendary trader who took on the Bank of England and forced their hand, which leads us to believe he thinks he can do the same with Ackman. Granted, his stake has to be under 5% of the total company, but the fact that this stake is one of Soros' top three holdings highlights its importance to him. An awful lot of smart people are piling up on the opposite end of this trade and it is not looking particularly good for Ackman at this time.
This chart is looking as though it is about to go parabolic. For Ackman's sake we hope not, but someone has to be on the losing end of a short squeeze and it appears that it shall be him. We would not bet against him, but neither would we bet against the names who have lined up on the other side and it seems investors are choosing the lesser of two evils.
Click to enlarge images.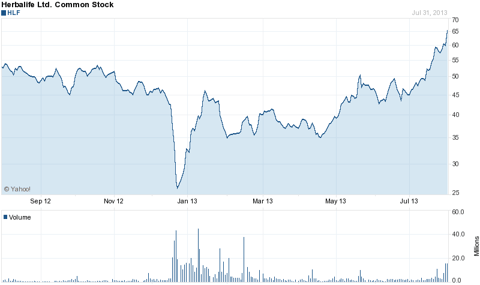 Source: Yahoo Finance.
SodaStream (NASDAQ:SODA) crushed it this quarter as they reported adjusted EPS of $0.74/share, which blew away the consensus of $0.57/share while reporting revenues of $132.4 million vs. the consensus estimate of $129.7 million. The company stated that their new guidance will put them into the 30/30 club, or 30% top-line growth with 30% bottom-line growth for the year. Investors liked the news and pushed shares higher by $6.76 (11.59%) to finish the session at $65.08/share. For readers interested in the conference call transcript, it is located here.
The good earnings news could not have come at a better time; look for this one to continue to rally on technicals after the good operational news.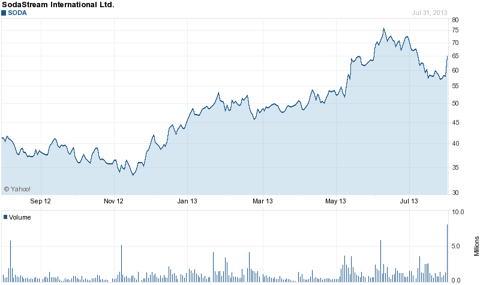 Source: Yahoo Finance.
Banking
We want to revisit one of the names we have provided as a trading idea numerous times over the past couple of years: Regions Financial (NYSE:RF). We recently encouraged readers to take the profits from our last trade as we thought the market was getting a bit ahead of itself in assuming that rates were headed higher due to the Fed easing off of the pedal. Our logic was correct as yesterday showed; however, we are now inclined to move back into the regional banks and think that Regions is set up perfectly for an entry. We recommend buying in tranches with a quarter or half position purchased at this time, and to average in on any potential pullbacks. If the market continues to rally off of the economic news we are getting and the numbers at financial institutions continue to improve, then we see 10%-20% upside here.
Disclosure: I have no positions in any stocks mentioned, and no plans to initiate any positions within the next 72 hours. I wrote this article myself, and it expresses my own opinions. I am not receiving compensation for it (other than from Seeking Alpha). I have no business relationship with any company whose stock is mentioned in this article.