Arch Coal (ACI) is the most diversified coal company in the U.S and has large coal reserves of almost 5 billion tons. The company is expected to benefit from a recovery in met and thermal coal markets. Also, ACI is trading at depressed valuations: P/S of 0.20x and P/B of 0.30x. Therefore, I am bullish on the stock and believe it offers an attractive investment opportunity for investors.
Financial Performance
Due to the ongoing difficult conditions in the coal markets, ACI has been struggling to post healthy financial performance. ACI reported net revenues of $766 million in Q2 2013, as compared to $965 million for the corresponding period last year. Revenues for the recent second quarter were negatively affected by the drop of almost 21% in average sales price per ton. The company registered a Q2 2013 beat with adjusted EBITDA of $111.5 million as compared to analysts' estimates of almost $105 million. Loss per share of $0.29 also came in ahead of analysts' estimated loss of $0.33 per share. Better-than-expected earnings for the quarter were primarily due to aggressive cost control efforts. The table below shows the operating results for Q2 2013 in comparison to Q2 2012.
| | | |
| --- | --- | --- |
| | Q2 2012 | Q2 2013 |
| Revenues | $965m | $766m |
| EPS | $(0.10) | $(0.29) |
| Tons Sold (in millions) | 31.5 | 35 |
| Avg. Sales Price per ton | $28.44 | $22.34 |
| Cash Margin per ton | $6.02 | $3.77 |
| Operating Margin per ton | $1.87 | $0.44 |
Source: Quarterly report.
By the end of Q2 2013, ACI had total available liquidity of $1.2 billion. The company does not seem to have any cash flow issues in the near term, as there is no long-term debt maturing until 2016. The following chart shows the debt maturity profile of ACI: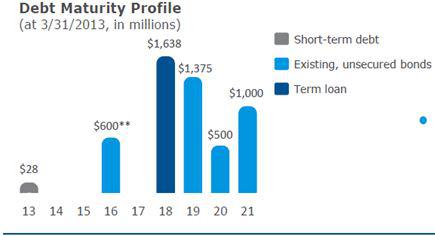 Source: Investor presentation.
Due to weak coal market conditions, the company has committed to improve its costs structure, reduce capital expenditures, and sell non-core assets to boost liquidity. Last month, in an effort to boost liquidity, the company announced it will sell its Utah mines to Bowie Resources for $435 million. The transaction is likely to benefit the company as it will result in more than $200 million capital and administrative cost savings from 2014 to 2017. ACI currently has a total long-term debt of $5.11 billion. ACI can pay off almost 8% of its outstanding debt by using total proceeds of the transaction (sale of the Utah mine) and strengthening its balance sheet.
Outlook
Recently, the drop in met coal prices has made production cuts a key factor in the recovery of met coal markets. Weak met coal markets are likely to force high cost producers to cut back on their production in the coming quarters. ACI lowered its met coal sales forecast for 2013 to 7.7-8.3 million tons from a prior forecast of 8-9 million tons. The company also announced a delay in starting up its Leer met coal mine in response to the excess met coal supply.
Moreover, the company is expecting its thermal sales volumes to total 130-137 million tons for 2013. ACI is likely to benefit as coal fired electricity generation is expected to increase by almost 3% in 2013, on a year-on-year basis. Coal consumption by electricity generators is up almost 10% in first half of 2013 in the U.S. and stockpiles levels at electric power plants are decreasing, probably resulting in increased demand for thermal coal in the coming months.
In order to support its earnings in the tough business environment, ACI lowered its 2013 cost guidance for all of its operating segments. For full-year 2013, PRB cost guidance midpoint was reduced by $0.25 per ton to $10.45-$10.85 per ton; Western Bituminous costs were lowered to $24-$26 per ton, from a prior cost guidance range of $24-$27 per ton; and the Appalachian guidance midpoint was reduced by $1 per ton to $65.50-$69.50 per ton. In addition, depreciation, depletion, and amortization (DD&A) was decreased to $480-$510 million from $500-$530 million, and capex was decreased by $20 million for full-year 2013.
Analysts are expecting a loss per share of $0.32 and $1.37 for Q3 2013 and 2013, respectively, for the company. Also, analysts have projected a decent average five-year growth rate of 5%.
Conclusion
Met coal market is likely to improve as steel production will drive demand upward and production cuts remove excess supply from the market. Steel consumption is expected to increase approximately by 3% in 2013. Also, an increase in coal fire electricity generation and higher U.S. coal consumption will lead to higher demand for thermal coal. These factors augur well for the company.
Furthermore, as ACI continues to improve operational efficiency and focuses on its core business assets, earnings prospects for the company will improve. As the stock is trading at depressed valuations -- P/S 0.20x and P/B 0.30x -- it offers investors a good investment opportunity to play a coal rebound. Therefore, I am bullish on the stock.
Disclosure: I have no positions in any stocks mentioned, and no plans to initiate any positions within the next 72 hours. I wrote this article myself, and it expresses my own opinions. I am not receiving compensation for it (other than from Seeking Alpha). I have no business relationship with any company whose stock is mentioned in this article.