Athletic apparel retailer Under Armour (NYSE:UA) has one of the hottest streaks in the country. For the 13th consecutive quarter the Baltimore, Maryland based company has grown revenue at 20% per quarter. While many thought this small company would never be able to challenge the 800 pound gorilla Nike (NYSE:NKE), it appears Under Armour is now beginning to take meaningful market share away from its competitors. During UA's investor day in June, new corporate growth goals were unveiled and management is now targeting $4 billion in sales by 2016. Given that sales estimates are between $2.23-$2.25 billion for the full year 2013, one could infer that management is predicting multiple more years of 20%+ top line growth.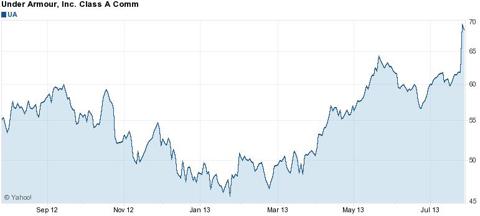 Source: Yahoo! Finance
Growth Drivers
Under Armour has hundreds of products available, many of which are significant contributors to overall sales. Each product has varying profit margins (for example footwear, a major sales component, has margins around 30%, much lower than other products), so rather than taking time in this article forecasting individual items, I will focus on specific divisions. In the table below you can see five broad divisions of the company and expected growth rates over what management is describing as their "Armoured for Growth" period. Men's apparel will continue to be the main component of sales, however the overall contribution to total sales will be less moving forward. Youth, footwear, and international sales are all expected to grow double during the next few years and become significant growth drivers to this organization. As Under Armour continues to sign top notch athletes across all sports, in addition to hiring well respected retired players like Ray Lewis to market the brand, it appears the UA logo may one day become just as recognizable as the Nike swoosh.

Source: Under Armour Investor Day Presentation
While the five divisions I highlighted above are by no means an exhaustive list of where growth may come from, they provide a top down approach to evaluating the company. Historically, management has provided conservative guidance and then increased their expectations each quarter. While I am certainly not saying the $4 billion sales goal is conservative, it is worth noting that this company has proven its ability to deliver on its promises. We are likely to see these divisions grow through increased eCommerce sales, increase in store counts, increases in average selling prices and increases in "shops within shops" (a concept throughout Dick's Sporting Goods (NYSE:DKS) stores). As distribution centers are built and inventory is better able to flow through various channels, cost reduction will also play a big part in how Under Armour invests for the future. During the recent earnings call CFO Brad Dickerson said, "We would expect to be opportunistic with any additional net revenues or gross margin upside to our plan during the duration of this year by reinvesting in SG&A to help support these growth initiatives in future years." However what appears to have investor excited the most is international expansion.
Opportunities Abroad
A constant criticism of Under Armour over the past few years has been CEO Kevin Plank's lack of experience to take this company international. While the verdict is yet to be determined on these criticisms, the current direction of Under Armour is proving the pundits wrong. Mr. Plank shared a wealth of information regarding the company's move into foreign markets during the second quarter earnings call. He anticipates at this same time next year, there will be more Under Armour offices outside the United States than here in the U.S. The infrastructure is being put in place to expand in new markets, and although it is coming at a cost to earnings per share, the long term benefits appear to outweigh the short term costs. You can see in the chart below that international sales as a percentage of total sales are expected to double in the next few years.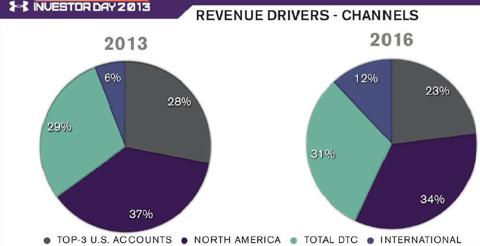 Source: Under Armour Investor Day Presentation
If the Under Armour brand catches on overseas, then we could realistically see 20%+ revenue growth past 2016. This is a big "what if" however. During a recent trip I took to England many soccer fans I spoke with were unaware of what Under Armour was. Even during a Tottenham Hotspur (the Premier League team Under Armour sponsors) game, with UA logos flashing across the stadium and on players uniforms, I still could not find a person who knew the brand. Additionally, many malls and retail outlets did not carry Under Armour products. While this is just one market internationally, it provides a very cautious reminder that moving abroad takes time to develop a following. One could look at this as a tremendous opportunity to grow, and thus far Under Armour has proven successful in this endeavor.
Risks
Before I paint too rosy of a picture for Under Armour, investors should be aware that all this growth does not come without costs. The growing pains of rapid expansion are a part of business and Under Armour is not immune to them. In my last article on the company I mentioned the risks of gross margin compression during the year. During the recent earnings call Mr. Dickerson stated "The product cost benefit from the first half of the year is not expected to continue in the back half of the year." He went on to cite a few reasons as to why gross margins will grow minimally if at all. First is higher air freight costs of shipping products not only to consumers, but between suppliers. Second is a major change taking place regarding Canadian customs audits. The valuation of goods imported into Canada is expected to change and although the ultimate outcome is unknown, an unfavorable impact to gross profits is expected. Another is currency fluctuations in Japan. Two thirds of all royalty revenues are generated in Japan, and the economic experiment currently being put on by Shinzo Abe and the Bank of Japan is effecting a portion of UA's business.
Although the company did not cite higher commodity costs as a reason for lower gross margins, I would caution investors to keep their eye on inventory levels. One area which caused concern among analyst over the past few quarters was inventory growth not keeping pace with revenue growth. Since Under Armour utilizes the FIFO method of accounting, increasing commodity costs will cause them to look more profitable as they deplete inventory levels. Management told investors that during Q2 they would be building a substantial inventory position, they delivered, with over $167 million added to the balance sheet during the quarter. Given the spot price of cotton over the past few months (see chart below), a main component in their products, I would watch how cost of goods sold is affected moving forward.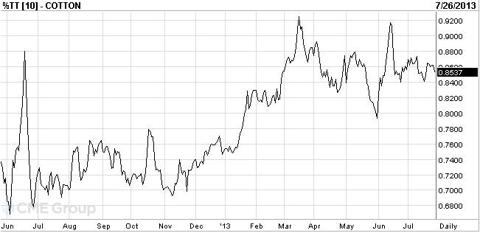 Source: Chicago Mercantile Exchange
Management tried to provide further clarity regarding inventory purchases by letting investors know that the inventory growth rate will likely peak during the third quarter before moving back in line with revenue growth rate. In the chart below you can see how much inventory lagged revenue growth over the prior few quarters (which resulted in higher gross profits). I would caution investors to keep an eye on inventory vs. revenue growth rates moving forward.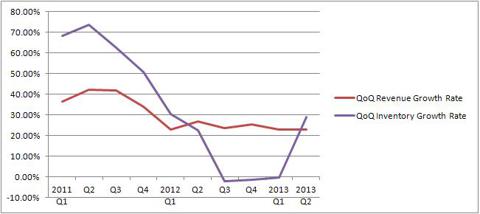 Source: Under Armour SEC Filings
My Thoughts on the Future
With half of 2013 already completed, management has provided a new outlook for the remainder of the year. Given that back to school shopping, the start of football season, and holiday shopping all occur during the second half of the year, sales are expected to be substantially higher. Management increased sales guidance and operating income from the prior quarters estimates, however a higher than expected tax rate will subtract a portion of those earnings. Below are some relevant points which management cited and I factor into my estimates:
Management raised its full year revenue to $2.23-$2.25 billion, representing 22-23% growth year over year. This is up from the prior estimate of $2.21-$2.23 billion; my estimate is at the low end of management's new guidance.
CFO Brad Dickerson said, "We expect modest gross margin expansion from 2012." I estimate 2 basis points of gross margin contraction, from 47.92% to 47.9%
Management anticipates operating income of $258-$260 million (up from $256-$258 million), my estimate lies at the midpoint of this range
An effective tax rate of 40%-41%, I use 40.5% in my model for 2013 and 40% for 2014.
Diluted share count of 108-109 million, I use 109 million in my model
Please note that the estimates below are not guaranteeing any of the results will be met. These estimates are strictly based upon management's guidance, the company's SEC filings, press releases, and historical data.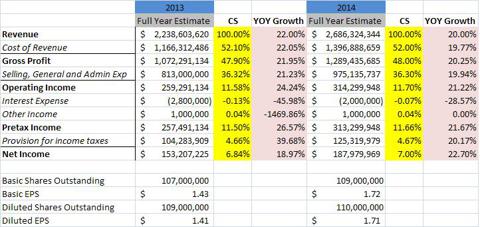 Source: Under Armour SEC Filings, Under Armour Management Guidance, and my estimates based upon historical data and future expectations. Estimates given above are no guarantee of future results, please evaluate the company in greater detail before making investment decisions.
Concluding Remarks
While I remain a long term bull on Under Armour, shares have run up significantly and do not appear reasonably valued at today's price level. With the stock trading at all time high price multiples; price-to-sales of 3.62x, price-to-earnings of 55x, and price-to-book value of 8.29x, patience may be the best course of action in this stock. When optimism reaches a high point, such as we are witnessing in Under Armour, it leaves management little room for errors.
The company is going to need to deliver on some difficult goals if it wants to keep the investment community happy. Any slowdowns along the way could cause momentum investors to rapidly liquidate their positions. Shares of Under Armour are rather volatile, and this may provide better entry points if you are looking to build a position. Keep your eye on this company and you will likely find a favorable entry point during periods of heightened fear.
Consider your investment goals and objectives before initiating a position in Under Armour and please remember that the value of investments in equity securities, like UA, will fluctuate in response to general economic conditions and to changes in the prospects of particular companies and/or sectors in the economy. Since I attempt to tailor my estimates above conservatively, any upside surprises would be beneficial, however, my investment position remains cautious.
Note: All data reported and graphed is pulled directly from Under Armour's SEC Filings, Press Releases and Investor Presentations.
Disclosure: I have no positions in any stocks mentioned, and no plans to initiate any positions within the next 72 hours. I wrote this article myself, and it expresses my own opinions. I am not receiving compensation for it (other than from Seeking Alpha). I have no business relationship with any company whose stock is mentioned in this article.