Weekly U.S. net corn sales for the week ending July 25th in the 2012/2013 marketing year were 134,000 metric tons, below the 10 week average but an improvement from last week's negative sales. Exports were reported at 328,100 MT, up 37% from last week, going primarily to Japan, Mexico, Venezuela and El Salvador. For the 2013/2014 marketing year, for the week ending July 25th, net corn sales were 1,091,200 MT, going primarily to Mexico, unknown destinations, China and Japan.
Weekly net soybean sales were decreased 39% from last week to 78,500 MT for the 2012/2013 marketing year, mainly due to increases from Taiwan, Mexico, Indonesia, Vietnam and Japan. Exports of 77,500 were down 22% from the previous 4 week average. The primary destination of these exports were Japan, Mexico, Taiwan, Vietnam and Indonesia. In the 2013/2014 marketing year ending July 25th, weekly net sales were reported at 1,030,900 MT, primarily from China, unknown destinations, South Korea and Mexico.
Weekly net sales of wheat were at 596,900 MT for delivery in the 2013/2014 marketing year ending July 25th, mainly due to sales in China, Nigeria, Brazil, Mexico, and Columbia. Exports of 627,400 MT went primarily to China, Mexico, Nigeria, the Philippines, Japan, Columbia and Brazil.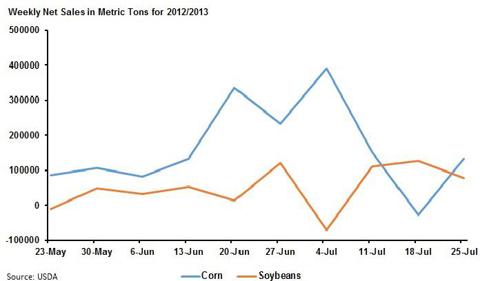 For daily articles on farmland and agriculture, visit www.farmlandforecast.com.
Disclosure: I have no positions in any stocks mentioned, and no plans to initiate any positions within the next 72 hours. I wrote this article myself, and it expresses my own opinions. I am not receiving compensation for it. I have no business relationship with any company whose stock is mentioned in this article.