At the beginning of the current year, I determined to add lower-risk dividend growth stocks to my portfolio. With cursory reading and some basic shopping, I'm leaning toward a utility stock or two. In this column I will examine seven utilities that are worthy of consideration for the retiree investor looking for preservation of capital and total return.
I purchased a few shares of Northwest Natural Gas Corp. (NYSE:NWN) late in the second quarter, and I'm pleased that I did. Without yet paying a dividend, it already has appreciated about 5% and is trading comfortably above $44 a share at the moment.
However, when overlaid with other utility stocks, I wonder how it compares. These six interest me at present:
Southern Company (NYSE:SO) is involved in the generation, transmission, and distribution of electricity through coal, nuclear, oil and gas, and hydro resources in the states of Alabama, Georgia, Florida, and Mississippi. It operates 33 hydroelectric generating stations, 32 fossil fuel generating stations, 3 nuclear plants, 13 combined cycle/co-generation stations, 4 solar facilities, 1 landfill gas facility, and 1 biomass facility.
TECO Energy (NYSE:TE) generates and sells electricity and gas principally in Central Florida. It also operates surface and underground mines; and produces, processes, and sells bituminous, primarily low sulfur coal of metallurgical, pulverize coal injection, steam, and industrial grades in Eastern Kentucky, Southwestern Virginia, and Tennessee.
Duke Energy (NYSE:DUK) operates in the United States and Latin America. The company operates in three segments: U.S. Franchised Electric and Gas, Commercial Power, and International Energy. The U.S. Franchised Electric and Gas segment generates, transmits, distributes, and sells electricity in various portions of North Carolina, Northern South Carolina, west central Florida, Northern Kentucky, and southwestern Ohio, as well as in central, north central, and Southern Indiana; and transports and sells natural gas in Southwestern Ohio and Northern Kentucky.
Avista Corp. (NYSE:AVA) operates in the United States and Canada. It operates in two segments, Avista Utilities and Ecova. The Avista Utilities segment generates, transmits, and distributes electricity primarily from hydroelectric, thermal resources, and wind, plus it provides natural gas distribution services to retail customers in parts of eastern Washington, northern Idaho, and northeastern and southwestern Oregon. The Ecova segment provides sustainable utility expense management and energy management solutions to multi-site companies in North America
AGL resources (NYSE:GAS) distributes natural gas to residential, commercial, industrial, and governmental customers in Illinois, Georgia, Virginia, New Jersey, Florida, Tennessee, and Maryland. Its Distribution Operations segment constructs, manages, and maintains intrastate natural gas pipelines and distribution facilities. Its Retail Operations segment markets natural gas and related home services, such as appliance repair and line protection plans. Its Wholesale Services segment is involved in the provision of asset management and optimization, storage, transportation, production, and peaking services; and wholesale marketing of natural gas. Its Midstream Operations segment engages in the natural gas storage business, which develops, acquires, and operates underground natural gas storage assets primarily in the Gulf Coast region of the United States and in northern California. Finally, its Cargo Shipping segment engages in the transportation of "container-ized" freight.
Vectren Corp. (NYSE:VVC) operates in Indiana and west central Ohio. It offers natural gas and electric distribution services, and it owns and operates coal-fired and gas-fired electric generating facilities. Further, the company engages in transmission pipeline construction and maintenance; pump station, compressor station, terminal, and refinery construction; and hydrostatic testing services. It serves a very wide variety of heavy industries including automotive and coal mining.
Northwestern Natural Gas Corp. stores and distributes natural gas primarily in Oregon, Washington, and California. The company operates in two segments, Local Gas Distribution and Gas Storage. The Local Gas Distribution segment distributes natural gas to residential, commercial, and industrial customers in Oregon and southwest Washington. The Gas Storage segment offers underground natural gas storage services to interstate and intrastate customers. It holds interests in approximately 12,000 net acres of underground natural gas storage in Oregon; and 5,000 net acres of underground natural gas storage in California.
As you can see, the companies, while in the same sector, serve different regions of the U.S. and Latin America, and to varying degrees are diversified. The region may be a factor in deciding a utility's place in your portfolio, at least insofar as you assess your confidence in those region's growth prospects.
Additionally, some of these companies evidently are more "tuned in" to growing interest among both consumers and businesses for alternative energies. For some, that's an important consideration.
Let's compare the companies on fundamentals.
| | | | | | |
| --- | --- | --- | --- | --- | --- |
| Ticker | Yield | P/E | Debt | Payout | Analysts |
| SO | 4.5 | 20.85 | 54% | <1.0 | 2.9 |
| TE | 5.0 | 18.64 | 57% | >1.0 | 2.9 |
| DUK | 4.4 | 21.67 | 50% | >1.0 | 2.7 |
| AVA | 4.2 | 20.85 | 54% | >1.0 | 3.2 |
| GAS | 4.1 | 18.29 | 59% | <1.0 | N/A |
| VVC | 3.9 | 19.02 | 56% | >1.0 | 2.5 |
| NWN | 4.1 | 20.79 | 55% | >1.0 | 3.2 |
Source: Yahoo Finance
Each of these companies yields sufficiently for a retiree's dividend portfolio, as long as the Federal Reserve Board maintains its policy of keeping interest rates very low. And the P/E ratios are roughly comparable. Furthermore, the opinions of the analysts don't reveal any alarm bells; these are middle of the road investments in their eyes, neither hot nor cold.
Each carries a very similar debt-to-equity ratio, but they vary widely in maintaining dividend payout within free cash flow. Only two, SO and GAS, paid dividends that did not exceed free cash flow in 2012. This in itself isn't a deal breaker; some carry excess cash on their books from which they can easily pay dividends while they deploy operating cash to other needs.
Because we're interested in yield, however, we should drill down some. What has been the dividend history of each of the utilities over, say, the past 10 years? With something as boring as a utility stock, we should be assured by the track record of stability and growth. As the chart below demonstrates, the trend lines differ, and we may want to discard some of them from further consideration: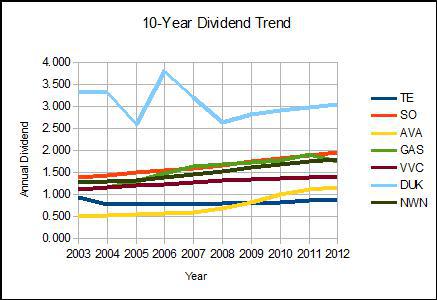 In this view we see some alarm bells, especially with Duke Energy. The change in 2007, however, was the result of the company's spinoff of its gas business to form Spectra Energy, so the comparison isn't clear. Since 2008, its dividend history is positive, but that time period isn't as much history as we'd like to see. While it may now be at the beginning of an attractive 10-year trend, it isn't there yet.
GAS raises another red flag. After an impressive run-up, the company decreased its dividend in 2012. In our quest for dependability, GAS looks less inviting.
Finally, we've red-flagged TE for similar reasons. It decreased its dividend in 2004, and it hasn't yet recovered to that level. Its dividend, too, is less than it was at the beginning of the period.
Here is the supporting detail. The percentages on the bottom line relate the ending dividend amount to the beginning. (Incidentally, the dividend amounts have been adjusted for stock splits.)
10-year dividend history - 7 utility companies
| | | | | | | | |
| --- | --- | --- | --- | --- | --- | --- | --- |
| | TE | SO | AVA | GAS | VVC | DUK | NWN |
| 2003 | 0.920 | 1.385 | 0.490 | 1.100 | 1.110 | 3.300 | 1.270 |
| 2004 | 0.760 | 1.416 | 0.515 | 1.150 | 1.150 | 3.300 | 1.300 |
| 2005 | 0.760 | 1.477 | 0.545 | 1.300 | 1.190 | 2.580 | 1.320 |
| 2006 | 0.760 | 1.537 | 0.570 | 1.480 | 1.230 | 3.780 | 1.390 |
| 2007 | 0.775 | 1.597 | 0.595 | 1.640 | 1.270 | 3.205 | 1.440 |
| 2008 | 0.795 | 1.663 | 0.690 | 1.680 | 1.310 | 2.700 | 1.520 |
| 2009 | 0.800 | 1.734 | 0.810 | 1.720 | 1.345 | 2.820 | 1.600 |
| 2010 | 0.815 | 1.803 | 1.000 | 1.760 | 1.365 | 2.910 | 1.680 |
| 2011 | 0.850 | 1.874 | 1.100 | 1.899 | 1.385 | 2.970 | 1.750 |
| 2012 | 0.880 | 1.943 | 1.160 | 1.741 | 1.405 | 3.020 | 1.790 |
| | -4.35% | 40.29% | 136.73% | 58.27% | 26.58% | -8.48% | 40.94% |
With three of these eliminated, let's look at the remaining four to determine which we should consider adding to our portfolio.
AVA looks especially interesting. Its dividend has more than doubled in 10 years. Past performance is no reliable indicator of future results (as we all well know), but that's a very encouraging trend line. If we had entered in 2003, our return on investment would have doubled.
As mentioned earlier, the assessment of regional vagaries is largely subjective. I picked NWN in part because I have some familiarity with the region and like its potential. AVA interests me for the same reason.
Finally, to the degree that an investor cares about a utility's interest in reducing greenhouse gases, one may want to look at its current generating facilities and plans for the future. On this point, Avista is the standout, mentioning in its company profile its interest and dedication to sustainable energy.
Consider this quote from its website: "Climate change is an important global challenge that is transforming the energy industry. . . The majority of scientists agree that the increased rate of change of earth's climate is due to rising greenhouse gases in the atmosphere as a result of human activity."
I do not wish to get political in this column, so I will only say that an attitude of acceptance of climate change and acknowledgement of human contribution to it by a utility company is important to me.
Conclusion: While the addition of NWN to my portfolio helped accomplish an investment goal that is part of my 2013 business plan, I will acquire shares in AVA when the price seems attractive. Its 52-week trading ranges between $23 and $29 dollars. At this writing it is off its 52-week high by just a few cents. Twenty-seven dollars a share would appeal to me, and the current dividend at that price would yield 4.3%.
Most importantly, however, is its very impressive dividend growth history. Whatever the dividend is today, history suggests that it will be higher next year, and impressively higher in 5 or 10 years.
Finally, the company's stated value of sustainable energy generation suggests that management is future-oriented. Its dividend payout, while high as a percent of 2012 free cash flow, is supportable from its strong balance sheet. If the stock should drop in price, possibly dragged down by other market forces, I will happily add shares to my portfolio.
Disclosure: I am long NWN. I wrote this article myself, and it expresses my own opinions. I am not receiving compensation for it (other than from Seeking Alpha). I have no business relationship with any company whose stock is mentioned in this article.
Additional disclosure: Information presented here is not the work of licensed financial adviser or experienced investment professional. Information provided should never be construed as investment advice. It is for educational and informational purposes only, and constitutes the elements of a personal learning project.