One thing that stands out to me when reading the latest Q2 2013 earnings report from Sandstorm Gold (NYSEMKT:SAND) is how well-positioned I believe the company is to complete more accretive gold streams, upping its already impressive production profile. Not only does the company have a significant amount of cash flow coming in each quarter ($8.53 million this last quarter, even with a realized gold price of $1,416 an ounce), but it now has $96 million in cash plus a $100 million credit facility at its disposal.
In this article I will go over Sandstorm's growth profile based on its current streams. I will also list some possible ways Sandstorm can use its available capital to make more deals and get more cash flow coming in, which is its business model in a nutshell.
Sandstorm Gold's Production Profile
Here is where Sandstorm's cash flow came from in the second quarter. As I mentioned in a previous article titled "How Safe Is Sandstorm Gold?"only one of Sandstorm's partners worries me in the short term, with gold prices under $1,350 an ounce. However, with $96 million in cash, I believe Sandstorm is likely to lend that company a hand should it require it.
Click to enlarge images.

Aurizona (Luna Gold) (OTCPK:LGCUF) -- 2,354 ounces sold. Sandstorm gets 17% of the life of mine at $400 an ounce.
Bachelor Lake (Metanor) -- 1,554 ounces; 20% of the gold at $500 an ounce.
Black Fox (Brigus) -- 1,746 ounces; 8% of the gold at $500 an ounce after it bought back 4% of the stream.
Ming (Rambler) -- 345 ounces; 25%-32% of the first 175,000 ounces produced at zero cost and 12% after.
Santa Elena (Silvercrest) -- 1,474 ounces; 20% of the gold at just $350 an ounce.
Premier Royalty -- $2.7 million from their royalties. (Sandstorm bought 60% of the company, hence the loss reported this quarter.)
For the six months just ended, the company recorded sales on 16,054 ounces of gold. Sandstorm is on pace for attributable production in 2013 of 33,000 to 40,000 ounces of gold, and the company is expecting this to increase substantially to over 60,000 ounces in 2016 -- based on its current streams alone and no new deals.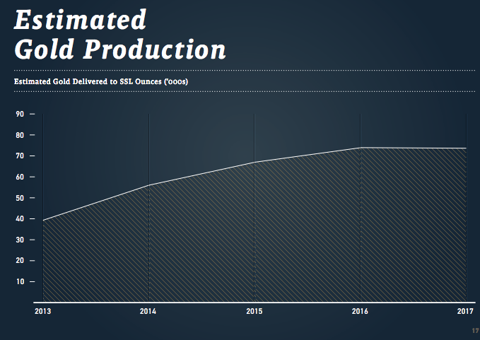 Let's Get the Mutiny Gold Stream Straight
I've read comments from some people on Seeking Alpha who have basically called the Deflector stream a failure. I believe this is a very premature thing to say. Sandstorm agreed to the deal in December 2012 when gold was significantly higher. Here are the terms: "Sandstorm agreed to purchase an amount equal to 15% of the gold produced from Deflector (the 'Gold Stream'). Pursuant to this agreement, Sandstorm will make an initial upfront cash payment to Mutiny of US$9 million (the 'Initial Deposit') and will make a future cash remittance of US$29 million (the 'Second Deposit') once Mutiny has received final mine permits for Deflector as well as completed certain funding conditions."
However, Mutiny was not able to complete those funding conditions. From the Q2 2013 report:
As part of the agreement, Mutiny was required to obtain the balance of the funds required to construct the Deflector Mine by May 31, 2013. As a result of Mutiny missing this requirement, Sandstorm is no longer obligated to provide the upfront deposits to Mutiny; however, Sandstorm will continue discussions with Mutiny regarding future alternatives.
I do want to point out that the Mutiny stream is in fact part of Sandstorm's 2016 estimated attributable ounces of 60,000-plus. So it's about 8,250 ounces it needs to replace (assuming 55,000 ounces produced with Sandstorm getting 15% of the gold), assuming no deal is worked out. I personally don't like the Deflector deal because Mutiny has a tiny market cap ($15 million, $0.04 a share,with a ridiculous amount of shares outstanding), so I personally hope that this deal is scrapped. With that money, I'd prefer Sandstorm to cut a bigger deal with a more mature and established company.
With Lower Gold Prices Comes a Bigger Opportunity
Sandstorm is in an enviable position here, with gold below $1,350, because it can make deals on its own terms. That is why I feel the Deflector deal not going through is actually a blessing in disguise, as the deal was made when gold prices were higher, as I stated above. Now the company can either renegotiate the terms with Mutiny, or scrap the deal altogether and get more bang for their buck.
I strongly believe that Sandstorm will have no problem replacing those lost ounces from the Deflector deal (if they are in fact going to scrap it altogether). With $196 million available, it's time to get to work.
60,000 Ounces a Year in 2016 Is Still Conservative -- Here's Why
Here are some ideas of where Sandstorm's growth can come from, organically. I also feel the company is being quite conservative with some of its estimates.
1. The Mt. Hamilton 2.4% NSR with Solitario has an option for a gold stream agreement with Sandstorm, that has an upfront deposit of no less than US$30 million. It will have the option, for a period of 30 months, to repurchase up to 100% of the NSR for US$12 million. I believe that this NSR will turn into a 10%-20% gold stream with Solitario, adding much more ounces to Sandstorm's growth profile. It's too early to tell just how many ounces Sandstorm can get form this deal, but with the mine expected to produce 48,000 gold ounces a year at cash costs of just $575 an ounce (total all-in cost likely around $1,100-$1,200), I think it's possible Sandstorm can bring in at least 9,000 ounces a year. Not to mention that this is a deposit that has big exploration upside.
In my opinion, Solitario is a solid company. It has just 34.5 million shares outstanding with management owning 11.7%, and it has a market cap of $35 million. The initial capital cost for Mt. Hamilton is $72 million ($15 million already funded), so I think it's likely that Solitario will be able to raise the required funds, outside of a Sandstorm gold stream. This stream alone would replace the ounces from the Mutiny deal.
2. The NSR with Magellan Minerals could also be converted to a stream, although there is no option for it to buy back the NSR to convert it. However, Magellan is just a $0.10 stock currently with a $12 million market cap, so I would need to see the price of gold rise and Magellan's share price higher to feel comfortable with a stream there.
3. Next, the company lists 2016 ounces from the Aurizona stream at a production rate of just 125,000 ounces a year. Since this mine actually has the potential to produce upwards of 250,000 to 300,000 ounces a year, I feel the company is being very conservative here (management likes to under promise and over deliver). As you'll see below, Luna expects to complete a Phase II expansion, which could push them to 250,000 ounces a year. According to Luna Gold, completion of the Phase II Preliminary Feasibly Study is expected in Q4 2013. Aurizona possesses the potential to eventually produce more than 200,000 ounces per year, spreading fixed costs (currently approximately 50% of cash costs) over more ounces.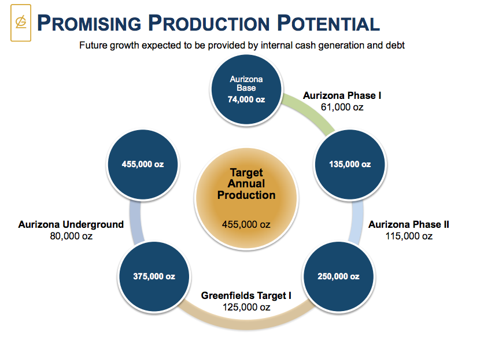 If Luna's expansion is successful and that becomes a 250,000 ounce mine, which I think is actually pretty likely given that the resource is more than 4.6 million gold ounces (measured, indicated, and inferred), then Sandstorm would receive 42,500 ounces a year alone form this single stream. The company lists the stream making up just 27% of its 2016 production. However, with 42,500 ounces coming in, the stream would make up over 70%. If Luna can succeed on its expansion plans, I believe this gold stream alone warrants an investment in shares of Sandstorm Gold.
4. These estimates also don't take into account the massive upside of Serra Pelada. While Colossus Minerals has run into some speed bumps lately, I am extremely optimistic about this company and its mine. You can read more about the potential of Luna and Colossus here.
5. I also think investors are underestimating the company's most recent NSR deal with Canadian Zinc, which also comes with an option to convert the royalty for a stream with Sandstorm Metals & Energy: "Sandstorm has a 1.2% net smelter returns royalty ('NSR') on precious metals produced from Prairie Creek (via a back-to-back agreement with Sandstorm Metals & Energy Ltd.). Sandstorm made a cash payment of US$3.2 million to acquire the royalty in May 2013." Note: Sandstorm Metals and Energy has a NSR on the base metals, while Sandstorm Gold has one on the precious metals.
At first glance, a $3.2 million NSR looks like it will barely move the needle for SAND. However, you need to read further on Sandstorm Metals' website: "Canadian Zinc will have the option, for a period of 30 months, to repurchase up to 100% of the NSR at face value if Canadian Zinc enters into a commodity stream agreement with Sandstorm that has an upfront deposit of no less than US$90 million. In addition, Canadian Zinc has provided Sandstorm with a right of first refusal on any future royalty or commodity stream financing for the Prairie Creek project."
Canadian Zinc has a market cap of about $100 million and a share price of $0.60. The company will require more than $100 million to bring this high-grade, low-cost mine into production. If I was a shareholder of Canadian Zinc, I would be open to a stream with Sandstorm. If Canadian Zinc makes a deal to repurchase the NSR for a stream, I find it highly unlikely that the $90 million will come solely from Sandstorm Metals, a company with a $55 million market cap at $1.70 a share.
A more likely scenario would see Sandstorm Gold contributing 30% or so for a silver stream with Sandstorm Metals taking on the rest. Time will tell if this NSR becomes a stream for both companies. This could easily add 3,000-6,000 GEO's to Sandstorm Gold's production profile, but it's way too soon to tell.
$196 Million of Capital? Let's Make a Deal
I've been trying to guess the company's next streams for years now and I've always been wrong. To be honest, I really have no clue where the next deal will come from. All I know is that with nearly $200 million available, the company should be aggressively searching for their next deal. If I was Sandstorm, I would be drooling at some of the opportunities out there, since I ultimately feel that gold prices will recover in the short term (three to six months or so).
Times like these are when the best deals are made. For example, going back to the Aurizona stream. Sandstorm paid just $17.8 million in cash plus 1.1 million shares to get this stream. The company made the deal in May of 2009 when the price of gold was about $850 an ounce, and Sandstorm has since contributed $10 million for the expansion.
It made Sandstorm $2.46 million in cash flow this quarter alone. In 2012, this stream made the company $14.5 million. Sandstorm's already made their money back on the deal -- and then some. And Sandstorm will continue to make money for many years to come. Management deserves a ton of credit for this deal. We can only hope that Sandstorm is able to duplicate this success at least one more time. Even the company can come close, I think they will make a lot of shareholders happy.
Sandstorm -- Is The Best Yet to Come?
I've been an investor in Sandstorm Gold when it wasn't even known by that name and when the company had barely any cash flow coming in. The growth of the company has been impressive, but I feel that there are much bigger things coming over the next few years. I've sold very few shares and have been adding to my position each month. I'm also a holder of the 2015 warrants and have been adding those on the dips.
I will be covering this company very closely going forward, so if you are interested in my analysis, please follow me and keep an eye out for future articles. Comment below if you have any questions.
Disclosure: I am long SAND, OTCPK:LGCUF, OTC:COLUF. I wrote this article myself, and it expresses my own opinions. I am not receiving compensation for it (other than from Seeking Alpha). I have no business relationship with any company whose stock is mentioned in this article.