Hasbro (NASDAQ:HAS) reported slightly weaker than anticipated second quarter results. Revenue declined 6% year-over-year to $766 million, well below consensus estimates. Earnings per share, adjusted for a one-time charge, also came in below consensus expectations, falling 12% year-over-year to $0.29. Year-to-date, free cash flow is up to 66% to $245 million, which equates to 17% of revenues (an excellent number).
Though headline numbers weren't quite as strong as anticipated, the market is focused on the contract extension Hasbro inked with Disney (NYSE:DIS) to keep Marvel and Star Wars products exclusive to Hasbro. We're not surprised by the deal extension, but some market participants may have worried that Disney would bring toy production in-house to increase profitability. Hasbro will pay $225 million for Star Wars, with $75 million coming in the form of an upfront payment in the third quarter. Hasbro will also owe Disney at least $80 million in royalty payments related to Marvel during the next seven years, which we think will be a cinch to meet with additional sales expansion. Maintaining the partnership should leave Hasbro well-positioned to benefit from new Marvel and Star Wars films that will come to market over the next few years.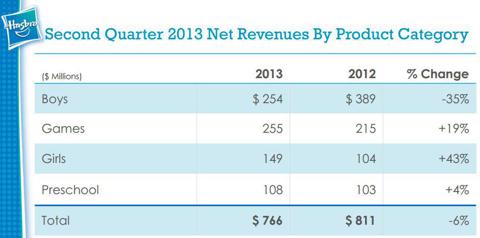 Image Source: HAS Q2 FY2013 Investor Presentation
As for Hasbro's quarterly performance, the firm struggled mightily to lap strong comparisons in its Boys segment, where sales declined 35% year-over-year to $254 million. The decline was so drastic that Boys slipped to the second-largest segment at Hasbro. We ultimately believe the lack of blockbuster entertainment releases can explain a great deal of the decline, though it's no secret that attention is being diverted by the excitement of innovative digital video games. However, we expect Hasbro to invest heavily in cross-platform products, ones where kids will be able to interact digitally and physically with toys.
In a stark contrast, Girls' revenue surged, growing 43% year-over-year to $149 million, driven by initiatives with My Little Pony, as well as the resurgence of Furby. Both brands are a long way from their simple origin, and both also have had successful interactive product offerings. Much like the PC has to deal with mobile computing, toys have to accommodate mobile computing, and Hasbro appears to be taking steps in the right direction to address the issue.
Hasbro's Games segment is also performing very well, with revenues jumping 19% year-over-year to $255 million. The Magic brand has done a stupendous job pacing the segment, but management spoke positively about gaming revenue across the board. CEO Brian Goldner said on the conference call:
"Well, the great news about our Games business is certainly that Magic has continued to grow at double digits. But the rest of our Games business, excluding Magic, has also grown at double digits. In fact, if you recall, those charts that we talked about back at our February Analyst Meeting, we're seeing growth across a lot of those components. In fact, mostly all through the quarter and year to date, all those different components are growing. And so again, I think the team is doing a great job of bringing innovation back to our business in the Games business, and that's true in the U.S., where we have a more technologically savvy consumer, as well as internationally."
Seeing growth outside of Magic is very positive, in our view, and it bodes well for Hasbro's initiatives to reinvigorate its Games brand portfolio.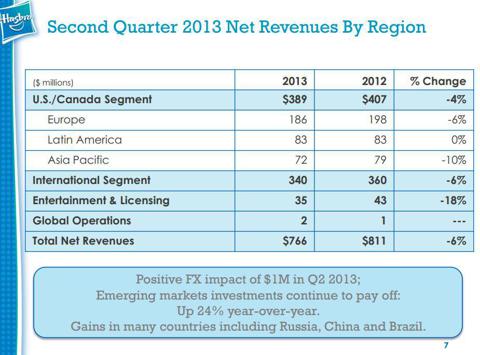 Image Source: HAS Q2 FY2013 Investor Presentation
As we can see from the above graphic, Hasbro struggled overseas where we saw net revenues decline 6% in Europe and 10% in Asia-Pacific. While the company mentioned that emerging markets revenue was up 24% year-over-year, the firm seemed to struggle mightily in other developed markets. Management didn't provide much color on catalysts for the back half of the year, so we doubt results in the international segment will improve.
On the cost side, we didn't see much to worry about. Cost of goods sold ticked up 70 basis points year-over-year to 39.2%, likely the result of sales deleveraging, but this was offset by significantly lower royalty costs, which fell 210 basis points to 6.6% of sales. Cost-savings initiatives seem to be progressing well and prevented a steeper decline in earnings.
Valuentum's Take
Though Hasbro's results weren't great, we see no need to panic. For one, the second quarter isn't nearly as large as the third or fourth quarter for Hasbro. With the firm focusing on leaner inventories and faster times to market, we think some sell-in (Hasbro selling to retail partners) could occur later than usual, shifting the timing of revenue. Shares of Hasbro continue to offer a compelling dividend yield (3.4% at time of writing) and valuation upside, so we're excited to keep holding the name in the portfolio of our Dividend Growth Newsletter.
Disclosure: I have no positions in any stocks mentioned, and no plans to initiate any positions within the next 72 hours. I wrote this article myself, and it expresses my own opinions. I am not receiving compensation for it (other than from Seeking Alpha). I have no business relationship with any company whose stock is mentioned in this article.
Additional disclosure: HAS is included in the portfolio of our Dividend Growth Newsletter.