I have spent quite some time lamenting that insurance coverage for drugs in the anti-obesity space is perhaps the single most important issue that Arena (NASDAQ:ARNA) and Vivus (NASDAQ:VVUS) face. Despite discussing it in comments and in answers to numerous e-mails, it seems that there are still many that wonder why I feel that insurance is so important.
On the day of the Arena conference call there will certainly be a lot of attention on what the company had to say. I agree whole heartedly that digesting the call is an important exercise in due diligence for an investor. However, the insurance issue is so important that I was actually compelled to submit this article for publication on the day the call was held.
A comment in an article about the pending Arena Q2 conference call compelled me to write this piece. I am not picking on the commenter, because I actually get several e-mails and questions as to the cost of Belviq and Qsymia, or the insurance issue. The comment below actually brought two issues to a head in one place. The cost, and the insurance.

I am not 100% sure, but I believe that Dirstman feels that cost is not an issue, not because he necessarily feels that way, but more because he does not WANT cost to be an issue. I agree whole heartedly with the first part of his comment. Cost is not an issue to try it. I also agree that many patients will be able to identify if Belviq is suppressing their appetite within the 15 day time frame. Where I disagree is where he feels that the $75 dollar coupon makes Belviq "affordable".
A recent MedaCorp study surveyed thousands of obese people about a wide range of subjects. That data included the weight loss solutions that had been tried, the demographics, what medicines have been tried, etc. What I want to focus on is a specific segment of the study relating to the cost obese people were willing to pay for an anti-obesity medicine. The chart below depicts the "out-of-pocket" expense that people were willing to pay.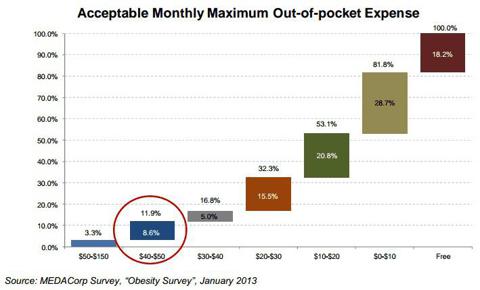 As you can see, 100% of those surveyed would accept free, while just 3.3% would accept a monthly payment of $50 to $150. Essentially, the more affordable the monthly expense, the more likely people are to adopt the drug. Currently Qsymia and Belviq (setting aside the free trial), are priced in the $50 to $150 category for the majority of people. This high cost is due to lack of insurance coverage more than anything else.
Simply stated, the cost of these drugs is an issue. The sooner investors realize that the better. The solution to the issue is to either lower the price to a point where you hope that the benefit of higher volume offsets the discounting, or to get insurance to cover a portion of the cost, thus making the "out-of-pocket" expense fit into a better category.
What I covered above is very self explanatory. Now I will take it a step further. It is estimated that between 30% and 35% of covered lives have insurance that in some way covers at least a portion of these anti-obesity drugs. Covered lives is defined as the segment of the population that carries health insurance. In simple terms, if there were only 10 insurance companies that existed, and they all had an equal number of patients, only three out of those 10 companies offer some coverage.
Arena partner Eisai (OTCPK:ESALY) has stated that it has a goal of getting to 40% of covered lives by the end of the year (defined as 2013...not the fiscal year of March 31st 2014), and 50% of covered lives by the end of 2014. In today's Q2 conference call Arena stated that Eisai is now accelerating that guidance to 50% of covered lives by March 31, 2014. If that pace is indeed accomplished more quickly the positive impacts could be huge for both Arena and Vivus, as it is my belief that insurers will cover both drugs pretty much in tandem and equally.
Having insurance "foot the bill" is a good thing for Arena and Vivus. When insurance companies pay, the discounts offered do not have to be as substantial. Using Arena's Belviq as an example in a very simplified model using 100 patients:
NO INSURANCE
Patients try 15 days free
Patients notice that appetite is suppressed and are losing weight
Patients now need to make financial decision of printing out a $75 coupon and paying $125 out of pocket, or not continuing. Remember, just 3.3% expressed a willingness to pay between $50 and $150.
3 patients stay and 97 patient drop off of drug for financial reasons.
Company is out the cost of the samples, but gets $375 the next month from those that stayed
Insurance With $50 Co-Pay
Patients try 15 days free
Patients notice that appetite is suppressed and are losing weight
Patients makes financial decision. 3% stay on and 97% drop off.
For patients that stay on company gets $200 each from insurance, $50 of which came from the patient.
Company is out the cost of samples, but gets $600 the next month from patients that stayed.
Insurance With $30 Co-Pay
Patients try 15 days free
Patients notices that appetite is suppressed and are losing weight
Patients makes financial decision. 32% stay and 68% leave.
For patients that stay company gets $200 each from insurance, $30 of which came from the patient
Company is out the cost of samples, but gets $6,400 the next month from patients that stay
While the example above is dramatically over-simplified, it demonstrates quite clearly why insurance is such a large issue. First the rebates are diminished, and second the patient pool rises substantially because the out of pocket expense is at more reasonable levels. Thus, not only is insurance coverage paramount, the level of coverage is very important as well.
Getting insurance on board will be a tedious task. Getting insurance to cover more of the cost is the secondary challenge. This process will take time, but you can see why there is so much potential in either of these companies. It is one of the reasons I am invested. Right now insurance coverage is very modest. The sales of these drugs is also modest. While some might not appreciate me saying that, it is the reality. The potential with better insurance coverage is huge. The fact of the matter is that there is nothing wrong with things being modest right now. The reason there is nothing wrong with it is because the potential is still very, very high. If we had these modest numbers with full insurance coverage, many would have good reason to worry.
Summary
I think of myself as a realist. I find no reason to celebrate the current numbers. I do find a great deal of potential though. That is worth an investment to me. The cost and insurance issue will take some time to play out. The potential of blockbuster status ($1 billion in sales in 1 year) still exists. It will take insurance to get these companies there. Traction on insurance is just as important, if not more important, than tracking sales. Sales tracking will be the tool of active traders. Insurance tracking will be the tool of longer term investors. The real savvy investors will use both to play the short term and plan for the long term. Along with Arena and Vivus, Orexigen (NASDAQ:OREX) investors will want to monitor the insurance issues as well. Stay Tuned.
PS - Dirtsman, thanks for your comment. It was chosen not to belittle you, but because in was succinct and short while making the desired points.
Disclosure: I am long ARNA. I wrote this article myself, and it expresses my own opinions. I am not receiving compensation for it (other than from Seeking Alpha). I have no business relationship with any company whose stock is mentioned in this article.
Additional disclosure: I have no position in Vivus or Orexigen.