First off, if you don't believe in gold (NYSEARCA:GLD) than there really is no point in reading further. When making a pitch for gold mining stocks such as Allied Nevada, a huge part of my analysis is based on my belief that gold prices will recover and head higher over the coming years.
At the very least, I'm expecting gold to get back to 2011 levels of $1,900 an ounce, based on increased demand from central bank buying (see: China and Russia), a decrease in supply, mainly due to the shut down of high-cost mines, and the strong possibility for inflation which could bring back investors who have dumped the yellow metal in the past year or so.
If you believe this like I do, then shares of Allied Nevada (NYSEMKT:ANV) possess high-return potential because of its aggressive growth strategy which gives it big leverage to an increase in the price of gold.
Allied Nevada - Undervalued Based on Reserves
Allied operates in the mining-friendly district of Nevada. The company's flagship operation is the Hycroft mine, and the total reserve and resource base is 55.3 million gold equivalent ounces.
Allied Nevada is significantly undervalued compared to its peers when it comes to enterprise value of gold ounce in the ground, as you'll see from the chart below. I will also make the case later on that Allied Nevada could be a prime takeover candidate for several major gold mining companies.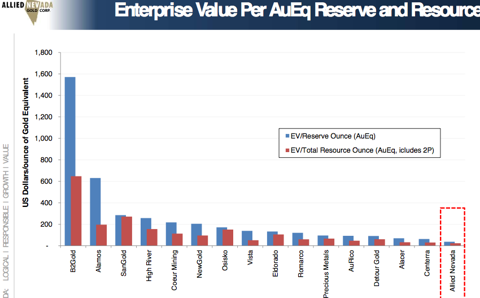 Second Quarter Results Released on July 22: Short-Term Setbacks
The company reported preliminary production of 39,195 ounces of gold and 132,841 ounces of silver in the second quarter of 2013. Production and sales in the first half of the year did not meet guidance because of a problem with the company's leach pad.
However, the company has already begun a program to fix this temporary problem and expects to receive permits in August, which will allow it to increase solution flow to the pads. The company said that it expects to begin seeing production increases from this solution in the fourth quarter.
Financial Strength and Operating Results
The company expects full year production of 175K-200K ounces of gold and about 1 million ounces of silver. This is down from about 225-250K oz of gold and 1.5-1.8 million ounces of silver because of the problem mentioned above.
Full second quarter results will be released during the week of August 5. Adjusted cash costs for the year are expected to be in the $665-685 range, which are among the lowest in the industry.
These problems mentioned above don't worry me much in the short-term as the company is in a pretty decent position financially with cash on hand of about $385 million as well as an undrawn credit facility of $120 million. The company does have total liabilities of $689 million, which includes $546 million in debt.
I don't feel this debt is worrisome in the short-term, but if gold prices remain at current levels for an extended period of time, this could pose a significant risk to the company. However, I'm bullish on the price of gold in the short and medium-term as mentioned and if you have read this far, you probably are as well.
The Potential
The company has a number of key permitting milestones coming up shortly, which I will go over here:
- Merrill Crowe plant: all construction and operating permits in place, with permits to operate associated refinery components expected by end of 2013.
- Mill construction permits in place: operating permit anticipated in Q4 2013
- Water rights expected by Q3 2013.
- South leach pad: Permit approving revised construction and design expected in Q3 2013.
- EIS for mining under the water table: Plan of operations expected to be submitted in Q1 2014, immediately following receipt of EA approval.
- The company had originally planned to bring a 130,000 TPD plant into operation by 2015. But the company's new construction plan is to bring a 75,000 tons per day grinding and flotation plant online in 2015 which should help reduce working capital requirements.
- The company also thinks that this will better align capital spending on the project with cash flow from operations.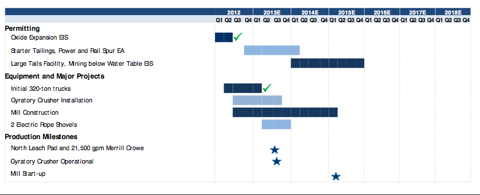 If the price of gold recovers in the near-term I believe the company will be able to successfully complete the Hycroft expansion from operating cash flow. As you can see form the above chart, this would result in a significant increase in gold and silver production to as much as 500K gold equivalent per year.
It's simple what will send shares of Allied Nevada higher - a higher gold price. This is the biggest headwind facing the company. A higher gold price means an increase in operating cash flow, which means more capital for the company to complete its aggressive expansion plans.
Worst case, I think Allied Nevada could be forced to delay expansion until gold and silver prices recover, should metal prices remain depressed. Right now it will need more cash flow from operations, more debt or a significant equity raise to get the remaining capital required for the expansion. A higher gold price would obviously solve these problems and be the most ideal scenario for the company.
Prime Takeover Candidate?
I also think Allied Nevada could be a takeover candidate by a larger producer that has the cash to complete the expansion and wants to add the reserves to their profile. I would think that a buyout offer would be at a big premium to today's stock price as well based on recent buyouts.
For example, Esperanza Resources was recently bought out by Alamos Gold (NYSE:AGI). Alamos paid a 38 percent premium to buy the company and valued the equity at $69.4 million. The company paid $29.33 enterprise value per gold equivalent ounce. But Esperanza is just an explorer and not a producer like Allied Nevada, so Allied would get a higher valuation per gold ounce in any event.
With a enterprise value currently of about $960 million, and Allied Nevada's total gold equivalent ounces of 55.3 million, this places an enterprise value per gold equivalent ounce of just $17 per ounce.
You'll see on this chart below that compared to its peers, ANV is very undervalued based on this metric.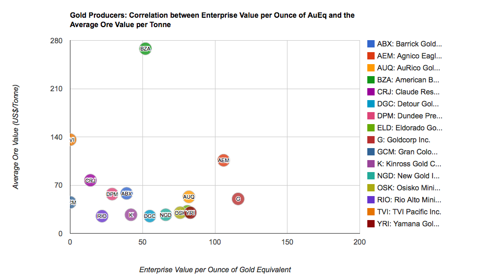 If you give Allied a very fair value of $100 per gold equivalent ounce, such as the current value of Newmont and Goldcorp's resources and reserves, that would give Allied a value of about $5 billion with is significantly higher than the company's current market cap.
Another Financing Option - Gold or Silver Stream?
If gold does not rise in the short-term, the company is most likely going to need capital to complete the expansion based on the current timeline. I believe the company should then consider selling a gold or silver stream to a streaming company such as Silver Wheaton (SLW), with over $350 million in capital available, or Sandstorm Gold (NYSEMKT:SAND), which has a $100 million credit facility available plus $70+ million cash on hand.
With over 500 million ounces of silver in reserves in the mining-friendly state of Nevada, I can't see why SLW wouldn't be interested. Plus, Silver Wheaton is looking to replace the potential lost or delayed ounces from Pasqua Lama, as that project is facing some serious headwinds.
While I think a stream is the least likely outcome here (since they'd have to give up a portion of gold or silver produced which would reduce profits), I believe it is certainly an option worth considering.
In conclusion, I feel that Allied Nevada could be the best way to play a bounce back in the price of gold. There is certainly some risk involved here as the company has a significant amount of debt and the Hycroft mine has experienced some setbacks recently. But if you believe that gold is going higher, this stock definitely deserves your attention.
Disclosure: I have no positions in any stocks mentioned, but may initiate a long position in ANV over the next 72 hours. I wrote this article myself, and it expresses my own opinions. I am not receiving compensation for it (other than from Seeking Alpha). I have no business relationship with any company whose stock is mentioned in this article.