In a rising interest rate environment, Treasury bond prices have been taking a beating. More aggressive investors, though, can take advantage of the unfortunate turn with inverse exchange traded funds.
For instance, while the iShares Barclays 20+ Year Treasury Bond ETF (NYSEARCA:TLT) has declined 12.1% over the past three months on higher rates, the ProShares UltraShort 20+ Year Treasury ETF (NYSEARCA:TBT) has surged 26.7%.
"You should also be confident on the timing of when interest rates will rise, and you should hold this speculative bearish conviction with a high degree of certainty in order to take on the amplified risks and returns that this double-short position provides," according to Morningstar analyst Timothy Strauts.
Interest rates and bond prices have an inverse relationship. As interest rates rise, bond prices fall. After hitting a three decade low, interest rates are finally beginning to climb, and once the Fed eventually shifts away from its loose monetary policy, rates could rise even higher.
The benchmark 10-year Treasury bond yield is hovering around 2.6% while the yield on 30-year Treasuries is just under 3.7%.
TBT tries to reflect the daily investment performance of two times the inverse, or -200%, the Barclays U.S. 20+ Year Treasury Bond Index, which holds long-term U.S. Treasury bonds.
Traders should know that inverse and leveraged products are not suitable for long-term buy-and-hold investors as the compounding affects from the rebalances would create divergences from the ETF's performance to that of the underlying index, especially over periods of high volatility.
Nevertheless, sophisticated investors who are comfortable with this type of investment should keep a close watch over inverse and leveraged ETFs if used in a short-term, tactical trading strategy.
ProShares UltraShort 20+ Year Treasury ETF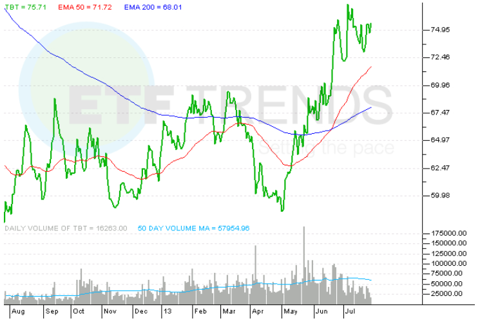 Max Chen contributed to this article.
Disclosure: I have no positions in any stocks mentioned, and no plans to initiate any positions within the next 72 hours. I wrote this article myself, and it expresses my own opinions. I am not receiving compensation for it. I have no business relationship with any company whose stock is mentioned in this article.