The upstream E&P segment of the MLP space has gotten a lot of attention lately. Linn Energy (LINE) has been at the forefront of the attacks from short-sellers and naysayers on this niche segment of the MLP arena, with some high-profile negative articles featured in BARRON'S. BreitBurn Energy (BBEP) also was named as a follow-up, and then the entire sector's business model had questions raised about it. What is the story with this sector? Was the sector just overvalued? Is it a Ponzi Scheme? Is it a sustainable business model? Does it have specific investing qualities that merit attention, or can they be replicated with other, less-controversial stocks?
The modern MLPs got their start with the epic tax reform act of 1986 when the structure was created to help small and retail investors get some of the benefits of oil and gas investing (similar to the 1960 REIT legislation helping small investors get exposure to real estate). Somewhat ironically, the MLP and tax reform legislation passed in 1986 just as energy prices were collapsing, ushering in a few years of very rough results. The legislation was partly a reaction to the disastrous retail experience with oil & gas partnerships sold by Wall Street in the 1970s and 1980s, which burned Main Street as they were overpriced, and then saw energy prices peak in 1981.
The majority of MLPs are involved in steady, counter-cyclical businesses which are supposed to be more stable than the ups-and-downs of traditional energy investing. Pipelines, transportation, storage - these are the traditional and more conservative MLP plays. The E&P structure is a compromise in that it is more aggressive than the traditional MLP infrastructure plays, but is less risky than the traditional C-Corp E&P. The latter can range from small wildcatter operations up to firms, which are almost small integrated oil companies like Hess Corp. (NYSE:HES) and Occidental (NYSE:OXY). But compared to other MLPs like Kinder Morgan (NYSE:KMP) or Enterprise Products Partners (NYSE:EPD), the MLP E&Ps are much higher-yielding and much more aggressive: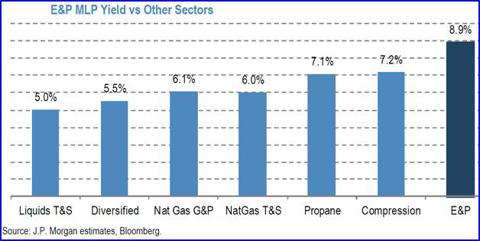 Because upstream E&P MLPs are targeted at the income-seeking retail investor (institutions are not the dominant buyers of MLPs), they do require a yield add-on to traditional MLPs. So the upstream MLP sector has an average yield of about 9%, which is a nice bonus to the 6.5% for all MLPs and a huge advantage relative to traditional C-Corp E&Ps, which average about 1% if they even pay a dividend. As a result, the upstream MLPs have seen great growth in recent years, with the sector exploding to a $25 billion market cap (up from $2 billion only 4 years ago), still only a 5% share of the entire MLP market capitalization of just under $500 billion.
There are some important differences besides their dividend yields in the 2 upstream competitors. E&P C-Corps focus on growing production and reserves through successful exploration and then developing these assets into flowing production. In contrast, E&P MLPs focus on creating stable, visible cash flows by production of mature, long-lived assets mainly through acquisitions and increased operational efficiency. Many of these properties are not of sufficient scale for larger E&Ps or large integrated oil companies who divest them but they are material in moving the needle for the small, niche E&P MLP sector. As such, E&P MLP's exploitation and development strategy focuses on the lower-end of the E&P operational risk spectrum though they are at the opposite end of the MLP spectrum on risk. They are not wildcatting and they are taking less risk. Partly this accounts for the EV/EBITDA premium that we see for MLP E&Ps vs. C-corps: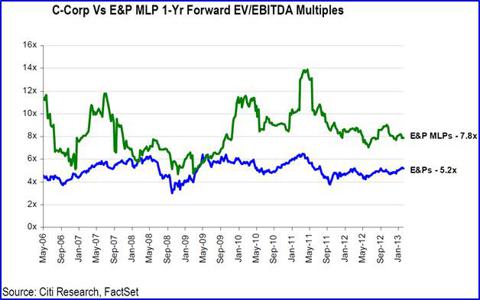 You can also see it in the premium afforded MLP E&Ps in this measure: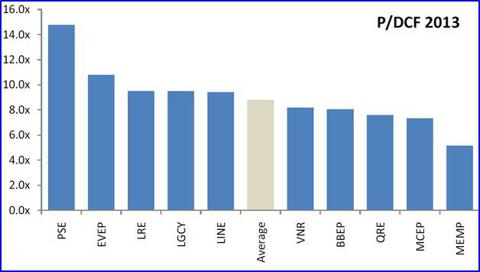 While some might claim that using a higher-priced currency to buy lower P/E properties or companies is simply 'financial engineering,' as we discussed previously regarding the 1960s and LTV Corp's bootstrapping, companies use stock all the time to make acquisitions. The underlying rationale for the MLP premium given a similar business model is the avoidance of corporate income taxes (which clearly makes the income streams more valuable relative to a C-Corp) and the increased efficiencies that have been seen so far and are being promised with regards to future production synergies.
The valuation disparity makes E&P MLPs natural acquirers and consolidators of mature E&P assets. Additionally, weak natural gas and NGL prices combined with aggressive production growth targets have driven corporate CAPEX budgets to exceed operating cash flow. So we have seen a willingness by corporations - both E&Ps and large integrateds -- to divest non-core assets. So the pipeline of projects that are sizeable for the E&P MLPs should continue for years as both conventional and non-conventional shale oil and natgas properties get traded, flipped, and sold.
Like most energy companies, the E&P MLP's have been trying to get more 'oily' in recent quarters: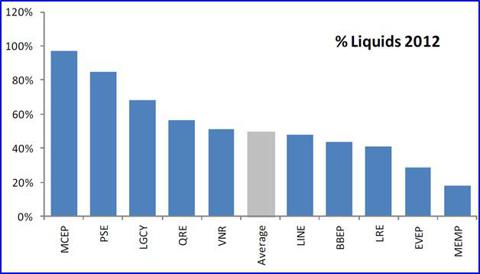 Because upstream MLPs are MLPs first and E&Ps second, and because they have an inherently more conservative income-oriented shareholder base, they have adopted a strategy of hedging 70% to 100% of production for three to five years on a rolling forward basis. So E&P MLPs take much less commodity risk, especially in the near term. This provides a degree of stability in quarterly or monthly distributions. Some upside is given away, but the business model values predictability and stability over volatility. E&Ps are continually seeking out new high-risk, high-reward production that have rapid depletion in the early years of production and thus must be replaced. With wildcatting having a success rate as low as 30%, this is a big hit-or-miss part of their business model. Conversely, the E&P MLPs are acquiring established older fields with more modest decline rates that are easier to replace via acquisitions, and with known flow and production rates and reserves.
Upstream MLPs engaged in sizeable M&A in recent years: $2.5 billion in 2010, $3.2 billion in 2011, and $5.8 billion in 2012. 2013 was off to another great start before the recent controversies plunged the $4 billion Linn-Berry deal into confusion. But the M&A flurry should continue because many of the E&P MLPs are backed by sponsors that are using the MLP structure to divest assets; private owners of oil and gas assets that want to divest for tax or estate tax reasons; a focus by E&P corporations on growing shale plays that has led to increased supply of mature non-core assets; and E&P corporations looking to complement operating cash flows with asset sales to meet capital budgets. In 2012, there were $24 billion in properties sold and another $6 billion in joint ventures. The pipeline might not be as large going forward, but it should be sizeable as E&Ps bridge CAPEX funding gaps and integrated oil companies slim down.
The very nature of being acquisition-hungry invoked past instances of conglomerates (1960s), M&A excess (1980s), and roll-ups (1990s) which all ended with major stumbles. However, it seems unlikely that the E&P MLPs are anywhere near that exhaustion of their cycle. Not only are there plentiful numbers of properties that will be available for sale, but the multiples that the group has relative to their acquired targets - while higher - are nowhere near bubble-levels. P/E levels were in excess of 25-30x for the previous M&A froth periods, double or triple the market and the targets' P/E levels. The premium for the E&P MLPs is at most on the order of 25-40%.
Funding for acquisitions is a mixture of debt and equity. Recent debt levels for the sector are shown here: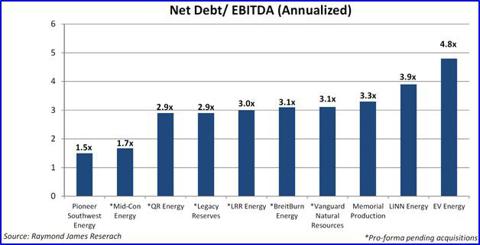 Questions have been raised regarding the accounting and the CAPEX necessary to maintain production. We touched on the accounting questions in our LINE article; suffice to say that there are far more contentious debates regarding e-commerce and Internet stocks than an adjustment of 10% here-or-there on the EBITDA line for E&P MLPs. Distributable Cash Flow (NYSE:DCF) is basically net income adjusted upward for the amount of non-cash items. This is then reduced by the amount of cash interest that needs to be paid on outstanding debt securities, as well as the CAPEX necessary to maintain production and reserves constant (i.e., maintenance CAPEX). The rationale is that, after paying creditors, the maintenance CAPEX spending allows the company to produce a stable amount of oil and gas in steady state into the future. While there are some disputes regarding whether companies like Linn are low-balling the amount of maintenance CAPEX that they require, the amounts set aside have generally been consistent with traditional C-Corp E&Ps.
E&Ps have traditionally spent an average of 130% of cash flows on production and reserves. If one assumes an average of 100% payout for distributions, then adding in maintenance CAPEX relative to the decline rate gets you close to that same 130% level (see column 3 below). Bears would argue that the maintenance CAPEX for some of the stocks is too low given the level of reserve declines (column 2):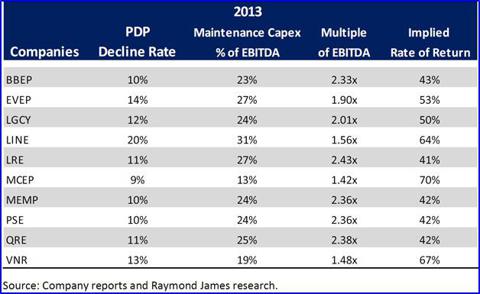 So both C-Corp E&Ps and MLP E&Ps are 'spending' about 130% of cash flows, they are just spending it differently. The traditional E&Ps are spending almost 100% on finding new fields; the MLPs are spending about 70% on distributions for unitholders and 30% is being used for the maintenance CAPEX. The impact of acquisitions on the incremental cash available to investors from acquisitions is reflected via the addition of EBITDA on the upside and to the downside via increased interest for debt financing and a larger number of units resulting from partial equity financing.
Ultimately, since we are not all geologists or reservoir engineers, it will be time and experience that show if the current levels of maintenance CAPEX are sufficient or if more money is needed to keep production steady. If more is needed, then less money will be available for distributions. The business model will not be discredited, but it will be slightly less attractive. But hyperbolic predictions of massive dividend cuts are not supported by even the bear's worst-case scenarios. If the capital markets closed - falling stock market + rising rates in the high-yield market - then organic growth will have to hold dividends flat until accretive M&A can resume.
Maintenance CAPEX relative to EBITDA is one measure to see who is spending enough to ensure future production and cash flows: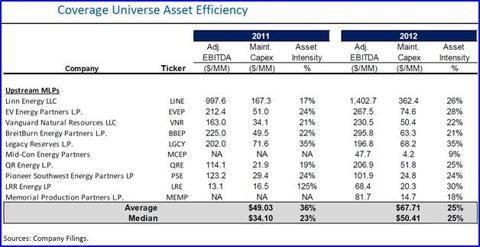 Note that for both 2011 and 2012 the maintenance CAPEX required for each year appears to be in the 25-30% range. Oil and gas properties are depleting assets with production rates peaking in the first month of the well coming on line, and then generating a declining set of cash flows for 20-40 years. However, mature wells that have five to 10 years of production history typically have very predictable, stable decline curves, usually 7-9% per year. Additionally, with the use of artificial lift mechanisms and reservoir pressure maintenance programs, one can realize even shallower decline rates (3-6% per year). This is the opportunity for the upstream E&P MLPs.
The principal arguments against both LINE & BBEP, which are now being raised for the entire sector, are that these partnerships are understating their maintenance CAPEX requirements, thereby overstating distributable cash flow and their ability to sustain distributions. Bears on the sector state that in the absence of generous debt and equity markets and attractive A&D (acquisition/divestiture) opportunities for these partnerships, distributions would likely be cut, as the organic investment levels are far from adequate to maintain production levels.
Hedging is a big part of the E&P MLP business plan: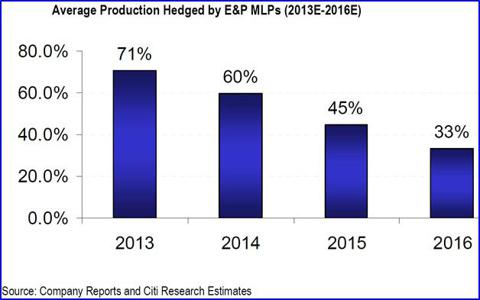 The hedging is usually very significant in size, sometimes close to 100% of production for the next five years. LINE mentioned that its typical hedge book associated with an acquisition is comprised of about 70% swaps and 30% puts, with total hedging expenditures accounting for up to 10% of the cost of the acquisition. It is that hedging that allows the more volatile E&P component to pay the high distributions necessary within the MLP structure. These distributions currently average better than 9% for the sector.
With the nuts-and-bolts of the upstream E&P MLP sector out of the way, let's look at 5 stocks that collectively yield just under 10%:
QR Energy (NYSE:QRE): QRE operates in the Permian Basin, the Ark-La-Tex area, Mid-continent region, the Gulf Coast Area, and Michigan. As of December 2012, QRE's total proved reserves were approximately 110 MMboe. QRE produces just over 18Kboe/d and estimated proved reserves were 56% liquids and 68% developed.
QRE recently announced an additional purchase in the Ark-La-Tex area of 6 Mmboe of oil-rich reserves next to her existing properties. Purchase price metrics look attractive at under $19/boe and approximately 5.8x estimated cash flow. The properties include current net production of 900 boe/d and are 70% PDP (99% developed) and 92% oil.
QRE hedges towards the upper-limit of the E&P MLP sector, not quite as high as Linn Energy but above the average for the sector: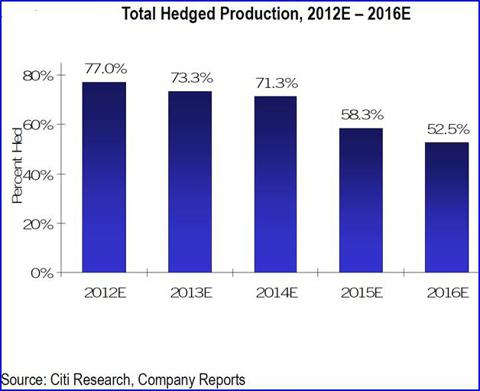 In October 2011, QRE issued $350mm in Class C Convertible Preferred Units (preferreds) to general partner Quantum in exchange for a drop-down of assets in the Permian, Ark-La-Tex and Mid-Continent. These preferreds carry a 4% coupon, well below the yield on QRE's common units. After October 3, 2013, Quantum may elect to convert the preferred units to common on a one-to-one basis. While management has indicated it does not expect the GP to convert the preferred to common units, it is an overhang on the stock at the present. Also in late-2012, the GP converted 80% of the quarterly management incentive fee into a number of Class B units, which produce an equivalent cash distribution. Although this aligns incentives between Quantum and QRE given the higher percentage of QRE held by Quantum, the conversion also allows Quantum to receive a distribution regardless of operational successes. In addition, Quantum will be able to convert a portion of the management incentive fee to LP units again once a certain number of thresholds have been met.
Slack production growth and the overhang from the GP added costs and shares will weigh on distribution growth in the near term, as per one sell-side firm: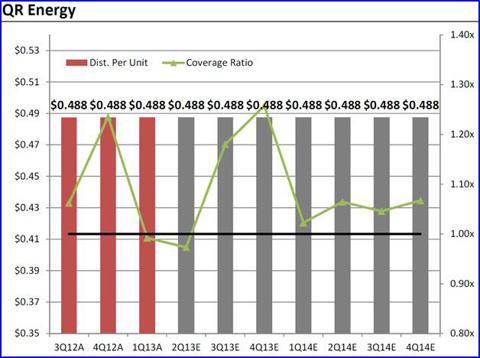 QRE's sponsor has several drop-down targets that would boost the DCF for QRE and lead to a boost in the distribution for shareholders. The timing of the drop-downs might wait until 2014, as the company absorbs the conversion of the general partner securities in 2013. These properties could add an additional 5,000 boe/d. These properties should be dropped down to QRE over the next few years at the latest, which should provide boosts to both cash flows and the distribution. QRE has a very-lush distribution yield of 11.2%. An oil-heavy portfolio also bodes well as oil commands a heavy premium to natgas-heavy properties.
EV Energy Partners (NASDAQ:EVEP-OLD): EV Energy Partners, L.P. was formed in April 2006 and has oil and gas producing properties primarily concentrated in the Northeast and South Central United States, including Louisiana, Michigan, New Mexico, Ohio, Oklahoma, Pennsylvania, Texas and West Virginia. Major operations include the Austin Chalk, Permian, and Barnett Shales. As of December 31, 2011 EVEP's reserves were approximately 190.7 million barrels of oil equivalent, which equates to a reserve life of roughly 19 years. EVEP is a natural gas-focused E&P MLP with 159,000 net acres and has an ORRI (overriding royalty interest) on another 80,000 acres in Ohio prospective for the infant Utica Shale formation, which is very new but potentially hugely prolific.
Here are locations for EVEP's reserves and areas of operation: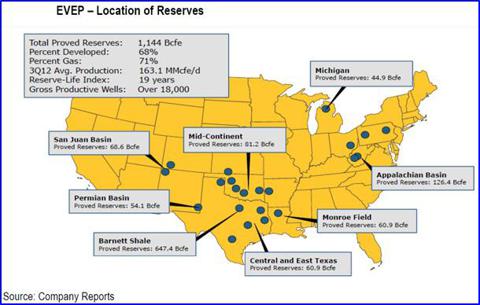 Q1 2013 results were underwhelming, as bad weather, shut-ins, and basis blowouts in several areas led to lower cash flow and EBITDA. Q1 2013 production was in-line but EBITDA ex-CAPEX was 15% below the consensus. Distributable cash flow was $0.51, implying a 0.67x coverage ratio for the quarter. While the entire sector saw coverage ratios fall, EVEP's was particularly pronounced as it was far away from the 1.00x minimum goal that upstream E&Ps seek:

The big enchilada with EVEP is the long-awaited monetization of the company's lucrative Utica Shale acreage. It was expected to be a late-2012 or early-2013 event, but the lack of bidders has caused shareholder and investor angst. The company's attempt to sell off huge chunks of the properties, or to have CAPEX funded by a joint partner in lieu of EVEP having to spend the money themselves, have both been met with failure and delay. EVEP is now taking a different approach to the entire process, by pursuing an acreage development JV in the volatile oil window along with some aspect of a significant carry provided by a potential partner. This would reduce EVEP's development costs. The ultimate goal of such a transaction would be to accelerate the Utica Shale's de-risking process. While it awaits the sales, EVEP has developed a valuable midstream footprint in the Utica and the overriding royalty interests.
EVEP has less than 20,000 non-operated acres that the partnership is looking to sell to foreign and financial entities. The premier part of this acreage is the Chesapeake/Total/Enervest JV, which EVEP expects to be producing 700 MMcf/d by year-end. The partnership's nascent midstream business is in a prime location in the Utica and could be sold to help alleviate financing concerns either through paying down debt or buying cash flow-producing upstream assets. EVEP owns 21% of Utica East Ohio Midstream (UEO), a system with expected processing capacity of 800 MMcf/d and fractionation capacity of 135Kbl/d. In addition, EVEP is a 9% interest holder in Cardinal Gas Services, a gathering and compression system connected to UEO.
EVEP is more exposed to commodity prices fluctuations in the out years than other E&P MLPs: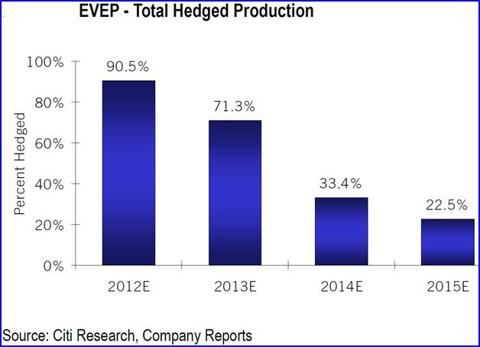 Distribution growth and coverage ratio improvement should resume in 2014 once monetization of the Utica Shale has made progress: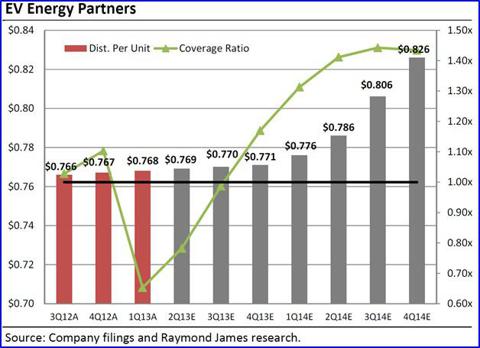 EVEP pays a 7.3% distribution yield but the low coverage ratio means it is one of the riskier E&P MLPs in the sector. Progress in the monetization of the Utica Shale and/or a resumption of the early-2013 rise in natural gas prices would help put a floor under EVEP's valuation.
BreitBurn Energy Partners: : BreitBurn Energy Partners LP is an E&P/Upstream MLP operating a portfolio of reserves in numerous states including California, Wyoming, and Michigan. As of December 31, 2012, proved reserves were approximately 149 Mmboe, which equates to a reserve life of approximately 18 years. Proved reserves are 87% developed, 35% oil and 65% natural gas.
BBEP has a diversified asset base spread across seven states including:
Antrim Shale and several non-Antrim formations in Michigan
Evanston, Green River, Wind River, Big Horn and Powder River Basins in Wyoming
the Los Angeles Basin and the Belridge Field in Kern County in California
Permian Basin in Texas
Sunniland Trend in Florida
New Albany Shale in Indiana and Kentucky.
Like Linn Energy, BBEP has used puts to hedge production in the past (probably a reason they were linked in the short campaign). BBEP is well-hedged through 2015: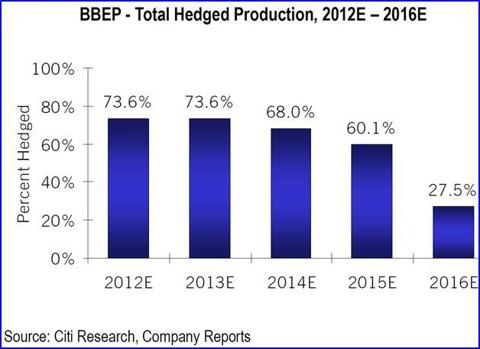 BBEP recently announced it has agreed to acquire $860 million of Oklahoma Panhandle assets (Postle and North East Hardesty oil fields) from Whiting Petroleum (NYSE:WLL). BreitBurn is paying an attractive multiple of 6.4x EBITDA for the assets which should add $0.35/unit in DCF. The acreage adds $133 million per year of adjusted EBITDA. The hedge book is an additional asset worth tens of millions and the entry into CO2 flooding could be very lucrative, given the large number of mature oil fields in the U.S. on which BBEP should be able to leverage their knowledge gleaned from the Postle/Hardesty fields. Over the last year, Postle's production declined by only 4%, which is much lower that BBEP's overall PDP decline rate of roughly 10% per year.
BBEP has relied on a combination of debt and equity to finance her external growth, so it is important for the shares to hold at current levels or rise in order to handle the equity portion of the Postle acquisition without dilution. With the recent fall in the stock price, the BBEP units now yield 10.6%.
Vanguard Natural Resources (NYSE:VNR): VNR has been the 2nd most acquisitive of the E&P MLPs, behind Linn Energy. VNR was created in October 2006 and the company generates oil and gas production revenues from a portfolio of primarily natural gas producing reserves located in the Big Horn Basin, the Williston Basin, the Permian Basin, the Arkoma Basin, South Texas, and Mississippi. The geographic diversity and varying commodity mix (gas, oil, NGLs) reduce VNR's exposure to any single basin, lowering the risks inherent in a more concentrated portfolio. As of September 30, 2012, VNR had total proved reserves of 189 Mmboe (61% natural gas). Of the total reserves, 72% are classified as proved developed. Based on current production volumes and reserves are estimated to have reserve life of about 15 years.
Since VNR went public in 2007 they have made acquisitions totaling $2.5 billion, leading to stellar growth in the distribution and share price. A 43% increase in distribution to unit holders since the IPO has also been accompanied by diversifying an asset base from a predominantly gas weighted company to a more diversified and much larger MLP. DCF growth and distribution coverage have been among the best in the E&P MLP sector. VNR's lack of a general partner lowers the partnership's cost of capital, providing a cost of equity advantage relative to upstream peers while making acquisitions relatively more accretive to the unitholders.
This distribution yield is protected by a rigorous hedging program that protects from 76% to 49% of cash flows through 2016: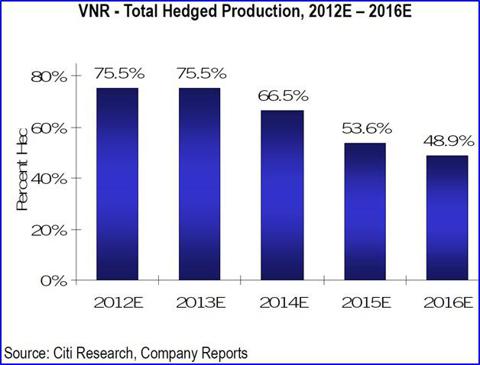 As shown in the figure below, VNR generates revenues from onshore oil and gas assets located in nine operating areas:
VNR has identified 390 proved undeveloped drilling locations and an additional 1,270 other locations on its leasehold acreage, so organic growth seems locked in for the near future. VNR is one of the few MLPs to pay a monthly dividend (LINE/LNCO recently adopted this payment method). The units yield 8.7% and unitholders can expect low-single digit boosts in the dividend in 2013 and 2014. VNR has raised the distribution every year except for the post-crisis year of 2009.
Linn Energy : LINE is the Big Daddy of the E&P MLP space. It has also been in the front-line trenches of the recent debate regarding the E&P MLP structure, accounting issues, derivatives, and disclosure. Proved reserves at year-end 2013 should be over 7 Tcfe or about 1 billion BOE. The company created a C-Corp holding vehicle for LINE units in order to facilitate future deals and help broaden the shareholder base.
Linn Energy is the 9th-largest MLP and 10th-largest E&P among domestic U.S. companies. The shares have been weak in recent months because of a series of controversies regarding accounting, reserves, and production (see above). The delay and possible renegotiation of deal terms regarding the Berry Petroleum (NASDAQ:BRY) merger have also entered the fray.
Since the partnership went public in 2006, LINE's acquisitions have totaled nearly $10 billion before BRY, driving distribution growth of about 80%. LINE has an enterprise value and market capitalization that roughly approximates that of the rest of the E&P MLP space combined (see below). This scale helps with acquisitions as LINE can do deals of size - like Berry - that other E&P MLPs cannot touch. Linn's deep financial resources allow it to both consummate acquisitions unavailable to competitors and embark upon organic growth initiatives (i.e., Hogshooter) of scale. The lack of a general partner also aids LINE's cost-of-capital as all cash flows accrue to the unitholders.
Linn Energy generates oil and gas production revenues from a diversified portfolio of properties located in the following areas:
Mid-Continent region (Oklahoma, Louisiana and the eastern portion of the Texas Panhandle
Hugoton Basin (Kansas and the Shallow Texas Panhandle)
Green River Basin
Permian Basin
Antrim Shale formation and Southern Illinois
Williston and Powder River Basin
East Texas region
California region
LINE is extremely well-hedged, as the company's rationale for the puts and swaps is that it considers the hedging costs related to acquired production to be part of the purchase price (this is a large part of the dispute with the shorts and Hedgeye). You can see LINE's more extensive and higher hedging of output that has been the focus of the controversy here: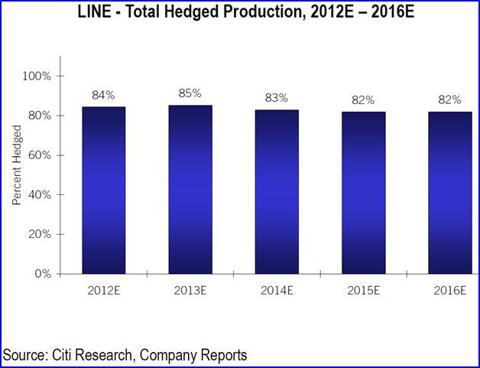 Ultimately, the near-term success of the LINE story is the completion of the Berry Petroleum acquisition, the largest in the company's and the sector's history. The $4 billion deal has been delayed because of the accounting questions but more importantly the fall in LINE/LNCO has imperiled the deal from a shareholder perspective. At its recent price of just under $30, the LNCO stock to be exchanged for BRY was worth just $37, against a market price for BRY of $41. Clearly, the market expects either LNCO stock to soar once the SEC completes its review, a higher offer is coming from Linn, or the deal is off and BRY puts itself up for sale for other suitors (assuming there is interest). The best scenario for LINE/LNCO is for a dramatic recovery in the stock price that eliminates or mitigates the need for a higher exchange ratio to get the deal done. We should know more later this month or in September.
Bearing the brunt of the shorts' bullets does have its rewards for new buyers of the shares. LINE units are yielding 11.2% and LNCO is yielding 10.1%, each paying monthly. Traditionally, LINE was among the least volatile of the upstream MLPs but that has changed in recent months so caveat emptor. Still, the shares reflect little premium for existing properties and production even in the worst-case scenario that the Berry deal falls through. What is more likely is that the deal is finalized -- Berry management seems intent on selling -- and the clouds slowly lift regarding the Hedgeye accusations. It may take a while for Linn to get her premium valuation back but the company has enough on the table right now to digest and plenty of organic growth opportunities to last through 2014.
The entire upstream MLP sector seems to have stabilized in early-July. Unless there are new and material shortfalls in production, reserve announcements, or distributable cash flows, the lows should have been seen in early-July. Here's what some of the sector metrics looked like at that time:

Reserve and production metrics at mid-July can be gleaned here:

Aggressive income-investors looking for a 'bombed-out' sector that has not participated in the general market or MLP rise year-to-date would be wise to look at the E&P MLP space. The sector's long-term fundamentals look bright, and distributions should ease any near-term volatility. Diversify among the group - the 'basket approach,' which I have emphasized many times - and make sure that you have other MLP, energy, or defensive stocks for portfolio ballast.
Much of the selling and angst by the retail shareholder base has been by individuals who were seduced by the high yields and believed the stability of the past few years would continue in perpetuity. Clearly, that has not been the case the last few months but after a rocky second quarter the sector appears to be building a good base for later in the year and into 2014 and beyond. With much of the volatility likely in the rear-view mirror, investors can concentrate on the road ahead paved with predictable production, cash flow, and distribution increases.
Disclosure: I am long QRE, LINE, LNCO, VNR. I wrote this article myself, and it expresses my own opinions. I am not receiving compensation for it (other than from Seeking Alpha). I have no business relationship with any company whose stock is mentioned in this article.
Additional disclosure: Online accounts managed by the author are long the listed securities.