Editor's Note: This article covers one or more micro-cap stocks. Please be aware of the risks associated with these stocks.
This article is the second in a series on the future of the electric vehicle (EV). The first article, Not Your Father's Gas Station: The Future of Electric Vehicle Charging, challenged the notion that EV charging must mimic the gas station to be successful. This article looks at how the next generation of technology could actually make EV charging more convenient than using a gas station.
Much has been made of the concept of "range anxiety" in the debate over whether or not the EV can compete with the internal combustion engine (ICE) vehicle. True to Maslow, there is broad agreement that the primal fear of being stranded far from home must be conquered before more esoteric needs can be addressed.
Now that a variety of companies (ECOtality (ECTY), Chargepoint, Car Charging Group (OTCPK:CCGI), NRG Energy (NYSE:NRG), Tesla Motors (NASDAQ:TSLA), and Nissan (OTCPK:NSANY) to name a few) are racing to build a nationwide infrastructure of public EV charging stations, it's time to look beyond range anxiety to the more fastidious concept of convenience. There are a few different variables to consider when comparing the convenience of fueling an ICE to charging an EV. Expressed as an equation, it might look like this:
(Opportunity + Time) x Ease-of-Use = Convenience
The ICE receives high scores for Opportunity (owing to the ubiquitous gas station) and Time or quickness (about three minutes for a fill-up). Adding the possibility of home charging to the rapidly growing number of opportunities for public charging, it's just a matter of time before EV charging can match ICE fueling in terms of Opportunity. The Time variable, however, presents a real conundrum. How can EV charging be more convenient than ICE fueling when it takes so long?
The answer is to multiply Ease-of-Use. Fortunately, there are a couple of innovations on the horizon that could make EV charging virtually effortless.
Plug-ins Unplugged
One way EV charging will become far more elegant than ICE fueling will be when wireless (induction coil-based) charging becomes widespread. Several big names are currently involved in bringing this technology to market, including Qualcomm Inc. (NASDAQ:QCOM) and Siemens AG (SI), which are working in partnership with Nissan Motor Co. and BMW AG (BAMXY.PK), respectively. There is also the usual cadre of newcomers like Evatran Group Inc.
The user experience is shaping-up like this: Pull into a parking space and a prompt pops-up on your smartphone (or in a Tesla, your 17-inch dashboard screen) asking if you want to connect to a Bluetooth-enabled wireless charger. You respond "Yes" and are prompted for payment information. Like a car wash, you are directed to position your EV for optimal alignment by either on-screen directions or a unit on the wall ahead of you. Without having to get out of your car, the charging process begins. You go about your business, and when you return, payment is settled for the charge received and you are on your way.
Admittedly, this technology is taking a little while to come to market. Qualcomm's Halo system is still undergoing beta testing in London. Siemens AG started testing its wireless EV charging solution in Berlin back in the summer of 2011 but there has been little news about it since. Though Evatran has designed its Plugless Power solution to work with the two best-selling EVs in the U.S. to date (the Nissan Leaf and General Motors' (NYSE:GM) Chevrolet Volt), the product is still awaiting FCC approval. Nissan does, however, already offer Plugless Power as a dealer option on Leafs sold in Japan.
Charging To Go
Further out on the horizon is the possibility of wireless EV charging on-the-go via induction coils embedded in the road surface. A cursory patent search will show that this is far from a new idea. The most commonly cited objections to the idea are safety, inefficiency, and implementation cost. However, the biggest non-starter for decades has been that there are not enough EVs on the road to justify it. With uptake growing at a fast enough pace (for example, according to Nissan, Leaf sales were up over 400% year-over-year in April, outselling all of its other models in four U.S. cities) to suggest that mass market adoption of the EV is a possibility, it is time to revisit the idea.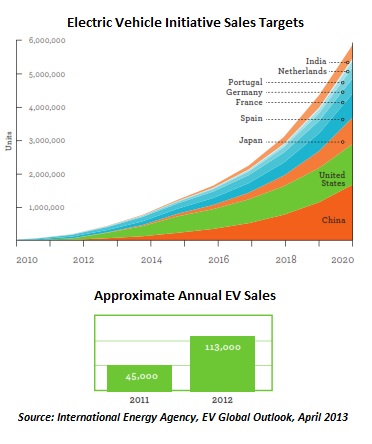 Safety concerns stem from a misunderstanding of the technology. Fear of people being electrocuted by making contact with the roadway assumes the possibility of direct exposure to current such as the infamous "third rail" used in subway systems. In fact, Induction coils transfer power via an electromagnetic field rather than direct contact, the intensity of which is a fraction of an MRI scan.
Regarding efficiency, science has advanced considerably in the past few decades. Researchers at Stanford University have produced a computer simulation based on the current state of induction charging technology suggesting that energy transfer efficiency of 97% between road-embedded and EV-mounted induction coils is now possible. This is as good as the efficiency of the stationary induction charging systems mentioned above.
With the obstacles of safety and efficiency fading, interest in real-world trials has been reignited. In Mannheim, Germany, Bombardier is demonstrating how induction coils embedded beneath bus stops can be used to charge public transportation. A smart highway project being carried out in the Norwegian province of Brabant will include a dedicated EV charging lane within the next five years.
That just leaves the pecuniary objection to mobile induction charging, which is fraught with misperceptions. First of all, induction charging need not be embedded in every mile of roadway in the U.S. A dedicated lane on highways is more plausible, leaving in-town charging to home and public charging stations.
There is also no reason to presume this would have to be an all-at-once, nationwide Eisenhower-style project. Think of it this way: at the state and municipal level, large-scale alternative transportation projects like light rail get approved all the time. (Keep in mind that the federal highway system is in fact maintained by state and local governments using federal funds.) It's just a matter of public demand pushing the build-out of one area at a time as EV penetration reaches a tipping point in each state.
Top 10 States Buying EV's
(Source: Edmunds.com, October 2012)
| | |
| --- | --- |
| California | 24.7% |
| Florida | 6.6% |
| Texas | 5.9% |
| New York | 5.0% |
| Illinois | 3.6% |
| Virginia | 3.6% |
| Pennsylvania | 3.4% |
| Washington | 3.1% |
| North Carolina | 3.1% |
| Ohio | 2.5% |
This could easily lead to an EV Project 2.0 to jumpstart research and implementation. The obvious choice for that work would be the R&D lead on the EV Project, ECOtality. With services revenue from the EV Project (which accounted for 80% of ECOtality's first quarter 2013 revenues (page 28)) winding-down, a stream of localized mobile inductive charging projects would ensure the company's stability and growth for years to come.
"If They Come, You Will Build It"
Ultimately there is no technical or pecuniary obstacle that can stand in the way of consumer demand. The pampered modern consumer is relentless in his need for ever greater levels of convenience. Inductive charging promises to render the inconvenience of long charging sessions irrelevant as EV drivers formerly accustomed to standing at a gas pump will hardly have to make space in their schedules to passively charge their cars.
Disclosure: I have no positions in any stocks mentioned, and no plans to initiate any positions within the next 72 hours.
Business relationship disclosure: Market Exclusive is a team of analysts and writers. This article was written by Carlos Uribe, one of our Group contributors. We did not receive compensation for this article (other than from Seeking Alpha), and we have no business relationship with any company whose stock is mentioned in this article.