Content streaming service Netflix (NASDAQ:NFLX) posted solid second-quarter results. Revenue increased 20% year-over-year to $1.02 billion, roughly in-line with consensus expectations. Earnings per share quadrupled year-over-year to $0.49, well above consensus estimates. The firm also generated positive free cash flow of $12.9 million, or about 2% of revenue.
The format for the earnings call stole the show from the actual results. Eschewing the traditional call with analysts, Netflix instead had CEO Reed Hastings, CFO David Wells, and Chief Content Officer Ted Sarandos sit down with CNBC's Julia Boorstin and Rich Greenfield of BTIG to discuss the results. While some may be upset with the exclusive choices, we do not have any problem with it. In fact, it may increase the reach and accessibility to a broader range of investors.
Regardless, Netflix's second-quarter operating metrics were relatively positive, in our view. The firm added 630 thousand domestic streaming subscribers, which was essentially in the middle of guidance. The second quarter appears to be seasonably slower, so we were pleased to see net additions accelerate from the 530 thousand rate in the second quarter of 2012. Domestic streaming margins jumped 410 basis points year-over-year to 22.5% as revenue surged 27% year-over-year to $671 million. With margins inflating, we may see the company explore some new content additions in the back half of the year, which could also accelerate subscriber growth trends.
Netflix has done a fantastic job of growing the subscriber base to the point of strong profitability. It certainly doesn't hurt that Netflix's original programming grabbed 14 Emmy's with "House of Cards," "Arrested Development," and "Hemlock Grove" all garnering nominations. We think the Emmy nominations will act as great marketing for Netflix, and it really establishes the firm as a major player in the content space. If the current success persists, we believe Netflix will be viewed in the same fashion as consumers see HBO and Showtime.
Hastings also revealed a little bit about the future possibilities for Netflix, saying during the quarterly discussion:
If you look at HBO and Showtime, they also do quite a bit of sports programming and live sports. So they're basically in the membership happiness business. Now, we don't anticipate getting that far from our core brand, but it's a very flexible relationship, where we can have lots of types of content over the next 5 or 10 years if it makes our subscribers happy. We're fundamentally in the membership happiness business as opposed to in the TV show business. And so we do have a lot of flexibility. But in the next -- in the short term we're focused on learning this craft bit by bit and having our current shows be wildly successful.
We tend to agree, particularly if broadband costs can come down. At the end of the day, it is not the Netflix distribution people will pay for, but rather the content.
As for international streaming, net subscriber adds were stronger than the year-ago period, coming in at 610 thousand subscribers. Like in the U.S., the second quarter is seasonally slower than other geographies so we weren't bothered by the sequential deceleration. For the time being, the slowly atrophying DVD business and the domestic streaming business should fund international expansion efforts.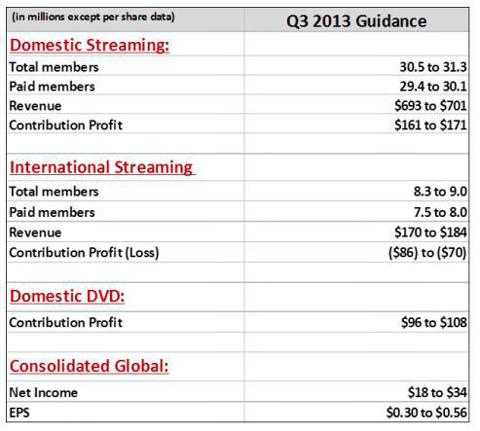 Image Source: NFLX Q2 FY2013 Letter to Shareholders
Looking ahead, we thought the firm's guidance was in-line with what the Street anticipated, though the wide range is not exactly what some investors like to see.
The main negative takeaway we had from the second quarter came from management's acknowledgement that it won't be able to raise prices. This brings into question the value of the Netflix brand relative to the value of content. In our view, Netflix is suggesting the brand itself isn't that valuable. Management acknowledged that the company may need to take on additional debt in order to fund programing content expansion, largely because it cannot raise prices. However, if the firm cannot raise prices, we suspect deep-pocketed competitors (think cable/satellite providers) could price Netflix out of the market.
Similarly, the cohort that owns Hulu, NBCUniversal (NASDAQ:CMCSA), 21st Century Fox (NASDAQ:FOX), and Disney (NYSE:DIS), recently announced that it will inject new capital into Hulu rather than sell it. We think this could lead to these companies hoarding more exclusive content instead of selling it to Netflix. Though it takes another buyer (Hulu) out of the content-purchasing market, we simply may not see as much content available for Netflix to purchase, a clear negative in our view.
Market participants were also disappointed in the lack of transparency regarding original programming, as Hastings was tight-lipped regarding the impact on subscriber growth. However, we think subscriber-growth catalysts are hard to quantify, and it is important to remember that TV shows can take years to cultivate strong followings.
Valuentum's Take
Subscriber growth will be the key metric to watch going forward, but we wouldn't put too much stock into the sequential slowdown since second-quarter subscriber additions tend to be seasonally weak. Less than 10% of the U.S. currently subscribes to Netflix, so we think it will continue to grow domestically. The international business should also continue to grow at a nice pace.
Ultimately, Netflix remains an expensive stock with decent long-term prospects. The firm will have to generate significant free cash flow growth to justify its current valuation, and we do not see such growth happening in the near term. Netflix has the momentum but not the value to get us interested in establishing position in the portfolio of our Best Ideas Newsletter.
Disclosure: I have no positions in any stocks mentioned, and no plans to initiate any positions within the next 72 hours. I wrote this article myself, and it expresses my own opinions. I am not receiving compensation for it (other than from Seeking Alpha). I have no business relationship with any company whose stock is mentioned in this article.