The market is at historic highs, and there is the potential of a stock market swoon and 'summer doldrums'. Numerous stocks getting taken to the woodshed for the smallest infraction. Yet stocks that perform are rewarded (Amazon comes to mind here). If you're a growth investor and have money to put to work, the pickings are slim. Here are 5 reasons that Qualcomm (NASDAQ:QCOM) should be a serious candidate for your money.
Uptrend is still Intact: Qualcomm is suffering from Intel Anxiety (see below). That is, the suggestion that as the mobile market matures, both margins and P/E will compress as with Intel (NASDAQ:INTC) in the chart below. The thing is , Qualcomm ain't Intel, and the mobile (while growth is slowing and margins shrinking) ain't the almost moribund PC market. Not to mention, Qualcomm doesn't have the inflated P/Es of Intel in its heyday, it is already trading at a P/E of only 13.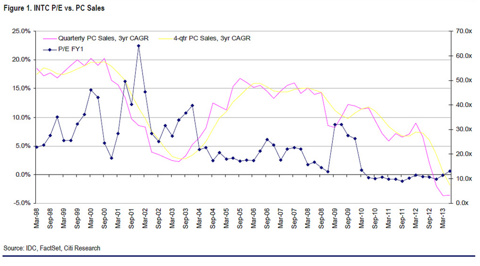 While the rate of growth of mobile unit sales will invariably slow (due to the law of large numbers), smartphone shipments are still expected to double in the next three years. Even with some margin erosion, this should be net positive for Qualcomm.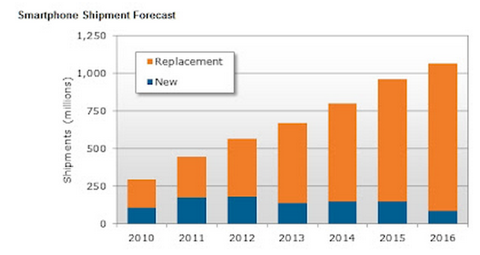 Solid technicals: Qualcomm has been steady (even boring), building a base over the last year in the $62 to $67 range (see below). Intel anxiety and mobile anxiety have kept it range bound. I expect both those anxieties to lift over time. I also expect that in an increasingly volatile stock market facing QE tapering, investors will have a greater appetite for 'safe growth'. QCOM is one of the few stocks with a PEG ratio of around 1 that provide both safety (in the context of technology stocks) and growth. I expect a move to $75 if it can break out above $67.

Dividend Growth: It is somewhat ironic to be celebrating a stock with a 2.3% dividend as a dividend grower. However, as the chart below (from this quarter's executive presentation) indicates, the dividend has doubled over the last four years. With its strong cash flow generation, you can continue to expect 10-20% annual increases in dividend for some time to come.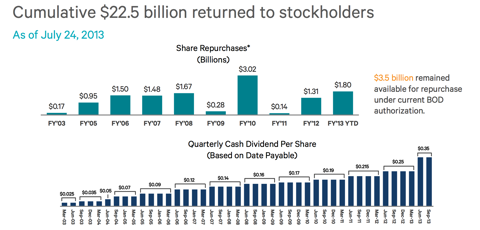 Smart Money: Some hedge funds have a knack of getting it right. David Tepper (whose backtested returns doubled the S&P 500 - see below) and Leon Cooperman (whose Omega Advisors has beaten the S&P 500 by 7% over 20 years!) would fall under that rare category. Both have made significant investments in QCOM. QCOM makes up about 5% of Tepper's portfolio, and QCOM makes Cooperman's Delivering Alpha picks.
Tepper (if you estimate his rough buy price across SEC 13F/HR filings from the past 8 quarters) purchased in the high 50's, and Leon Cooperman at about $65. To get a stock at under Cooperman's buy price and anywhere within shouting distance of Tepper is a pretty good situation. I've made money on stocks, buying at 50% above the 'Tepper price'.
Analysts' Targets: Price targets are not a science, but Morgan Stanley - $78, Cramer - $75, Cannacord - $84, Raymond James - $89? The general feeling is that QCOM has a defensible moat, and deserves a higher multiple.
All that said, are there threats like this that could compress margins? Customers of a high margin business will always make attempts to reduce those dependencies, but decide sooner or later to focus on their core competencies. And is this (at 64.5) the perfect time to by QCOM? With solid supports at 62 and 59, it's not a bad time to buy. The summer doldrums could get you a better price, but QCOM is likely to be one of the more resilient techs. And if QCOM gets anywhere near one of the analyst targets, you've done pretty well for yourself.
Disclosure: I am long QCOM. I wrote this article myself, and it expresses my own opinions. I am not receiving compensation for it (other than from Seeking Alpha). I have no business relationship with any company whose stock is mentioned in this article.