Joseph S. Tanious, CFA
Global Market Strategist, J.P. Morgan Funds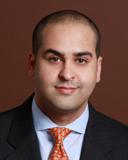 Given the market's strong recent performance, investors are now asking what to expect moving forward. The top of mind question remains: are we likely to see a pull-back and is there still any room for this market to rally further?
Despite the expected slowdown in momentum, U.S. equities still offer attractive valuations for long-term investors. Intra-year pull-backs present opportunities for disciplined investors to rebalance and accumulate more shares at a relatively cheaper price.
While volatility has crept into U.S. equity markets recently, the S&P 500 has had an impressive run over the last 7 months, returning 19.6% through 7/31/2013. The rally has affected all equity categories, both across market capitalization as well as investment style. In fact, all major U.S. equity categories are now above their pre-financial crisis peaks, as shown on page 4 of the Guide to the Markets. The momentum in U.S. equities this year has been impressive, leaving many investors now asking what they should expect moving forward, as valuations are clearly not as compelling as they were one year ago.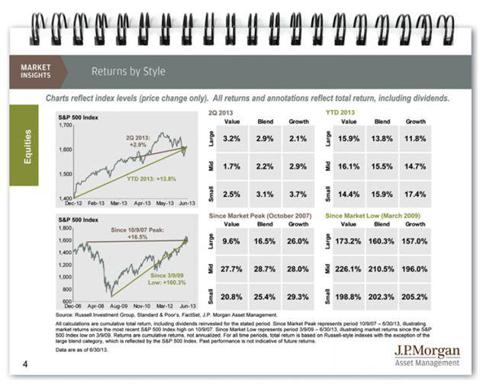 Heading into the second half of 2013, investors should keep in mind that pull-backs are common. While this year's biggest pull-back has so far been 6%, the average annual pull-back over the past 33 years has been ~15%.
When investors ask me what to expect for the remainder of the year, my answer is: brace yourself for a bumpier second half. Despite the fact that we have had years in the past where the biggest pull-back was limited to the mid-single digits, the momentum we've recently seen in the market is most likely unsustainable heading into the second half of 2013.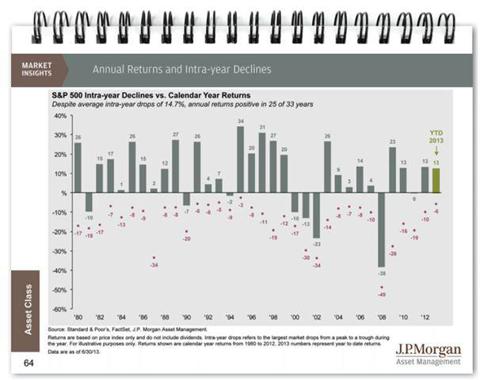 This rally, standing at 19.6% through the end of July, rivals full-year returns seen in the past. In thinking about what potential returns lie ahead, investors need to consider two drivers of price return moving forward: earnings expectations and multiples. While the left side of the charts below shows that growth in expected earnings has clearly slowed given where we are in the cycle, it also suggests that valuations of U.S. equities are not yet expensive. Long-term investors, therefore, are likely to see the majority of their future gains in the form of multiple expansion.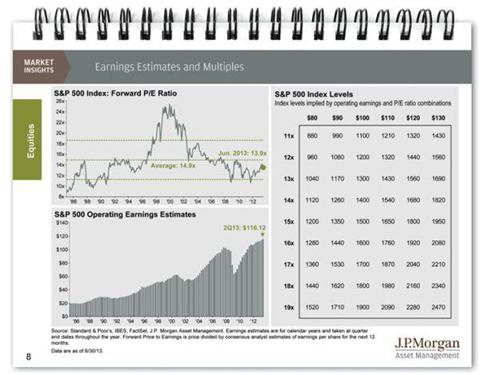 The matrix above provides a simple snapshot to help investors estimate where the market is headed based on their assumptions of earnings growth and multiples. If, for example, you assume 5% earnings growth over the next 24 months along with modest multiple expansion toward the mean, investors still stand to earn a reasonable price return in the future. Coupled with a consistent dividend yield of approximately 2% per year, the prospects for U.S. equity investors still look bright even though momentum is likely to slow.
DISCLAIMERS:
Diversification does not guarantee investment returns and does not eliminate risk of loss.
Opinions and estimates offered constitute our judgment and are subject to change without notice, as are statements of financial market trends, which are based on current market conditions. We believe the information provided here is reliable, but do not warrant its accuracy or completeness. This material is not intended as an offer or solicitation for the purchase or sale of any financial instrument. The views and strategies described may not be suitable for all investors. This material has been prepared for informational purposes only, and is not intended to provide, and should not be relied on for, accounting, legal or tax advice. References to future returns are not promises or even estimates of actual returns a client portfolio may achieve. Reference to specific securities, asset classes and financial markets are for illustrative purposes only and are not intended to be, and should not be interpreted as, recommendations. Any forecasts contained herein are for illustrative purposes only and are not to be relied upon as advice or interpreted as a recommendation.
J.P. Morgan Asset Management is the marketing name for the asset management business of JPMorgan Chase & Co., and its affiliates worldwide.
JPMorgan Distribution Services, Inc., member FINRA/SIPC
Disclosure: I have no positions in any stocks mentioned, and no plans to initiate any positions within the next 72 hours.
Business relationship disclosure: This article was written by Joe Tanious, Global Market Strategist, J.P. Morgan Funds, and submitted on his behalf via the J.P. Morgan Funds' Seeking Alpha profile.