In this article I will try to compare Petrochina (NYSE:PTR) in 2001, when Buffett bought a stake, and the Russian company today, to see if there is a similar opportunity to profit from a price mismatch in the market.
Rosneft (OTCPK:RNFTF) is Russia's oil major that, after the acquisition of TNK-BP from BP Plc (NYSE:BP), has become the largest publicly traded oil company in the world, measured by production and reserves, with 4.8 million barrels per day (bbpd) and 24 billion barrels of oil equivalent in proven reserves.
When Buffett bought Petrochina
Warren Buffett made a huge profit off his investment in Petrochina; I can't help to draw parallels with today's Rosneft. Back in 2002 Petrochina was a second tier oil producer from a communist country yet Warren thought it was hugely undervalued and bought a significant stake in the company. In its letter to the shareholders he stated that: "In 2002 and 2003 Berkshire bought 1.3% of PetroChina for $488 million, a price that valued the entire business at about $37 billion. Charlie Munger and I then felt that the company was worth about $100 billion. By 2007, two factors had materially increased its value: the price of oil had climbed significantly, and PetroChina's management had done a great job in building oil and gas reserves."
So how did Buffett value the company to come to the $100 billion figure? I guess he kept things simple and used proven reserves, production and earnings; he also correctly bought into an emerging market oil company at a time when oil was very cheap: in 2002 it was trading for about $30 a barrel, and the oil price rise in the following years has helped him a lot indeed.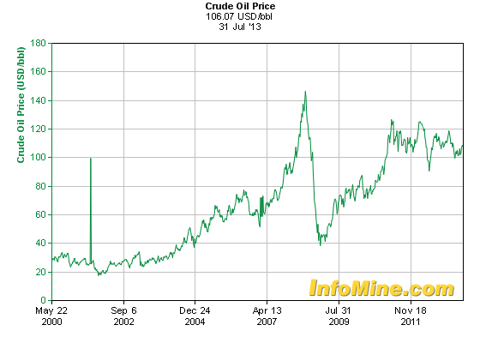 With oil lingering around the $100 mark, the same can't be said today although there is no agreement on where prices are headed: while many, including the IEA, say there will be an oil glut in 2014 with prices plummeting from increased production in North America, others predict a necessary surge in prices to keep tar sand production profitable.
Petrochina in 2001
Reading Petrochina's 2001 annual report we find that back then the company had earned $5.6 Bil , had a production of 2.1 million barrels per day and reserves of approximately 10.9 Bil barrels of crude oil and approximately 38.8 trillion cubic feet of natural gas. Since we know that Buffett is not a gambler and avoids unnecessary risks, we can safely assume he didn't base his valuation on unpredictable oil price movements, so he probably used what he knew for sure to put a price tag on the company. Petrochina's 2012 production averaged 4.4 million barrels per day, so its management has successfully doubled the production in 10 years. Yet it still lags Rosneft but has a market capitalization that is more than twice that of the Russian major.
Did Buffett use reserves to value Petrochina? As we saw in 2001 the Chinese company had 11 billion barrels in proven reserves, roughly half what Rosneft reports today and with average oil prices a third of today's, yet he still valued the enterprise $100 Bil.
Did he use earnings? In the first half of 2013 Rosneft has reported profits for about $4.5 Bil which, if replicated in the second half of the year, imply a price-to-earnings ratio below 9, making it a palatable investment. Profits could have been higher, but the company incurred some losses on its bond obligations due to an unfavorable Russian Ruble / US Dollar exchange ratio. Rosneft earns today almost twice what Petrochina earned back then, since in 2001 Petrochina reported earnings of $5.6 billion.
The above data shows that today's Rosneft, with a market cap of only $80 Bil, is twice as profitable and reserve-rich as Petrochina was in 2001 and metric-wise we ought to value it at least $200 Billion, making it an easy double from current prices.
In terms of EV/EBITDA , a widely used multiple to value oil companies, Rosneft appears to be significantly cheaper than its peers.

Expansion strategy
In its 2030 energy strategy Russia stated that it would target a fourfold increase in exports to the Asia-Pacific region and Rosneft has likely become the new national champion at the expense of Gazprom (OTCPK:OGZPY) which has suffered profit losses because of the recent natural gas glut.
Rosneft's CEO, Igor Sechin, has stated that the rationale behind the TNK-BP acquisition is the same that inspired the mergers at the end of the 90's that created the likes of Exxon Mobil (NYSE:XOM) and Chevron (NYSE:CVX), that is, the larger scale of projects; it faces some hard technological challenges with its Siberian onshore and offshore fields and to that end it has inked partnership agreements with Exxon, Statoil (NYSE:STO) and Eni (NYSE:E).
The company is actively expanding its foothold abroad as well: it recently signed a deal with Venezuelan state owned oil major PDVSA to explore for fossil fuels off the coast of the oil rich South American nation, where reserves are estimated to be 40 billion barrels. It also acquired from Exxon Mobil minority stakes in fields in the Gulf of Mexico and plans investing $100 million in exploration projects off the coasts of Vietnam. Exploration activities are being carried in Algeria and Kazakhstan as well. It is also investing in natural gas infrastructure with the recent acquisition of Cyprus based Itera, one of the largest natural gas producers in the CIS and Baltic states.
Chinese deal
Last June Rosneft signed a momentous $270 billion deal where it is to supply oil to China for a quarter of a century. The company will double its exports to the Asian giant and stands to receive a $70 billion upfront payment, which will significantly help it relieve its debt burden and provide fresh cash for additional upstream operations.
Conclusion
Petrochina made (and makes) most of its money from domestic sales, where gas and oil prices are set by the government, which also holds a controlling stake in the energy giant. So when Buffett assessed the company to be worth $100 billion when the market was valuing it $40 billion, either the Oracle of Omaha had been extremely sure of an expansion of the Chinese economy and domestic energy tariffs or he saw a compelling price mismatch between Petrochina's stock price and its intrinsic value determined by earnings, production and reserves, probably because the stock price was depressed by the risks associated with investing in a government controlled oil company headquartered in an emerging market. Does this sound like Rosneft's story today?
Rosneft is traded in the U.S. over the counter with the symbol RNFTF - if you have access to international markets you can buy it on the London Stock Exchange - ROSN. If you don't want to invest in it directly, you can still benefit from an investment in BP Plc, which holds a 20% stake in Rosneft and seats two members on its board of directors.
Disclosure: I have no positions in any stocks mentioned, but may initiate a long position in OTCPK:RNFTF over the next 72 hours. I wrote this article myself, and it expresses my own opinions. I am not receiving compensation for it (other than from Seeking Alpha). I have no business relationship with any company whose stock is mentioned in this article.