Japan's Nikkei seems to have bounced back on the solid economic news out of America yesterday which followed China's news the day before. That is certainly a risk-on/risk-off market and should be watched simply to get a handle on the situation in Asia. Right now we think that the market will be quite volatile and move sideways as investors watch to see if the economic reforms begin to have an impact upon economic data. Thus far the results have been mixed, so we would hope that in the next few months we see a better skew towards affirming that the reforms are in fact working rather than facing the same questions we now have.
Chart of the Day:
The decline in hourly earnings has continued far longer than the decline in jobs. We see hourly earnings ticking higher now, but we need to see considerable growth from here simply to allow employees to catch up to inflation. We have stated that this recovery has been different in that it is not only a jobless recovery but a 'wageless' recovery as well. That needs to change if we are to see growth move higher and a stronger economy because corporations will need the consumer to return in the later innings.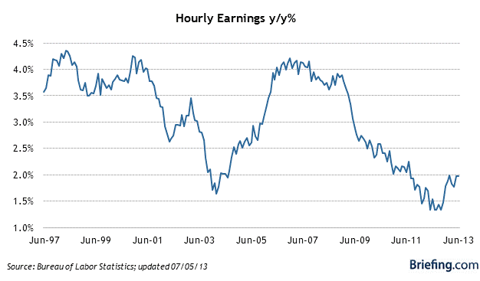 Source: Ameritrade
We have economic news due out today and it is as follows:
Nonfarm Payrolls (8:30 a.m. ET): 175k
Nonfarm Private Payrolls (8:30 a.m. ET): 195k
Unemployment Rate (8:30 a.m. ET): 7.5%
Hourly Earnings (8:30 a.m. ET): 0.2%
Average Workweek (8:30 a.m. ET): 34.5
Personal Income (8:30 a.m. ET): 0.5%
Personal Spending (8:30 a.m. ET): 0.4%
PCE Prices - Core (8:30 a.m. ET): 0.2%
Factory Orders (10:00 a.m. ET): 2.2%
Asian markets finished higher today:
All Ordinaries -- up 1.02%
Shanghai Composite -- up 0.02%
Nikkei 225 -- up 3.29%
NZSE 50 -- up 0.82%
Seoul Composite -- up 0.14%
In Europe, markets are trading marginally higher this morning:
CAC 40 -- up 0.15%
DAX -- up 0.07%
FTSE 100 -- down 0.10%
OSE -- down 0.04%
Financials
Yesterday started off as a good day for the insurers as MetLife (NYSE:MET) had shares rallying after their quarterly results beat Wall Street's estimates. Granted the insurer posted a huge loss on derivatives for the quarter, but on an adjusted basis the results were strong. We have been saying for some time now that the insurers were the way to play financials for the time being as their earning power and continued efforts to clean up their balance sheets would result in capital gains for shareholders. With MetLife raising their FY2013 guidance after the strong quarter we think the thesis holds.
This is one of those uber bullish charts and so long as the trend is your friend one should continue to ride it.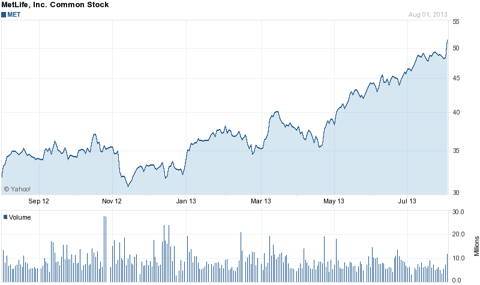 Source: Yahoo Finance
Especially after American International Group (NYSE:AIG) came out after the bell last night to beat analysts' EPS consensus and announce that the company would be returning capital to shareholders. The big news was that the company will be implementing its first quarterly dividend since 2008 this quarter at a rate of $0.10/share. Also announced, but grabbing less attention, was that the company plans to do $1 billion in share buybacks. We have been bullish on AIG shares as it was the most attractive play we could find in the insurance industry and had the best risk/reward ratio we analyzed. Now that they are in fact returning capital to shareholders like we have previously discussed we think that investors should sit back and watch as the payouts gradually increase. Still bullish the insurance names, especially AIG - even after the large run-up the industry has seen. Watch to see if AIG can take out the $50/share level during the session.
Technology
We have noticed one trend that has become glaringly obvious as this earnings season has progressed and that is the proliferation of the mobile web. Yes it has been taking over traffic numbers in the US, but what we are more impressed with is the speed at which the transition is happening in China. It seems every internet company in China has seen their quarter affected by the mobile web in one way or another and C Trip (NASDAQ:CTRP) was the latest beneficiary of better mobile results. The Chinese travel site saw EPS figures beat analysts' estimates by $0.07/share with revenues coming in at $203 million and beating the consensus figure by roughly $12.5 million. Margins did fall a bit, but with the top and bottom lines expanding the way that they did one would expect to see a slight drop in margins. Investors appreciated the news as they bid shares higher by over 19% yesterday to close at $43.72/share on volume of 17 million shares.
Another chart where we see it moving from the lower left to the upper right. The company may be reaching an inflection point and the shares seem to be pointing that way too.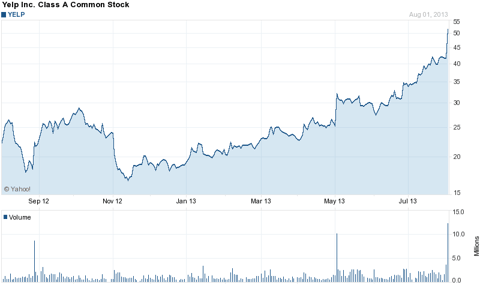 Source: Yahoo Finance
Another high flier yesterday in the internet space was Yelp (NYSE:YELP) which saw shares rise over 23% after a solid quarter which saw the company report a loss of $0.01/share versus the consensus of $0.04 which was expected. It was a solid beat and highlighted the smart moves that the company has been taking to get the business to profitability. There are some talking heads which believe that due to the company's working relationship with Apple that Yelp is a potential buyout target, but we would caution not to buy on hopes that a buyout happens but rather on the business itself. The shares hit an all-time high yesterday on the solid quarterly results and if they continue to develop their site and work on the ad platform they could provide another option for advertisers to target specific audiences, both on the traditional web and more importantly the mobile web, much like Facebook.
Biotechnology
The stock set another new high yesterday, but after this run we still think it prudent to remain cautious and are not buyers here.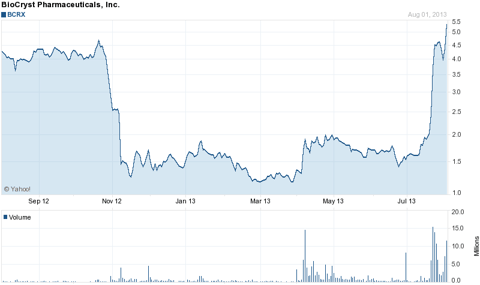 Source: Yahoo Finance
This morning we are once again looking at another strong move by BioCryst Pharmaceuticals (NASDAQ:BCRX) which saw shares rise by $0.93 (21.14%) to close at $5.33/share as 11.5 million shares traded hands yesterday. The company had two announcements, with the most important being that the Food & Drug Administration had removed a hold on the company's BCX 4161, the hereditary angioedema drug, which clears the way for the company to conduct clinical trials in the US. The company also announced that on August 8th the company would release their 2Q 2013 financial results.
Disclosure: I have no positions in any stocks mentioned, and no plans to initiate any positions within the next 72 hours. I wrote this article myself, and it expresses my own opinions. I am not receiving compensation for it (other than from Seeking Alpha). I have no business relationship with any company whose stock is mentioned in this article.