Led by an earnings report snap-back in shares of Cummins Inc. (NYSE:CMI), July was an excellent month for the natural gas transportation portfolio. Components ConocoPhillips (NYSE:COP) and Exxon Mobil (NYSE:XOM) hit new highs while Westport Innovations (NASDAQ:WPRT) continues to lead the year-to-date performance of stocks within the portfolio: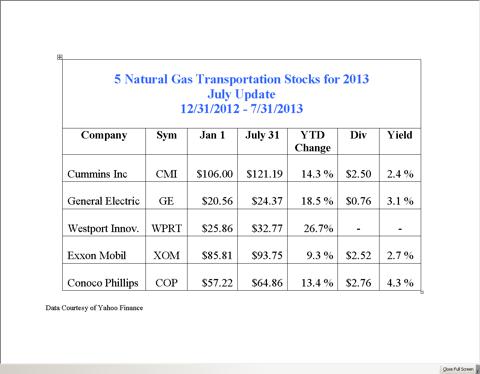 YTD Performance
Assuming equal weight investments, the portfolio's YTD return is +16.4%. In comparison, the S&P 500 is up 18.2%.
The total return of the portfolio, including dividends, is +17.9% YTD.
Objective
The portfolio's primary objective is to profit on the global natural gas transportation revolution by owning stocks that provide:
Exposure to the rapidly growing NGV market.
Exposure to natural gas production and refueling infrastructure.
Exposure to international and domestic natural gas markets.
Dividend income.
Dividend News For July
There was only one dividend payout made in July:
Portfolio component ConocoPhillips announced a surprise 4.5% increase in the quarterly dividend to $0.69/share. The stock currently yields 4.3%. Cummins Inc. announced a significant increase in its quarterly dividend to $0.625/share, up 25% from the previous $0.50/share rate.
Newsworthy Company Updates For July

CMI reported Q2 earnings which beat analysts' estimates by $0.21/share. Earnings came in at $414 million, or $2.20 a share, from $465 million, or $2.45 a share, last year. Although net income was down, sales rose 2 percent. The company cited higher demand for its medium-duty truck engines in North America, Brazil, and China. Component sales were up 8% while power generation equipment was down 10%.
Portfolio component General Electric (NYSE:GE) had a good month after it reported Q2 earnings of $0.36/share. Infrastructure orders were up +4% with U.S. order up +20%. The company reported a record backlog of $223 billion. Industrial segment margins were up +50 basis points. The company closed its Lufkin acquisition and oil and gas sales grew 24% with double digit growth in 4 of 5 segments. O&G profits were $532 million on sales of $5.76 billion.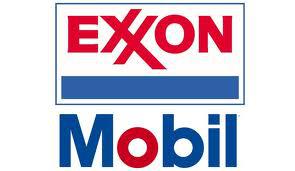 Exxon Mobil hit fresh 5-year highs during July. Exxon, BP (NYSE:BP), ConocoPhillips, and TransCanada (NYSE:TRP) have started front-end engineering work associated with the Alaska South Central LNG project ("SCLNG"). In a presentation given to Alaskan Legislators in February, the company's outlined project concepts and proposals:
A gas treating plant design on the North Slope
Pipeline size and routing options (800+ miles, 42" x80 pipe)
Capacity of 3-3.5 bcf/day
LNG plant design: three 5.8 million tons per year LNG trains - a total of 15-18 million tons/year
Five gas off-take points for Alaska nat gas fuel supply
Preliminary capital estimate: $45-65 Billion (2011 dollars)
Exxon Mobil is the leading the concept team and ConocoPhillips is leading the LNG Plant effort.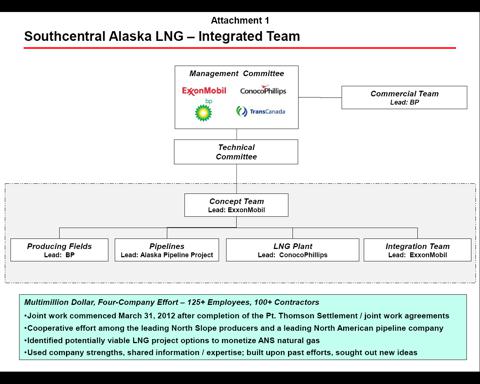 The companies are working on securing permits, financing, and key commercial agreements before confirming commercial viability and making a final decision to build the project.
The North Slope oil discoveries of the 1960s and 1970s found an estimated 35 Tcf of natural gas - almost one and a half times the entire volume of U.S. production in 2012. The SCLNG project is studying the economic viability of moving the gas to consumers.
Resources Energy Inc., was formed in late 2011 by Japan's Hyogo Prefecture, a regional government, with other business interests and several small Japanese utilities affected by Japan's nuclear power plant shutdowns following the earthquake and tsunami. REI believes SCLNG needs to start producing LNG by 2019 or 2020 to get to market before potential competing export projects elsewhere in the world. REI says it hopes SCLNG can deliver gas to Japan at under $10 per million Btu - far below current spot-market prices in Asia. The CEO said earlier this year the company is assembling Japanese investors to spend $50-100 million on LNG plant engineering. To meet the 2019/2020 schedule goal, REI says it will need someone else to move quickly on the pipeline and North Slope gas treatment plant.
The U.S. Geological Survey estimates an additional 221 Tcf of natural gas reserves are in the Alaskan Arctic. Portfolio stocks XOM and COP are in a prime position to capture a good portion of the huge potential in Alaskan natural gas.
Kazakhstan Intends To Buy COP's 8.7% Interest In Kashagan

The Republic of Kazakhstan reversed its earlier position and notified ConocoPhillips that it would preempt COP's proposed sale of its 8.4% interest in the North Caspian Sea Production Sharing Agreement (Kashagan) to ONGC Videsh Limited. The proceeds received by ConocoPhillips will remain unchanged at ~$5 billion and represents the last big asset sale of COP's multi-year strategic plan. After many quarters of declining production due to discontinued operations, COP has now reached a transformational inflection point in which production will bottom in Q3 and begin growing by a net 400,000 bpd by 2017.
Notable Nat Gas Transportation News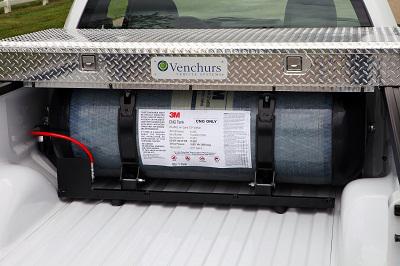 Forbes reports Ford Motor (NYSE:F) will offer its best selling pickup truck, the F-150, with a natural gas option starting in the 2014 model year. The option will cost a whopping $8-10,000 more because Ford is relying on "Ford-approved vehicle modifiers" to supply fuel tanks, fuel lines and unique fuel injectors instead of doing the work in the Ford factory. Seems to me a natural gas option made in volume in the factory as an original equipment option should be no more than ~$2-3,000 over the cost of a gasoline or diesel version. But it is progress - and at least Americans are beginning to have more options to use America's domestic, abundant, clean and cheap natural gas for personal transport.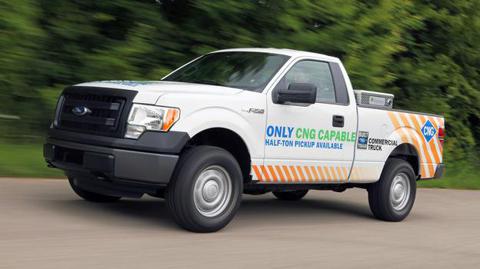 Summary and Conclusions
The economic, environmental, and national security fundamentals supporting natural gas transportation are strong. Demand for natural gas engines, industrial equipment, and the commodity itself continues to grow as more people and governments realize the benefits of natural gas as a transport fuel. The portfolio's income strategy is also working well: all four dividend payers have increased their dividends in 2013. It is steady as she goes for the portfolio as growth prospects in the natural gas transportation revolution will continue to push these stocks higher.
Disclosure: I am long COP, XOM. I wrote this article myself, and it expresses my own opinions. I am not receiving compensation for it (other than from Seeking Alpha). I have no business relationship with any company whose stock is mentioned in this article.
Additional disclosure: I am long PSX. I am an engineer, not a CFA. The information and data presented in this article was obtained from company documents and/or sources believed to be reliable, but has not been independently verified. Therefore, the author cannot guarantee its accuracy. Please do your own research and contact a qualified investment advisor. I am not responsible for investment decisions you make. Thanks for reading and good luck!