Much has been written about the myriad industrial applications for silver, and even more since announcements from China and Japan of plans to accommodate increased reliance on solar power by 2015 in satisfying their growing energy needs.
Last month, according to Jeff Clark of Casey Research:
China raised its target for solar generating capacity to more than 35 gigawatts (G W) by 2015, a stunning increase of 67% above its previous target.
Take note: I am not a financial planner, adviser, accountant, economist or alchemist. I started investing late and I'm not a millionaire. I am a logical thinker looking for answers. I won't spin a bunch of numbers, won't argue shrinking global mine output, and I will not talk Fed money printing, however this article does intend to make a case for silver surpassing gold in future demand.
I know, you might think I wear a tin foil hat, but add this to your thought process. Silver remains the most reflective, heat resistant and electrically conductive material on earth. Its beauty and resilience makes it perfect for jewelry, and the shiny metal enjoys rising popularity among retail investors because of its close relation to money and value as a hard asset.
Silver has something special going for it
The Casey Research chart below does not include future silver demand associated with the new solar panel initiative. It only illustrates industrial demand in year 2012.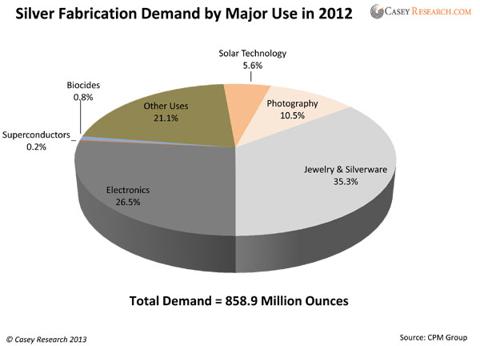 (Pie Chart Courtesy Casey Research)
Nothing beats silver for use in everything electronic from smartphones to computers to television screens to, well, generating electrical power by converting solar radiation into direct-current electricity through the use of semiconductors in photovoltaic technology used in the manufacture of solar panels. And each solar panel contains near two-thirds of an ounce (20 grams) of silver.
The Jeff Clark piece is very informative and a suggested read. He continues:
It's estimated that over 50 million ounces of silver will be devoted to just the solar industry this year. China's proposed boost from 7 to 35 GW in capacity would translate into a global increase of 27%, from 102.2 GW last year to 130.2 GW in 2015. Meanwhile, Japan is expected to overtake Germany as the world's largest solar energy user. An estimated 5.3 GW of generation capacity-the equivalent of five nuclear reactors-will be added this year, according to a report from HIS Inc., a US-based research firm.
What most concerns me is this: in most all consumer applications, i.e. smartphones, computers, etc., the silver used is used. As in, never-to-be-recovered. Though scientists say there is 16 times more silver occurring in the earth's crust than gold, this will inevitably come to pass at our current rate of consumption.
Also, considering how much is made about the use of silver by the industrial complex, one major user of silver is rarely ever discussed - the military industrial complex. The military uses silver in everything from communications devices to medical applications, to weapons launch systems to weapons themselves. It is widely believed, though not confirmed, each Tomahawk and Cruise missile contains over 500 ounces of silver. Which suggests every time one of these missiles is deployed another unrecoverable pile of silver is used up. Gone.
Not to make this a geopolitical discussion, but how many missiles were lobbed into Libya in 2011? I've read different accounts of 168 up to 200 depending on what page you turn to. But if you do the math here I've furthered my point.
If war remains a booming business we can expect more silver to be wiped off the face of the earth while tons of mined gold remains safely inside someone's vault, or safely in transit between one vault, to another.
It is my belief silver will outperform gold over the long run. How do we benefit?
There are several "good choice" silver mining investments including those I've detailed before such as Endeavour Silver (NYSE:EXK), First Majestic Silver (NYSE:AG), McEwen Mining (NYSE:MUX), Paramount Gold and Silver (NYSEMKT:PZG), as well as Silver Wheaton (SLW) and others, but let's not get ahead of ourselves.
Even though shares of the miners, explorer and streamer mentioned here are selling at attractive prices, nothing will beat physical hold-in-your-hand silver when the world supply is near depleted or runaway inflation shows up at the party.
And when silver does turn scarce or the market does hit another volatility speed-bump as was the case during this mid April past, bullion dealers will raise their premiums. Not only that but, in many cases forced to delay shipments, put items on back-order or show in-stock items as "out of stock."
In the case of spot prices surging due to increased demand and the eventuality of scarcity of silver, dealers will in fact be out of stock. But even now with higher premiums due to lower spot prices (inherent volatility) vendors are put in a position of having to sell inventory for less than they paid for it. And if it is scarce, not sell it at all. In either case OUT OF STOCK will become in style.
I can speak to this. It happened to me. Did this happen to you?
Smelling smoke after market close Friday, April 12, 2013, I made an online purchase that I had been waiting on and price measuring; a 20-ounce mint tube of one-ounce .999 pure silver, Austrian Philharmonic bullion coins I was to give as a wedding gift.
Sure I could have locked in a lower price had I waited even longer as spots continued downward in the days following, but if I had waited and made my purchase on April 15, or later, my wedding gift would not have arrived until after the wedding, two months later. As it turned out it took almost four weeks for delivery (just in time) when normally it would have taken 10 days or less. Availability became an increasing concern.
This is what will happen again when silver scarcity or real inflation hits the mainstream media's breaking news desk and people who thought before they couldn't afford gold will be shocked at its new price as everyone pours into silver only to find it out of stock.
Silver's surge will be spectacular, realizing much higher percentage gains than gold.
In conclusion, if you've kept up with me over time you've seen me write "silver could be good as gold one day." And this I do believe. But maybe I should just keep quiet. After all, I don't need more competition securing the last grams of silver on earth. Go ahead, I can hear you now sharpening your pencils readying even sharper remarks for me in the comments section below. But, that's, OK I'm inviting you aren't I?
Good advice here is simply to buy your silver now.
Disclosure: I have no positions in any stocks mentioned, and no plans to initiate any positions within the next 72 hours. I wrote this article myself, and it expresses my own opinions. I am not receiving compensation for it (other than from Seeking Alpha). I have no business relationship with any company whose stock is mentioned in this article.