Stocks in the telecom sector have generally performed very well in 2013. There has been significant demand for dividend-payers, and there has also been a flurry of merger and acquisitions in this sector with companies like Leap Wireless (LEAP) getting a takeover offer from AT&T (NYSE:T) for about $1.19 billion or $15 per share. However, some stocks now look fairly valued, some look overvalued, and yet one niche player in the industry looks to be offering investors an ideal buying opportunity with shares priced at bargain levels when compared to others in this sector. With this in mind, it could be a great time to rotate out of certain stocks and into others. Here is a closer look at three telecom stocks:
Iridium Communications, Inc., (NASDAQ:IRDM) operates a global network that provides satellite-based phone communications. It may not be one of the best-known telecommunication companies but it is one of the most undervalued. This stock recently dropped after the company reported an earnings "miss" and this has provided investors with an ideal buying opportunity. There are a number of reasons why investors should consider buying this pullback which are discussed in detail below. First, let's look at the chart: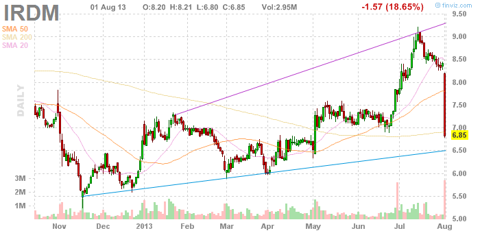 As the chart above shows, Iridium shares have been in a solid uptrend this year. Even after the recent sell-off, the stock remains in an uptrend and the shares are now trading near major support levels at the 200-day moving average, which is around $6.91, (as indicated by the light brown trendline). It can reward investors to buy on pullbacks to major support levels because it often holds strong at these key levels, and that means there might be little downside risk left in the shares. It could also mean there is rebound potential since the 50-day moving average is around $7.80 per share, which is indicated by the orange trendline on the chart. It's also worth noting that (as the chart shows), since last year, investors who have been buying the pullbacks in this stock have been rewarded with frequent rebounds and an overall uptrend. Since Iridium shares have had strong upward momentum throughout 2013, it might not be long before the stock reasserts this trend higher.
Buying stocks when a company "misses" earnings can be a great way to pick up stocks on the cheap. Short-term thinking by some shareholders, and a piling on by shorts can often lead to an exaggerated move down in the share price. When stocks get to oversold levels because of a short-term event, there is often a rebound in the days that follow. The long-term outlook for Iridium is very positive and the stock is significantly undervalued and these factors could also fuel a rebound.
For the second quarter of 2013, Iridium reported net income of $15.4 million, or 18 cents per diluted share, which is slightly below analyst estimates of 22 cents per share and net income results of $17.7 million, or 23 cents per diluted share, for the second quarter of 2012. The second quarter results for 2013 were impacted by a nearly $2 million charge for warranty expense provisions. This indicates that the company is being conservative by taking this charge for projected warranty expenses. It also appears to be a one-time charge, which means that profits should rebound next quarter. Without the nearly $2 million charge to increase warranty expense projections, Iridium would have reported quarterly earnings that met analysts' expectations and this earnings report would have been very similar to profits it earned for this same period last year. A drop in the share price from about $8.50 to around $7 appears very excessive when considering these facts, and even more so when noting that this company is earning solid profits and trading at a discount to the market.
At just around $7, this stock is trading below book value, which is $11.64 per share. It also looks cheap considering that the S&P 500 Index (NYSEARCA:SPY) trades for about 16 times earnings. Analyst estimates for Iridium are at 94 cents per share for 2013, $1.10 for 2014, and $1.34 for 2015. That means the shares are trading at just around 7 times earnings for this year.
Compared to other stocks in the telecommunications sector, Iridium looks like a bargain. For example, Sprint (NYSE:S) is a well-known company and it trades for $6.38 per share. That is not much less than where Iridium shares now trade. However, there is a huge difference in that analysts expect Sprint to post significant losses of about 83 cents per share for 2013, and additional losses of about 18 cents per share for 2014. Furthermore, Sprint trades for about 3 times book value, which is just $2.15 per share. Sprint is burdened with heavy interest expenses since it carries about $24.5 billion in debt. Sprint is also facing stiff competition from well-capitalized telecom giants like AT&T and Verizon (NYSE:VZ), which will require it to continue with heavy capital expenditures to keep its networks up to date. By contrast, Iridium operates in a niche segment (with less competition) by providing consumers, government entities and businesses with telecommunications services that can work at sea, and in remote areas of the world. Iridium's satellite network would be very expensive to replicate and that means this business has a "wide-moat" that protects it from new competitors. Sprint does not appear to have a wide-moat and continued losses at that company increases downside risks for shareholders.
At best, Sprint appears to be a hold with possibly limited upside potential. Analysts at Deutsche Bank have a buy rating on Sprint and a price target of $8. UBS has a neutral rating on Sprint and a $7 price target. This allows for fairly limited upside on Sprint. By contrast, the upside potential for Iridium appears very significant:
Iridium is poised to launch a satellite-based aviation tracking network called "Aireon" which could significantly add to revenues in 2014. This new service is expected to generate annual data fees from airlines, and other private jets and planes as well as a potential $200 million in one-time hosting fees. This is yet another reason why Iridium shares could be poised to resume the uptrend as we get closer to 2014.
Some "smart money" has been investing in Iridium shares. Famed investor Whitney Tilson is known for picking value stocks and one article details his bullish view on Iridium as well as the fact that it is undervalued when compared to its peer group, he states:
"I believe this is an excellent company and the stock is significantly undervalued. Comparable businesses are trading at 9-10x EV/EBITDA, while Iridium, which is growing significantly faster than and taking share from its competitors, trades at around 6x EBITDA."
Glenn Tongue of Deerhaven Capital, also believes that Iridium shares are too cheap and he has made a strong case for the stock to be worth around $32 in 2017. His belief is that Iridium's Aireon venture will add revenue growth and new clients in the coming years.
As with any tech or telecom stock, there are potential downside risks to consider. A new technological innovation could make Iridium's services less attractive or less profitable. Technical issues with satellites are also potential risks factors, but with a network of about 66 satellites in place now, there appears to be enough redundancy in Iridium's network so that these risks are minimized. Management risks are another factor, however, Iridium appears to have a solid team of executives that has delivered profits and new potential growth prospects with Aireon. With these shares at oversold levels due to a short-term earnings "miss," with the stock trading at a dirt-cheap P/E ratio of about 7 times earnings, and with some investors and analysts seeing a much higher share price in the future, the potential upside rewards appear to be outweighed by any downside risks at just around $7.
Verizon Communications, Inc. has been a very popular telecommunications stock for income investors. Faced with ultra-low rates, many investors who have been desperate to generate higher yields have piled into Verizon shares and the stock has been a strong performer for the past few years. However, there appears to be a major shift occurring with interest rates, and that, combined with a historically high valuation for Verizon, are potential red flags for this stock. Let's take a look at the chart and go into further details as to why it might be smart to take profits in this stock: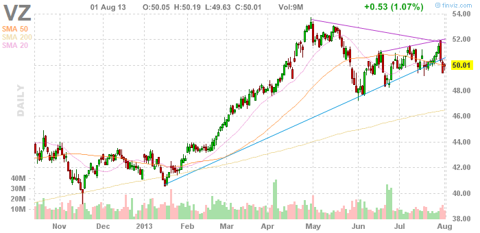 As the chart above shows, Verizon shares are trading near a 52-week high and the stock recently topped out at about $52. These shares have begun to pullback in the past few days and it appears that the start of a possibly significant correction could just be getting started. Verizon shares now trade near the 50-day moving average as indicated by the orange trendline and it could be poised to break lower and head towards the 200-day moving average of nearly $46, which is indicated by the light brown trendline.
The reason why the stock could be headed down is because the low interest rate environment that fueled a huge rally in this stock appears to be coming to an end. That means the upside could be minimal and the downside could be significant. Just a few weeks ago, the yield on the 10-year U.S. Treasury Bond was about 2%, but it has spiked up to a recent 2.7% and some analysts expect it to hit 3% or more by the end of 2013. This rise in rates is being caused by a general improvement in the U.S. economy and because the Federal Reserve needs to begin pulling back or tapering on policies that have pushed rates to record low levels, and driven dividend stocks to new highs. Some analysts believe the Federal Reserve will begin to taper as soon as September and that the tapering process will continue for many months. That could lead to significant downward pressure on popular dividend stocks for the foreseeable future. But it is not just a potentially major shift in interest rate policy that could push Verizon shares lower, this stock could also be poised to decline because of valuation:
Verizon now yields just 4% and if interest rates continue to rise, that yield is going to look less and less attractive. Furthermore, investors seem to be ignoring the fact that valuations for Verizon and other dividend stocks have historically been much lower. Analysts expect Verizon to earn $2.80 per share in 2013. That puts the price to earnings ratio at more than 18 times earnings. This is above the market average for the S&P 500 Index, which trades for about 16 times earnings. A Barron's article notes that the price to earnings ratio valuation for some telecom stocks is now more than double the historical norm and it states:
"When this bull run began in March 2009, telecom stocks fetched just 9.2 times what phone companies had earned over the preceding 12 months, according to data from Bespoke Investment Group. By last week, that had jumped to 23 times-the biggest increase of any sector excluding financials, and a sign that telecom stocks are rising much faster than their earnings."
With what appears to be a major shift in interest rate policy looming, and with Verizon shares at historically stretched valuations, it would seem prudent to take profits in this stock soon. It's worth noting that major investment banking firms appear to see price targets that also seem to imply that there is little reason to own this stock. For example, on July 17, analysts at Deutsche Bank put a $49 price target on Verizon and the shares currently trade for $50. If interest rates do rise, there could be a number of analysts that downgrade dividend stocks like this and that could spark a significant amount of selling pressure.
Here are some key points for IRDM:
Current share price: $6.93
The 52-week range is $5.25 to $9.22
Earnings estimates for fiscal year 2013: 94 cents per share
Earnings estimates for fiscal year 2014: $1.10 per share
Annual dividend: n/a
Here are some key points for Sprint:
Current share price: $6.38
The 52-week range is $5.61 to $7.14
Earnings estimates for fiscal year 2013: a loss of 83 cents per share
Earnings estimates for fiscal year 2014: a loss of 18 cents per share
Annual dividend: n/a
Here are some key points for VZ:
Current share price: $51.20
The 52-week range is $40.51 to $54.31
Earnings estimates for 2013: $2.80 per share
Earnings estimates for 2014: $3.21 per share
Annual dividend: $2.06 per share, which yields 4%
Data is sourced from Yahoo Finance. No guarantees or representations are made. Hawkinvest is not a registered investment advisor and does not provide specific investment advice. The information is for informational purposes only. You should always consult a financial advisor.
Disclosure: I am long IRDM. I wrote this article myself, and it expresses my own opinions. I am not receiving compensation for it (other than from Seeking Alpha). I have no business relationship with any company whose stock is mentioned in this article.