BP (NYSE:BP) reported Q2 2013 net profits on Tuesday morning that were substantially below expectations. While the subsequent conference call was dominated by talk of lower output volumes and higher operating costs, Renewable Identification Numbers [RINs] did enter the discussion during the Q&A session. BP is #4 on my list of the refiners with the highest potential compliance costs under the revised Renewable Fuel Standard [RFS2] so I had expected management's comments to resemble Valero's (VLO), which had attributed its lower refining throughput margins in the second quarter to expensive corn ethanol RINs. This seemed especially likely since Valero is unique among refiners in that it produces most of the ethanol it is required to blend under the RFS2, sparing it the need to purchase a full complement of RINs (refiners that don't produce their own biofuel are required to purchase it -- and the corresponding RINs -- from biofuel producers).
Unlike Valero, BP didn't report any negative impacts on its margins resulting from high RIN prices. In fact, Chief Executive of Refining and Marketing Iian C. Conn reported that the opposite had happened:
"[W]e're quite well-positioned in the short term on RINs. We're actually net long RINs and so we've been able to trade into this spike recently and have done quite well out of it. I'm very pleased about that."
Corn ethanol [D6] RINs began 2013 trading at $0.04 apiece before quickly surging to $1 by spring (see figure). Just two weeks ago they reached $1.45. Advanced biofuel [D5] and biomass-based diesel [D4] RINs rose to similar levels, albeit from a much higher starting point (although they still nearly tripled from trough to peak). While the recent political discussion in Washington, D.C. has been about how refiners have seen their regulatory costs increase greatly due to high RIN prices, BP recognized an investment opportunity in the same. Management unfortunately didn't offer many details on its entry and exit positions but it's clear that the company was able to benefit from at least some of the 3500% increase to D6 RIN prices that has occurred so far this year.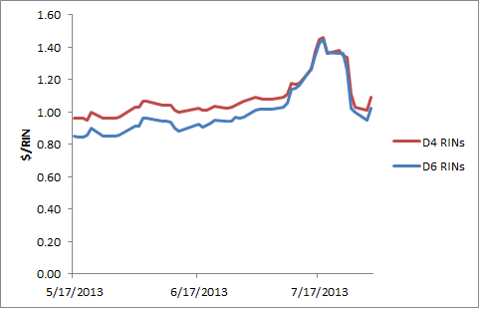 Trading RINs
We're able to glean some details on BP's RIN trade from management's comments, however, and these are useful for what they show us about how refiners are responding to higher RIN prices. The first thing to note is that RINs generated in a given year don't have to be submitted to the EPA or sold in that year, but can instead be held ("banked") until the following year. This aspect gives RINs a maximum lifespan of 2 years. D6 RINs traded between $0.02 and $0.04 for their entire existence up until the first week of 2013. As late as December 2012, one prominent agricultural economist wrote that "the fundamental market forces indicate that RIN prices will be low in both 2013 and 2014." BP clearly ignored the conventional wisdom at some point in 2012 and/or early 2013 by either holding onto any excess RINs that it generated at its Brazilian ethanol facilities, or purchasing more RINs while they were still trading for low prices than it needed to demonstrate compliance with the RFS2. BP's move was akin to purchasing extremely cheap LEAP options, then cashing in as the price of the underlying security spiked.
While BP clearly benefited from higher RIN prices, the magnitude of the trade shouldn't be overstated. Mr. Conn didn't indicate how many RINs were traded for profit but followed his previous statement by saying:
"But certainly, I'm rather relieved that we don't have some of the RIN obligations attached to the Southwest coast in Texas City at the moment because that would have probably been quite costly in the first half."
Back in February, BP completed the sale of its 451,000 bbl/day Texas City refinery to Marathon Petroleum (MPC) for $2.4 billion and Mr. Conn was referring to the refinery's divestment. This suggests that the maximum volume on BP's RIN trade was 340 million RINs, since the refinery sale reduced its U.S. refining capacity from 1.34 million bbl/day to 0.89 million bbl/day, in turn reducing its share of the total U.S. refining market from 7.5% to 5%. (Put another way, Mr. Conn's statement could mean that the sold RINs would have been instead submitted to the EPA for no profit had the Texas City refinery output been included in BP's Renewable Volume Obligation [RVO] calculation.) Using U.S. market share as a proxy for the company's share of the total RVO under the RFS2, this reduced BP's 2013 RVO from 1.04 billion RINs to 0.7 billion. Even assuming that BP purchased the extra RINs at last year's low price of $0.02 and sold them for this year's high of $1.45, then its maximum profit would have been $486.2 million (and most likely was actually significantly lower due to the assumptions made), or 24% of its Q2 net income. Again, this is the most that BP could have made on the RIN transaction based on Mr. Conn's comments; in reality it is very unlikely that the company managed to achieve the maximum gain. The above calculation simply provides some insight into why the magnitude of BP's trade shouldn't be overstated.
Good for BP, bad for refining?
BP clearly benefited from 2013's high RIN prices; a similar RIN transaction by a smaller, less diversified refiner would have had a positive and more meaningful impact on that refiner's quarterly earnings. (Taking the other side of the Texas City refinery sale, Marathon Petroleum reported $725 million in net income for Q1 2013.) As BP itself pointed out, however, this is unlikely to become a routine occurrence for a number of reasons. First, as mentioned above, RINs only have a two-year lifespan, making RIN purchases similar to options in that they have a clear expiration date. A refiner could easily be caught flat-footed by buying RINs at $1 in expectation of a return to the $1.45 peak, only to have the EPA revise the corn ethanol volumetric mandate downward in response to the blend wall and cause RIN prices to subsequently collapse. Second, it is very unlikely that RINs will return to their previous lows anytime soon absent federal action due to a lack of intermediate-term options for overcoming the ethanol blend wall. It's one thing for a company with a quarterly net profit of $2 billion to spend a few million dollars on a speculative RIN trade and quite another for it to spend $500 million on the same transaction at higher prices. So while other refiners may also report large profits from similarly-sized RIN transactions of their own in 2013, they are less likely to be reported in 2014 and certainly not thereafter so long as the RFS2 remains in its current state.
The short-term nature of the RIN transaction aside, Mr. Conn's comment on the Texas City refinery could also hint at future moves by refiners in the U.S. to decrease their U.S. market share (and thus RVO) by exporting gasoline made in the U.S. I raise this issue because the American Petroleum Institute [API] recently commissioned a study [pdf] that predicted a future fuel production "death spiral" as refiners reduce their RVO via gasoline exports. Now, it's very important to note here that the API is a trade association for the petroleum industry and any studies that it commissions need to be taken with a giant grain of salt as a result. Furthermore, the Texas City refinery sale was first announced while D6 RIN prices were still trading for less than $0.05 and it was partially offset by a 250,000 bbl/day capacity expansion at BP's refinery in Whiting, Indiana, making it less likely that it was made in response to higher RIN prices. These caveats aside, however, it is a bit disconcerting from an investment perspective to see a refining executive go on the record as being "rather relieved" that the company's U.S. refining output (and thus RVO) was lower than in past quarters. While this statement doesn't necessarily mean that refiners will decrease their RVOs in the future by increasing their exports of U.S. gasoline, it certainly isn't the attitude that the architects of the RFS2 want to see. After all, the RFS2 was designed to incentivize the production of biofuels by refiners as a means of complying with the RFS2 (and mitigating high RIN prices), not to encourage reductions to their individual market shares.
Conclusion
Contrary to the expectations set by Valero's Q2 earnings conference call, BP reported that it took advantage of the recent spike in RIN prices to sell its excess holdings in a transaction that benefited the company "quite well." This announcement raises the prospect that Q3 and Q4 2013 earnings by smaller refiners could be positively impacted by similar RIN transactions. Of particular note are HollyFrontier (HFC), Marathon Petroleum, PBF Energy (PBF), and Phillips 66 (PSX), all of which have a higher RVO-to-market capitalization ratio than BP. Chevron (CVX), Exxon Mobil (XOM), Royal Dutch Shell (RDS.A), and Tesoro (TSO) also have large RVOs relative to the rest of the industry, although these latter companies are less likely to be materially impacted by RIN transactions due to their large market capitalizations.
Disclosure: I have no positions in any stocks mentioned, and no plans to initiate any positions within the next 72 hours. I wrote this article myself, and it expresses my own opinions. I am not receiving compensation for it (other than from Seeking Alpha). I have no business relationship with any company whose stock is mentioned in this article.