Tesco (OTCPK:TSCDY) should be considered for potential purchase based on its leading position in the UK retail market, its expansion opportunities in international markets, its ability to improve operating margins and its attractive dividend yield of 3.6%.
Tesco's ADR stock price target is $21.30 based on applying a 13x multiple to its earnings next year. Tesco deserves to trade at a premium multiple to its high single digits / low teens long-term earnings growth rate based on its consistent earnings execution, its focus on maximizing shareholder value, its best in class EBIT margins and its strong return on equity.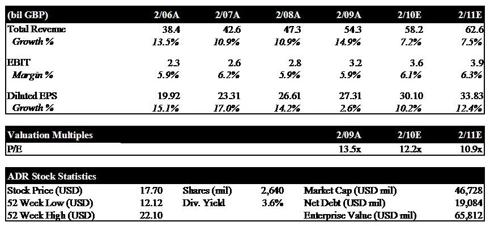 Company Description
Tesco is the largest UK retailer and the 3rd largest global retailer. Tesco controlled 30.8% of the UK grocery market as of May 2009 and ~9% of the UK non-food retail market. The majority of its sales and profits are generated in its 2,282 UK stores, which are segmented into the following formats:
Tesco Express – neighborhood convenience store that focuses on fresh products, 961 stores
Tesco Metro – city center convenience store,174 stores
Tesco Superstore – conventional supermarket, 448 stores
Tesco Extra – hypermarket that serves an entire community, 177 stores
Tesco Homeplus and One-Stop account for its remaining stores
The company also sells general merchandise through Tesco Direct, its online and catalog businesses.
Tesco's management focuses on customer satisfaction by giving them more choices where to shop and by offering them attractive prices on its products. In the fourth quarter of 2008, Tesco began selling new discount range of products to compete more aggressively on price against discounters. Its prices are generally perceived to be at a small premium to Asda and a small discount to Sainsbury and Morrison.
Tesco's UK Like-For-Like (LFL) Sales Growth Trends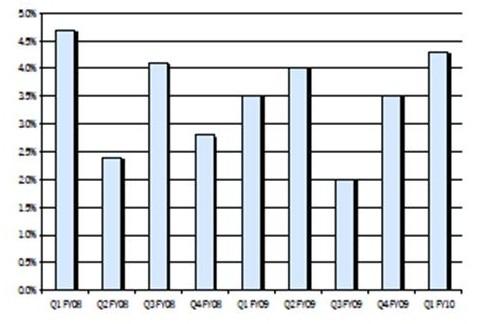 Sources: Tesco, Cazenove
Tesco has built a significant international operation by entering JVs with local partners and ended its fiscal year with 1,911 stores. Non-food represented about 30% of international sales. Tesco has leading market share positions in Hungary (#1), Thailand (#1), Ireland (#2), S. Korea (#2), Malaysia (#2), Slovakia (#3), Poland (#4) and Czech Republic (#4).
The company entered China several years ago and plans to open more hypermarkets and shopping centers over the next decade. The Chinese retail market remains very fragmented and the top three players each control less than 1% market share.
In 2008, Tesco announced its plan to enter Indian market with its own cash and carry (wholesale) operation and a franchise agreement with Trent to support their Star Bazaar hypermarkets.
FY 2009 Geographic Sales Mix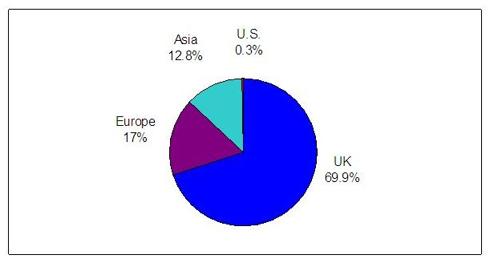 Source: Tesco 2009 Annual Report
FY 2009 Geographic Profit Contributors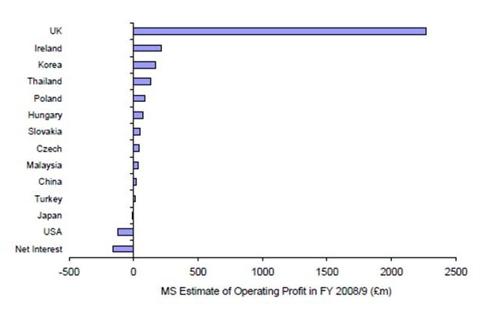 Source: Morgan Stanley
In 2008, Tesco purchased Royal Bank of Scotland's (NYSE:RBS) 50% stake in Tesco Personal Finance (TPF). Tesco plans to take advantage of consumers' distrust of UK banks to increase its deposit base and financial service activity meaningfully in the next several years.
Competition
Tesco's primary supermarket competitors in the UK include Asda (17.3% share of UK grocery market), Sainsbury (OTCQX:JSAIY) (16.3% share), WM Morrison Supermarkets (OTCPK:MRWSY) (11.2% share), Waitrose (3.7% share), Aldi (2.9% share) and Lidl (2.3% share). In recent years, some of its major competitors have turned around their struggling stores, which will make it more challenging for Tesco to gain significant share in the UK market going forward.
Asda's management improved its stores' product offering (organic and premium foods as well as non-food offerings) in 2005, which has helped the company's LFL growth to increase. In the past two years in a more challenging UK consumer spending environment, its discount prices have also helped the company to gain market share. The German discounters Aldi and Lidl have also benefited from the tougher market in recent years.
Morrison took several years to digest the acquisition of Safeway stores in 2004 and offer the right products in its stores. In September 2006, Marc Bolland took over as CEO and improved stores' product offerings and promotion-based marketing efforts. Since late 2007, its LFL sales growth rates have led the industry.
LFL Sales Growth Trends of Major UK Food Retailers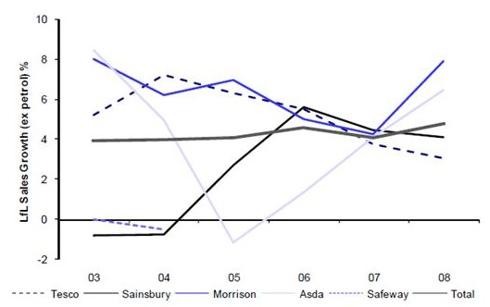 Sources: Companies, Deutsche Bank
Tesco also competes against multiple local companies in the international markets in which it operates as well as major global players such as Carrefour (CRERY.PK) , Wal-Mart (NYSE:WMT) and Ahold (AHO).
Earnings Model
Income Statement Summary
Tesco's UK LFL sales grew 4.3% last year (3% ex gasoline) and its net new stores contributed 2.7% to growth. Its UK sales also benefited from a 53rd week that represented 2.1% of sales and the first time contribution from the consolidation of Tesco Personal Finance. International sales grew 30.6% (including FX benefits) and 13.6% at constant exchange rates benefiting from square footage growth and strong sales growth in Asia.
The company's operating margin was flat at 5.9% in fiscal 2009 as unfavorable sales mix was offset by increased productivity and good expense control. Its EPS growth was only 2.6% last year, hurt by 26.7% tax rate vs. 24% in fiscal 2008 when it benefited from tax reimbursement and lower UK corporate tax rate.
Balance Sheet Summary
Tesco has an impressive property portfolio that the company's management and industry experts value at approximately £30 billion (that represents ~75% of company's enterprise value). The company ended the year with £9.6 billion in net debt, £3.4 billion more than in the prior year, due to acquisition of Homever in S. Korea, purchase of stake in Tesco Personal Finance and unfavorable currency movements. Tesco plans to reduce its net debt by £1 billion this year through lower capital spending, property sales and improvement in working capital. The company has £300 million in bond maturities this fiscal year.
Cash Flow Statement Summary
Tesco generated £5 billion in operating cash flow last year, benefiting from improvement in working capital efficiency and good inventory management. Its capital expenditures were £4.7 billion last year (£2.6 billion in UK and £2.1 billion in international). The company expects its capital expenditures to decline to £3.5 billion this year through spending less on mixed use development land and purchasing fewer existing stores from UK competitors.
Investment Rationale
UK retail market leader

Its leading position allows it to receive attractive pricing from its suppliers and benefit from economies of scale in distribution and marketing.
Tesco's UK business should continue to grow in the mid-single digits (~50/50 contribution from LFL growth and net new space growth) over the next decade and its cash flow from this business should support its international expansion.
Strong international growth
Tesco has established leading retail market positions in S. Korea, Thailand, Malaysia and Hungary.
In 2008, the company acquired 36 Homever hypermarkets in S. Korea, which increased its presence significantly in Seoul, where ~50% of S. Korea's population lives.

Tesco converted the acquired stores into Homeplus stores and saw average sales uplifts of 50%.

During fiscal 2009, Tesco added 63% to its square footage in S. Korea, including the converted Homever stores.
Tesco currently has 110 stores in S. Korea and plans to add 5 this year and 10-15 in subsequent years.
Tesco controls about 9% market share in Thailand and should continue to gain share at the expense of the independent market that controls 76% share.
The company plans to increase its square footage 8% this year in Thailand.
In total, Tesco plans to grow its square footage 10% in international markets this year and LFL growth should improve to low single digits in global economic recovery.
Tesco Personal Finance growth opportunity
TPF generated 65% of its profit from insurance and 35% from banking products, credit cards and fees from its ATM network last year.
The company grew its deposit book to over £4.5 billion from £2.5 billion in the last four months of its fiscal year, benefiting from its trusted brand name and consumers' distrust of major UK banks.
Tesco aims to double profits over the next five years from TPF (from £244 million last year) by leveraging its store network and customer base and by opening up new full service branches.
Operating margin expansion
Tesco's operating margin should increase 20 bps this year benefiting from:
200 new Express store openings, bringing total store count to 1,161; Tesco benefits from ~4%-5% higher gross margins on its Express stores due to lower operating costs.
Increase in international sourcing of non-food products.

Additional distribution cost savings estimated at £100 million this year.
Tesco plans to continue selling portions of its £30 billion property portfolio over the next several years
Fresh and Easy expansion opportunity
Tesco entered the U.S. market with its Fresh and Easy stores on the West coast in 2008.
These convenience stores offer organic, ready-to-eat food and low prices.
Tesco ended the fiscal year with 115 stores and plans to open 60-70 new stores this year.
Last year, these stores generated losses of £142 million and management expects similar losses in the upcoming year.
However, longer-term, the U.S. has the potential to be an important market for the company and could increase U.S. investor interest in its stock if the Fresh and Easy stores become popular.
Concerns and Risks
Market share losses in UK market

Tesco lost market share for the first time in two decades in 2008 hurt by turnarounds at competitors and consumers' migration to discounters.
It will be difficult for Tesco to gain significant share going forward, but it should be able to maintain its 30+% leadership position.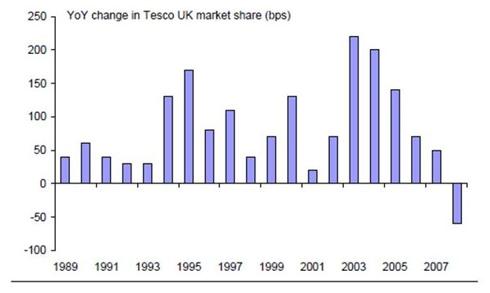 Sources: TNS, Morgan Stanley
Sizable debt load

Tesco ended the year with £9.6 billion in net debt, up £3.4 billion from the prior year.
About 40% of the company's debt is denominated in Euros and US$ so Tesco was hurt by the depreciating GBP in 2008.
Nevertheless, its interest coverage ratio was 8.9x last year and does not appear too aggressive.
Exposure to weaker European economies

Tesco is exposed to weaker economic growth in Ireland, Slovakia and the Czech Republic.
Management said that it has recovered in Hungary (which entered recession in 2006) by continuing to expand its store base and by offering attractive pricing. Tesco plans to follow the same game plan in other European countries that are currently struggling.
ADR shareholders exposed to potential GBP depreciation

The British Pound depreciated from 2.0 USD/GBP in summer of 2008 to roughly 1.4 USD/GBP in first quarter of 2009 on weaker housing and financial markets and higher deficits.
In recent months, the Pound has recovered to 1.6 USD/GBP as housing market has stabilized, but any deterioration in economic outlook for UK would have negative impact on the currency as well.
Valuation
Historical Valuation Analysis
Tesco is trading at attractive P/E and EV/EBITDA valuation levels compared with its historical valuation levels.
However, since its growth rate in its core UK market will not be as high as in the past, it might not be appropriate to use peak historical valuation levels to determine fair value.
Tesco needs to demonstrate success in one of its big new markets, such as China, India or the U.S. to revive its sales growth to the double digits and earn a valuation multiple close to its historical peak level.
Tesco's P/E Ratio 1999 - present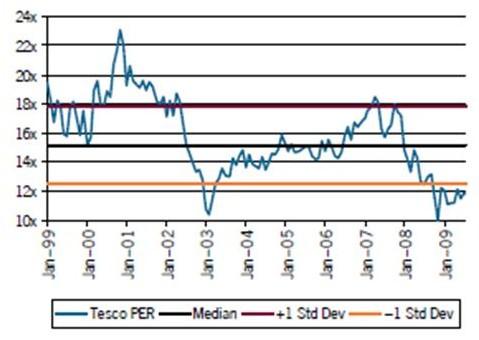 Sources: FactSet, Cazenove
Tesco's EV/EBITDA Ratio 1999 – present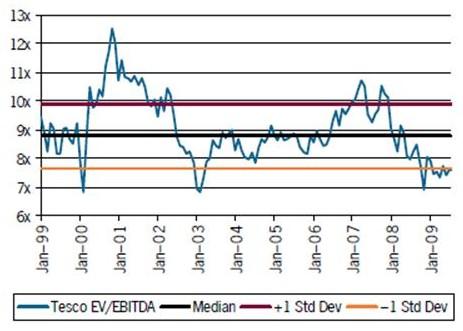 Sources: FactSet, Cazenove
Comparable Valuation Analysis
Tesco is trading at a 16% discount to its peers based on current year P/E multiples despite its stronger sales growth, EBIT margins and ROE.
Tesco is trading at a premium to its peers based on EV/EBITDA and EV/Sales. This can partly be explained because Tesco operates in many international markets where the tax rates are lower than in the UK and Europe so this benefits its earnings, but not its EBITDA or sales.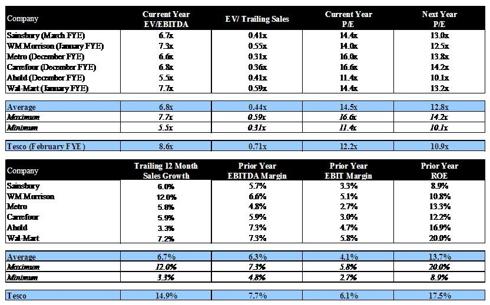 Source: Bloomberg (09/01/09)
Price Target
Tesco's ADR stock price target is $21.30 based on applying a 13x multiple to its earnings next year. Tesco deserves to trade at a premium multiple to its high single digits / low teens long-term earnings growth rate based on its consistent earnings execution, its focus on maximizing shareholder value, its best in class EBIT margins and its strong return on equity. Tesco needs to demonstrate success in one of its big new markets, such as China, India or the U.S. to revive its sales growth to the double digits and to earn a higher valuation multiple.
Full Disclosure: Recommended to Bolter and Company, a NY-based investment management firm, on September 2, 2009. No current positions in family accounts