In November of 2012, Western Union (NYSE:WU) forecasted lower than expected revenue growth and stock was unjustly punished when it dropped about 33%. We initiated a long position in the stock about the same time and since then it has completely recovered to about $18 levels. But that's not what makes us excited; it's the future potential of the company.
So on 07/30/2013, WU jumped nearly 10%, after its better-than-expected second-quarter earnings report, when the money transfer firm said that it earned $198.6 million, or 36 cents a share, still down 44 cents a share a year earlier. Revenues dropped 2.8% to $1.39 billion. Operating margin fell to 20% from 24.3%. We remain highly optimistic about long-term prospects of WU and that's what we are going to discuss below.
Western Union provides domestic and international money transfers through its global network of more than 500,000 outside agents. This makes it the largest money transfer company in the world, with almost 20% market share in international remittances. It is also one of only two companies with a truly global agent network, with MoneyGram being the other. The majority of its revenue, 81% of the total 2012 revenue, was generated from the Consumer-to-Consumer (C2C) transactions, while Consumer-to-Business accounted for only 11% of the total sales. A lot of the C2C transactions were conducted via retail (96%), whereas only 4% of the total C2C transactions came from the website wu.com and Account Based Money Transfer services.
Since we are Warren Buffett disciples at Netwall Investments LLC, when we buy a stock, we ask ourselves this question; "Would we be buying the whole company if it were for sale at this stock price per share?" The answer has to be "yes" in order for us to make a share purchase. Also we do not perform articulate calculations to the nth degree to arrive at an exact price. We believe that security analysis is both an art and a science and we are greatly amused when an analyst comes up with fair price of a security to the last cent using fancy equations. Furthermore, stock price at a given moment cannot be calculated accurately anyway, since it will vary wildly based on your assumptions and therefore we always give ourselves a "range" on our stock purchases and lower the better. This is the "Margin of safety" principle that Warren Buffett touts. Also Buffett says that it is better to be "vaguely right" than "absolutely wrong." Thus you will always find a range of fair prices rather than exact price mention in our analysis. One thing that we always do is to buy at a price that is below the intrinsic value of the whole business.
Our mantra is to invest in companies that have a solid competitive advantage, with strong management teams and strong fundamentals and long-term above average performance. In this case, Western Union is the type of company we like best, i.e. a strong generator of free cash flow while long-term reinvestment needs of its business is minimal. The company uses outside agents, and therefore doesn't need to invest in a retail footprint. Adding new agents only requires a modest investment on Western Union's part. Additionally, customers pay cash up-front and the business model creates a modest amount of "float" income. As a result, the company's free cash flow has averaged almost 20% of revenue over the past few years, and returns on invested capital are very high.
Western Union is well positioned for a decent growth because it possesses a market-leading position with a 15% market share. MoneyGram (NYSE:MGI) ranked second with a much lower market share of only 5%, owning around 310,000 Agent locations in 197 countries. More recently, MGI has put itself up for sale leaving less competition in the playing field for WU.
Western Union is the clear leader in an industry where size confers significant advantages. The money transfer business is scalable because the incremental costs of processing additional transactions are minimal. This gives Western Union a clear cost advantage over its rivals, and its operating margins are about twice that of its closest competitor. The Western Union brand is the most recognized in the industry and its network is unmatched, which allows the company to maintain premium pricing. The company's size allows it to invest more heavily to maintain this advantage.
Western Union boasts a strong balance sheet with $1.7 billion in cash and a very reasonable $3.9 billion in long-term debt. Company has generated about $977 million in free cash flows in the last 12 months. Dividend yield has decreased a bit to 2.80% due to the recent run-up in the stock price however coverage for this dividend is sufficient. Company recently had a large cash outlay of $300M due to principal payment on borrowings (Cash flows from financing activities, see below):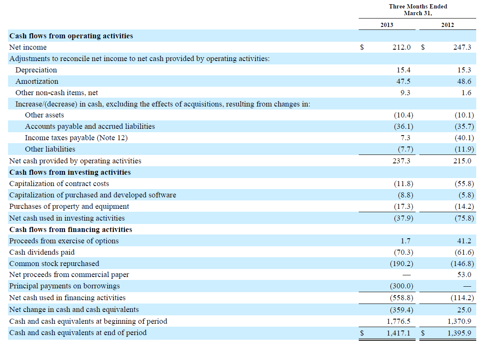 WU also engages in purchase of State and Municipal debt securities, which are kept as assets on the balance sheet. Company is also involved in derivatives to hedge against foreign currency exchange risk resulting from fluctuations in exchange rates, primarily the euro, and to a lesser degree the Canadian dollar, British pound, Australian dollar, Mexican peso, and other currencies, related to forecasted money transfer revenues and on money transfer settlement assets and obligations.. As of March 31, 2013, the majority of the Company's investment securities had credit ratings of "AA-" or better from a major credit rating agency. Generally, these securities are used by the Company for short-term liquidity needs and are held for short periods of time, typically less than 30 days. The Company is required to hold specific highly-rated, investment grade securities and such investments are restricted to satisfy outstanding settlement obligations in accordance with applicable state and foreign country requirements.
In addition to the long-term debt of about $3.9 Billion, the derivative liabilities are far less in proportion (only $119.3 as of March 31st, 2013) and these derivative liabilities are not of much concern to us. The company also utilizes interest rate swaps to effectively change the interest rate payments on a portion of its notes from fixed-rate payments to short-term LIBOR-based variable rate payments in order to manage its overall exposure to interest rates.

We have come up with the following fair value estimate of stock price under the following scenarios:
· We have used discounted "owner's earnings" for 10 years going forward and then calculating for perpetuity.
· We have factored in 3% per year inflation, which is rather a high number but with FEDs pulling back on their bond purchases, some economists are worried about higher than average inflation going forward.
· With current 10-year treasury yield of 2.5%, our discount rates of 8, 10 & 12% are rather aggressive given the reliable nature of WU cash flows and return on invested capital. Thus we are showing that WU turns out to be a good long-term investment even under some harsh scenarios.
| | | | |
| --- | --- | --- | --- |
| Earnings Growth (%) | Discount Rate (%) | Perpetuity Growth (3%) | Stock Price / share ($) |
| 6 | 12 | 3 | 16 |
| 6 | 10 | 3 | 23.29 |
| 6 | 8 | 3 | 36.63 |
Stock Price/share using different discount rates
You can see above how the value of business changes sharply using different discount rates. So an analyst somehow arriving at precise stock values is not astute valuation.
Now changing growth rates and keeping everything else constant:
| | | | |
| --- | --- | --- | --- |
| Earnings Growth (%) | Discount Rate (%) | Perpetuity Growth (3%) | Stock Price / share ($) |
| 4 | 10 | 3 | 19.10 |
| 5 | 10 | 3 | 21.11 |
| 6 | 10 | 3 | 23.29 |
Stock price/share using different growth rates
Keeping all variables constant and changing perpetuity growth to 1% and 2%, we obtain the following:
| | | | |
| --- | --- | --- | --- |
| Earnings Growth (%) | Discount Rate (%) | Perpetuity Growth (3%) | Stock Price / share ($) |
| 4 | 10 | 3 | 19.10 |
| 4 | 10 | 2 | 17.14 |
| 4 | 10 | 1 | 15.61 |
Stock price/share using different perpetuity growth rates and assuming 3% inflation
It is highly unlikely that the company would just grow 1% perpetually as 2% to 3% is a more likely scenario. Also we have assumed 3% inflation, year after year and have factored it into "owner's earnings." All the above scenarios are all very conservative and allow enough margin of safety.
The economic recovery will help Western Union increase its revenue as more immigrants will have jobs and would have extra cash to send it back to their relatives.
Also if Immigration Reform passes through Congress, it allows some 12 million illegal immigrants in this country to become legal, then they would have jobs and pay taxes.
Also they would be able to improve their job situation by virtue of being legal and would have extra funds to send back to their families. These are all positive attributes that are going in favor of WU.
Management:
We closely look at the experience and incentive structure for management in a company since good leadership makes or breaks a company. We also closely monitor the insider transactions to see patterns of conflict of interest. For WU, Christina Gold headed the company from 2002 until 2010, when she was replaced by Hikmet Ersek, previously the COO. When Ersek became CEO, we did not foresee any major strategic shifts within the company given the fact that he has been with Western Union since 1999. So far this has proved right. We like the fact that the company has returned a major share of its free cash flow to shareholders through stock repurchases and recently increased its dividend significantly.
Risks:
There are two types of risks associated in the business of money transfer;
· Competitive Risks
· Regulatory Risks
Let's talk about competitive risks first, which comes from two dimensions, existing competition (such as MoneyGram and Xoom) and competitive technologies for money transfer (such as PayPal). The main threat to WU business in future would be alternative methods of payment transfers. One such form is cell phone money transfer that might become prevalent in future. However, developing countries lack a broad infrastructure to quickly implement electronic means of money transfer and even such an infrastructure is developed, it might take citizen a long time to adapt to that since majority of transactions are still carried out in cash today. Thus it will still take a very long time for any serious competition to raise its head against current methods of money transfers such as via WU. MoneyGram has put itself up for sale. Xoom is a relatively new company although it has seen some explosive growth in recent quarters.
Concerning regulatory risk, money transfer firms are closely monitored by regulators for transfer of funds for unlawful purposes. Any violations at Western Union or its agents could have serious consequences. Additionally, any changes in immigration laws, making it more difficult for foreigners to enter the U.S. or other countries, could hurt money transfer volume. A weak global employment market could prompt potential money transfer customers to stay in their home countries or reduce the amount of money they can send home. Western Union generates a large portion of its revenue outside the U.S., creating meaningful currency risk that could act as a headwind if the dollar strengthens.
Conclusion:
Western Union is a good investment for a long-term investor, who likes a solid business model with power to generate a lot of cash. People trust only web established firms to handle their money and as long as fees are reasonable, they tend to stick to the same firm for money transfer. Furthermore, since it is relatively difficult to establish infrastructure in developing countries, WU's footprint is a clear competitive advantage that is almost impossible to replicate. With this well entrenched business structure of this company, we expect this company to generate cash for its owners for years to come.
Disclosure: I am long WU. I wrote this article myself, and it expresses my own opinions. I am not receiving compensation for it (other than from Seeking Alpha). I have no business relationship with any company whose stock is mentioned in this article.