Count me among those not taking much comfort from Friday's slightly-less-bad-than-expected US job losses. Looks like a long, hard slog back to economic prosperity.
Felix Salmon at Reuters is right to be concerned about the decline of some 7 million employed people since December 2007, and the 630,000 increase in "marginally attached" people during the last year.
…the absolute levels alone should be more than enough to depress anybody looking for any sign that the US economy is looking remotely healthy.
The OECD provides a disturbing chart in its latest economic assessment, showing that since the start of the recession the unemployment rate in the US has increased more dramatically than in almost all OECD countries and much more sharply than in Japan and other major comparable European economies other than Spain.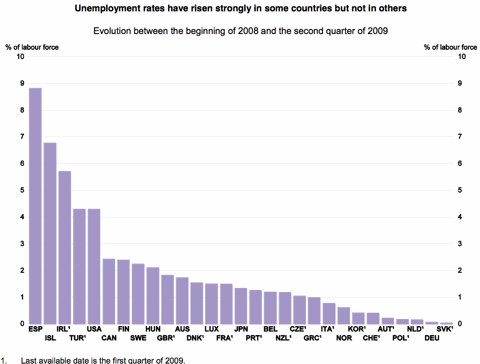 Tyler Durden at Zero Hedge points out that the "real" unemployment rate is 16.8% , including "total unemployed, plus all marginally attached workers, plus total employed part time for economic reasons, as a percent of the civilian labor force plus all marginally attached workers."
In other words, in reality the U.S. labor market is likely about as bad as Spain in terms of undoctored jobless data.
And then there's this chart of the day comparing job losses during the current economic recession (solid red line) to that of the last recession (dashed gold line) and the average recession from 1950-2006 (dashed blue line).
…the current job market has suffered losses that are more than six times as much as average (20 months after the beginning of a recession). In fact, if this were an average recession/job loss cycle, the number of jobs would have begun to increase five months ago.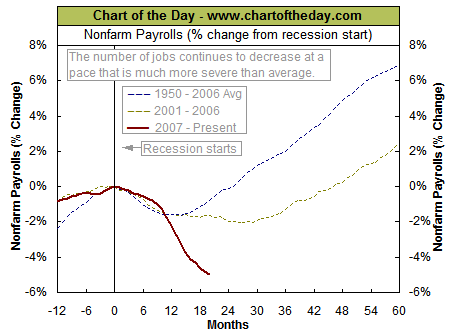 Ed Harrison at CreditWritedowns is a bit more optimistic but also offers several negative indicators including this:
The 12-month loss in seasonally-adjusted non-farm payrolls (NFP) is still increasing and is at a business cycle high of 5.8 million.
Bringing this back to the financial markets, Standard & Poor's finds an increase in the correlation between unemployment and credit card losses: historically, a 100% increase in the unemployment rate suggests about an 82% increase in credit card losses.
During economic downturns like the one we're currently in, however, this relationship becomes almost one-to-one (96%).
In other words, a 100% increase in the unemployment rate means a 96% increase in credit card losses.
The rolling 12-month percent changes in the unemployment and credit card loss rate levels, which have been far below 60% since 1992, are positively correlated. During the past few months, however, these 12-month percent changes have been around 70%, which suggests a steeper rise in credit card losses as a result of the rising unemployment rate.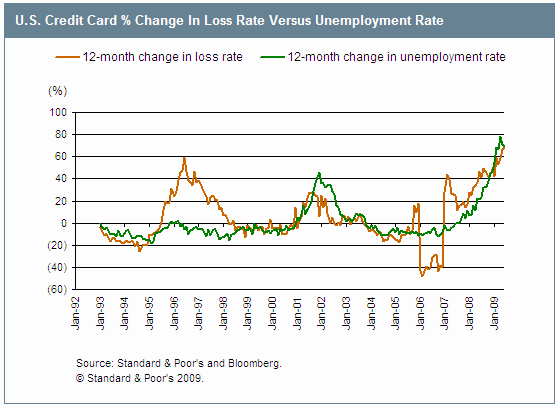 One also has to wonder about the impact of underemployment, especially in an economy with a growing number of non traditional jobs, and also how uncertainty over the outcome (or indeed the outcome itself) of health care reform may retard rehiring. Don't break out the champagne just yet.
(Bonus Weekend listening: for a historical perspective on employment, check out this podcast from The Back Story. If you can handle history professors channeling Click and Clack, this is for you.)