Royal Dutch Shell plc (RDS.A, RDS.B) reported dismal second quarter earnings, missing Wall Street expectations on both the top and bottom lines. The stock tanked post-earnings, dropping 5.7 percent on a day when the market averages were soaring.
I believe the real story lies behind the headline numbers. Investors should continue to monitor closely how company management is faring versus their 2012-15 Plan. The financial metrics associated with the Plan focus upon cash flow, capex, the balance sheet, and the dividend.
In this article, let's run through the second quarter results as seen through the prism of the Plan.
Refresher on 2012-2015 Royal Dutch Shell Plan
Here are the four primary financial milestones:
Improve operating cash flows between 30 and 50 percent versus the previous four-year period; the target is OCF of $175 to $200 billion over the period;
Capital investment of $120 to $130 billion over the period;
Maintain a strong balance sheet;
Link the cash dividend to the results
The goals and objectives are premised upon $80 to $100/bbl oil prices. If oil prices stay towards the upper end of the range, Shell management states the spending and results will follow along the upper Plan target ranges, too.
The Five-Second Takeaway: Plan Versus 2013 2Q Results
Disappointing, but not terminal. Half-year cash flows are beginning to fight in order to stay on top of the Plan; they were down YoY. Capex and major projects are on track. The balance sheet remains strong. As expected, the third quarter cash dividend was raised by five percent.
Unsurprisingly, Royal Dutch Shell management stuck to its guns during the conference call. Also unsurprisingly, Wall Street analysts peppered management with more questions about the Plan than second quarter earnings.
Here's a slide from the 2Q conference call presentation outlining overall financial progress against the Plan: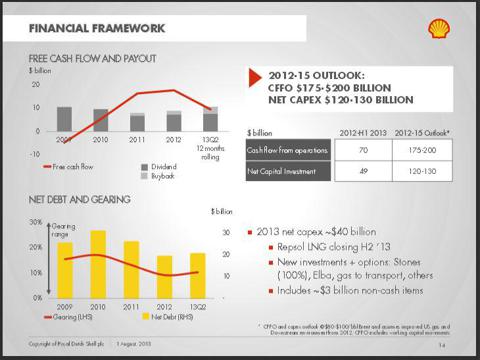 Let's Break It Down
First, the goals and objectives were premised upon $80 to $100 crude oil prices.
Oil prices have co-operated during the first six quarters of the Plan period. Indeed, Brent crude has been at or above the top of the range.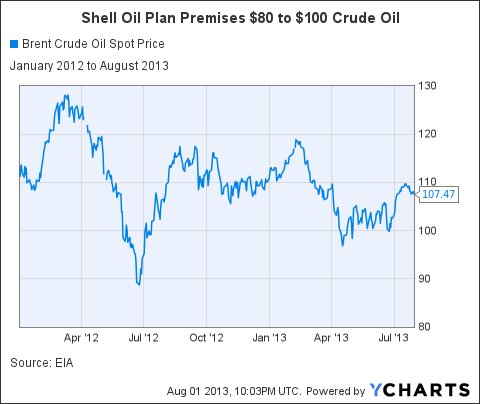 Brent Crude Oil Spot Price data by YCharts
Cash Flows
Super Major oil companies construct multi-year plans without great emphasis to over-manage each quarterly result along the way. Projects involve enormous expenditures, and often take years to reach fruition. Nonetheless, quarterly reports do provide investors sufficient information to calibrate longer-term goals and objectives. In particular, investors may seek early clues for the future need to utilize "hockey stick" forecasting to meet Plan: weaker results in the early years, coupled with overly-optimistic management promises to make it up in the "out" years.
Shell generated $46 billion Operating Cash Flow in 2012. That was a strong start. Through the first six months of 2013, the company has booked another $24 billion. Unfortunately, the 2013 mid-year figure is $2.7 billion less than 2012 over the same period.
Since the Brent crude price has been priced at the upper end of the premised range since January 2012, it seems reasonable to assume that successful Plan implementation should find 2013 cash flows at least flat with last year.
I premised Shell could generate OCF of $200 billion via the following annual totals:

A key projection is making $46 billion OCF this year. That simply matches the actual total for the preceding year.
Please let me reiterate that capital spent today will not return cash for months or years. Therefore, by definition, the cash flow expectations will have a back-end loaded element. This is acceptable.
However, if OCF falls below the 2012 level, it makes the chance of a four-year $200 billion total less likely even under the best scenarios. CFO Simon Henry delivered the following remark during the 2Q conference call Q&A session:
And we're talking about the five projects, so five out of 17, and the overall project growth is expected to deliver, we've said before, $9 billion of cash flow growth 2015 versus 2012...
Mr. Henry was referring to expected incremental cash flow with respect to five of seventeen major capital projects; the first five ready to go online shortly. Notice how capex spent today do not provide full cash returns for a couple of years. Such project "ramp up."
Bottom Line: Shell could still meet the top end of the four-year Plan, but there's little room for error after a relatively weak first half of 2013. Operating Cash Flow for the remainder of the year should be monitored closely and compared with reasonable forecasts for FY 2014 and 2015.
Capex
Shell intends to spend $130 billion net capital over the four-year Plan period. To date, $49 billion has been spent. During the first half of 2013, the company completed net investments of $19.1 billion with a full-year target of $33 billion. Indeed, growth capital is on track to meet targets for both this year and the overall Plan period.
At its core, Shell is an engineering organization. The company has the expertise and resources to expend the Plan capital on-time and on-budget. After the Russian Sakhalin Island fiasco a number of years ago, Shell redoubled its efforts to properly manage and contain its capital costs through improved project process management.
Bottom Line: Shell is tracked to meet its capex expenditures under the Plan.
Balance Sheet
Another keystone of the Plan is maintaining a strong balance sheet. One important metric to watch is "gearing," or a measure of corporate debt as a function of capital employed. In Shell's case, a stated Plan objective is limiting gearing to between 10 and 30 percent.
At the end of the second quarter, gearing was 10.3 percent, up slightly from the first quarter but well within boundaries.
Other balance sheet metrics finds Shell owning outstanding books: debt-to-equity, price-to-book, and liquidity measures are excellent.
Bottom Line: Balance sheet maintenance is not a problem for Shell.
The Dividend
Royal Dutch Shell management has promised to link the cash dividend to results. Thus far, they have delivered.
The company confirmed recent expectations for a five percent hike in the third quarter payout. The new, annualized dividend yield is 5.6 percent. The resulting yield is top-tier, even besting many high-yield bonds.
Meanwhile, Standard & Poor's offers Shell a strong "AA" credit rating.
Readers may note that Shell has a long history of raising the dividend, but fails to make many popular dividend databases. As a result of the 2005 merger between Royal Dutch Petroleum and Shell Transport and Trading, the payout was converted from being paid in Euros to Dollars, thus requiring manual updates to acknowledge the corporate and accounting changes. Nevertheless, the dividend has been increasing for at least twenty years.
Here's a helpful chart from the earnings presentation that outlines Shell Oil's source and application of operating funds for the past 12 months: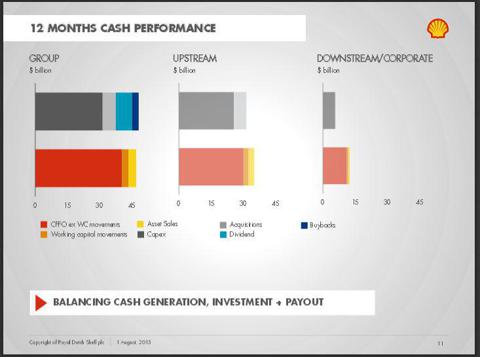 Bottom Line: The dividend is safe, and further improvement in cash flows will result in additional boosts to the already generous cash payout.
Summary
By all accounts, Royal Dutch Shell experienced and acknowledged a disappointing 2013 second quarter. However, investors taking a longer view should focus upon the company management fulfilling the 2012-2015 Plan.
In this respect, calendar year 2013 Operating Cash Flows have been adequate, but below those for 2012. This is troublesome. Such continued performance will begin to push the likelihood of management being unable to attain the upper end four-year target. Yet the higher target should remain the corporate objective given crude oil prices have played out towards the high end of the Plan's price range assumptions.
Capital spend, balance sheet maintenance, and dividends are all tracked per Plan.
Going forward, I intend to watch events in three areas that may prove distracting, directly or indirectly, to overall Plan objectives: the deterioration of operational and political conditions in Nigeria; generally weak North America E&P business results, including significant impairment charges for various shale oil plays; and the final regulatory and operational disposition of Shell's Arctic exploration efforts.
Please do your own due diligence before entering into any investment. Good luck with all your 2013 investments.
Disclosure: I am long RDS.A. I wrote this article myself, and it expresses my own opinions. I am not receiving compensation for it (other than from Seeking Alpha). I have no business relationship with any company whose stock is mentioned in this article.