Actionable Items:
Highest Positive Spread: Aberdeen Chile Fund (NYSEMKT:CH)
Focus Stock: JH Financial Opportunities (NYSE:BTO)
Last Week's Focus Stock: Nuveen Energy MLP Total Return (NYSE:JMF)
Downgr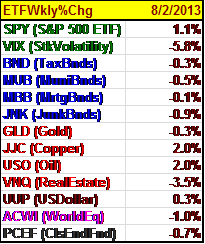 ades: The "Focus Stock" for the week was Nuveen Energy MLP Total Return. JMF had investments in energy MLPs. Oppenheimer's has reduced its energy MLPs from outperformed to the performed on July 31st, 2013. The top 10 holdings of JMF were down 1.4%.
MLPs: Energy MLPs are unique investments that combine the tax benefits of a limited partnership with the liquidity of common stock. An MLP has a partnership structure but issues investment units that trade on an exchange, like common stock. In order to qualify, a firm must earn 90% of its income through activities relating to natural resources, commodities or real estate.
Tax Advantages: MLPs offer a potential tax advantage because a portion of their payouts can be tax-deferred. The portion of a cash distribution that is not taxable must be subtracted from the original purchase price to compute a new cost basis.
When you sell, some of the gain will be taxed at the lower capital gains rate, but the portion of the gain that results from deductions (such as depreciation) will be taxed as ordinary income. As a result of the tax characterization of the cash distributions made by MLPs to their investors, in a typical year, a significant portion of the strategy's income will be tax-deferred.
Nuveen Energy MLP Total Return will accumulate your "1-K" and handle them for you.
ETF's % Change Week-to-Week: AssetAlloc (+3.9%), Mid-Cap (+2.5%) and Consumers (+2.3%) were the leaders this week over the previous week. Real Estate (-1.7%), Commodities (-1.4%) and NaturalRescr (-1.0%) were laggards for the week.
USDollar (NYSEARCA:UUP) ended up on the upside (2.0%). Gold (NYSEARCA:GLD) was a negative -0.3% and Copper (NYSEARCA:JJC) was a positive +2.0%. Bonds were slightly to the negative (see Chart 1).
images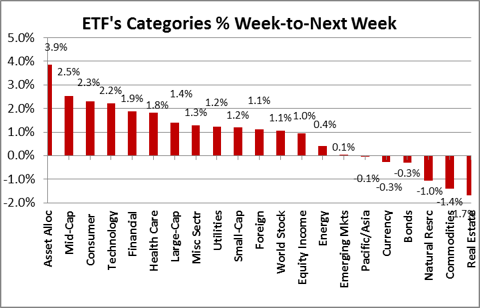 CEF Weekly Fund Type Performance: This week saw price rises for GenEqFnds (+0.5%), ConvtSecFnds (+0.5%) and WrldEqFnds (+0.4%). The laggards were WrldIncFnds (-1.6%), USMrtgBndFnds (-1.3%) and SpecEqFnds (-1.2%). SpecEqFnds were weighted down by REITs funds. Real estate was last (-1.7%) in the "Week to Week" (chart 2) and VNQ (Real Estate) was down in 3.5% in chart 1.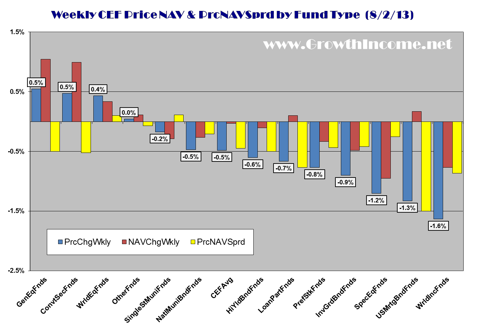 "Highest Spread" for the Week: Our "Highest Spread" for the week was. Aberdeen Chile Fund. CH had a positive share price of +8.1% and a negative NAV of -0.3%. The PrcNAVSprd was +8.4% (a positive number may mean a future decline in share price). CH, a WrldEqFnds, has a premium of 23.0% which is ahead of its 52 week premium of by 10.0%. The total assets were $115.1 million with zero leverage. The annualized quarterly dividend is 10.4% payable late September..
Lowest Spread and "Focus Stock" for the Week: JH Financial Opportunities was our "Focus" Stock" for the week. BTO's share price was negative -3.5% and its NAV per share was a positive +0.9%. Its PrcNAVSprd decline was -4.4%. (Stock prices typically go up.)
This BTO's stock is about financials. BTO seeks capital appreciation with moderate income through investment in equity securities of U.S. regional banks, thrifts and related holding companies.
Net assets were $432.1 million and the total debt was 17.8%. The premium is 0.34% with a 52 week average of 5.08%. The dividend in 5.0% on annualized quarterly bases. The distribution will be in mid-Sept.
Focus Stock & High Price for Last Week: Last week's "Focus Stock" for the week was Nuveen Energy MLP Total Return. JMF shares were down -0.7% this week from last week. The "Highest Spread" for the week is Gabelli Convertible & Income (NYSE:GCV) ("Highest Spread" seems to go down) where it went down a negative -3.5%.
Disclosure: I have no positions in any stocks mentioned, and no plans to initiate any positions within the next 72 hours. I wrote this article myself, and it expresses my own opinions. I am not receiving compensation for it. I have no business relationship with any company whose stock is mentioned in this article.