Estee Lauder (NYSE:EL) is a personal products company particularly prone to declines in discretionary spending. Its sales over the previous twelve months have served as strong evidence of this. This fact, coupled with strong stock price performance, gives the company only a 37% probability of producing the performance implied by its stock price. (See EL's RBP Snapshot as of Sep 4)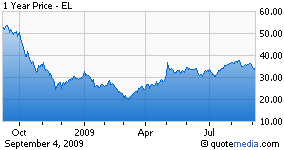 For the fiscal year that ended on June 30, revenue declined 7.3% versus FY08. For the fourth quarter, revenue declined 16% versus the same quarter a year earlier. The recent sales declines make the historical sales growth profile of Estee Lauder increasingly dismal, pushing the company's RBP Probability down by more than 30% during the month of August alone.

The recent troubles of the company notwithstanding, it finds itself in a strong financial position and well-positioned within its industry. However the near-term outlook for growth is very uncertain.

As the stock price was hitting its lows earlier this year, the company announced a new cost-cutting strategy that included both improvements in costs of goods sold and workforce reduction. The company is already very efficient and has been able to maintain extremely high margins for many years. It seems doubtful that the company can effectively boost margins further without affecting sales and earnings and therefore base our Required Business Performance calculation on the assumption that both gross and net margins remain constant.

Nevertheless, sales continue to decline irrespective of any improvement in operating efficiency. Also, as the broader markets have rallied over the last six months, Estee Lauder has stayed ahead of the pack, rising 75% from its March lows.

The market seems to assume Estee Lauder will return to the growth levels it experienced earlier this decade, when it was a much smaller company doing business in a much stronger economy. To support the current relatively high stock price, the company will need to grow at respectable rates in coming years. While not impossible, this is unlikely. Moreover, continued declines in sales will cause the company to fail to meet its Required Business performance and thus not support this stock price.