Martin Armstrong's Dow forecast can be summed up with these words he recently wrote in a blog post:
This market has not peaked yet, and it is destined for much higher prices ahead going into 2015.75
Back in my middle and high school track and cross-country running days, I became a big fan of a brand of sneakers called Saucony. I recall reading an article about the company in 1992 where the CEO said how his company was:
making running shoes for serious athletes who are more concerned about performance and less swayed by showy advertising. Nike and Reebok are flashy; They're marketing companies. We're in the shoe business, not the show business.
This was my kind of company. I think Economist Martin Armstrong falls under the same category. You'll never find him on Bloomberg or CNBC. Armstrong is in the forecasting business, not the show business.
Armstrong's Economic Confidence Model is an 8.6 year cycle of crisis in the global economy. 8.6 years is 3,141 days which is Pi x 1000. The Pi function plays a big role in many of his forecasting models. It last peaked in late February of 2007, right about the time the housing price indexes started to tank as that was where capital was flowing to and where the bubble peaked and thereafter created the crisis.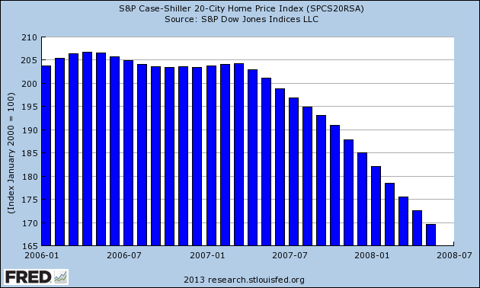 The next peak is October 1st, 2015.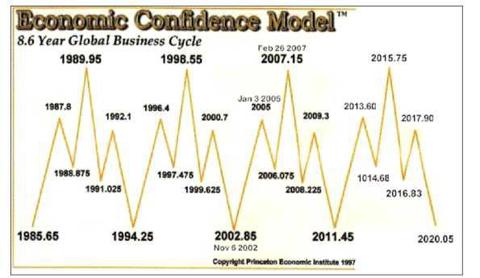 Global capital is flowing into U.S. stocks (NYSEARCA:SPY) (NYSEARCA:DIA) and that has been Armstrong's forecast all along. In August of 2009, he wrote a research note suggesting that the Dow would see 30,000+ by the 2015.75 peak. Who was giving such a bullish forecast in August of 2009?
Now that's he's been more than vindicated for his bullish forecast on the Dow, his notes I think are worth paying attention to.
Within each 8.6 year cycle, there are four 2.15 year turning points. We are approaching such a turning point on August 7th or 2013.60.
He's warning of a false move to the downside in the Dow after the August 7th turning point. He notes that August 7th happens to be 31.4 trading days after the Dow bottomed on June 22nd.
Armstrong wrote on August 1st:
Capital will begin to shift and start to make its decision. If we see a high on the 7th in the Dow, we may see the classic False Move to the downside for the typical time period of 1 to three units. This is what we may see. A brief correction with all the bears yelling I told you so, then followed by a rally that wipes them out. This market has not peaked yet and it is destined for much higher prices ahead going into 2015.75.
Here is a chart he included in his blog post on August 1st of the Dow in the 1920s leading to its peak and crash. He points out the 4 "false moves" to the downside before making the big rally and peak in October of 1929.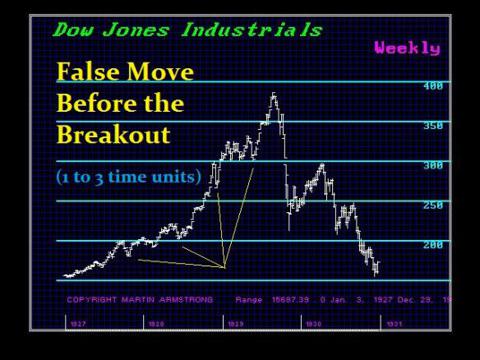 So investors should be on the look-out for a false downside move in the markets beginning as early as next week, maybe even starting on August 7th.
What Armstrong believes is driving money into U.S. stocks in the first place is what he refers to as a shift from public to private assets. We face a Sovereign Debt Crisis beginning likely in Europe and then Japan. Prior to those crises, capital will flow out of their respected Government bonds (public) and instead be invested in private assets like stocks and real estate is the logic. At the same time, the U.S. dollar is still the most trusted currency in the world, so capital will also flow into U.S. dollars thus fueling both a dollar rally and U.S. stock market rally into 2015.75.
We have to consider, stocks have done very well in light of such a poor recovery in the U.S. economy. There is not doubt corporate profits have in fact done quite well, but in terms of employment and real disposable personal income per capita, there was no recovery.
Armstrong put it like this in a July 10th blog post:
All I can say is that the MAJORITY absolutely must always be wrong. This has led to many accusing me of manipulating the world economy as if some plot in a James Bond movie. So just because the majority of articles are asking WHERE IS THE RECOVERY proves the point. Why have stocks NOT collapsed with a sharp rise in long-term rates already? June exports from China dropped sharply so that implies the USA consumer is buying less. Where will a recovery come from?

We are not dealing with a recovery that is rooted in economic expansion. We are dealing with a shift in assets from PUBLIC to PRIVATE and that does NOT require economic GDP growth. It is a move to safety.
The market does seem ripe for a correction. Especially in light of the very poor recent July jobs report.
I appreciate Armstrong's logic about capital flows flowing to the U.S. to be moved to "safety" in this interim. Company earnings have been strong coupled with a low interest rate environment. This has made the case for putting money into stocks these last 4 years now seems pretty rational despite the slow economic recovery.
In an environment like this however, where most stocks when looked at individually look expensive, it's better to just buy a low cost index fund to participate it it like (DIA) or (NASDAQ:QQQ).
Disclosure: I have no positions in any stocks mentioned, and no plans to initiate any positions within the next 72 hours. I wrote this article myself, and it expresses my own opinions. I am not receiving compensation for it (other than from Seeking Alpha). I have no business relationship with any company whose stock is mentioned in this article.