The Canadian REITs have been subject to a series of sell-offs in the past month as investors fret over the impact of rising interest rates. For the patient investors, however, this places them at incredibly attractive entry points. My chief recommendation among these is Canada's largest REIT, Riocan, currently offering a dividend of 5.75% and trading at levels last seen in 2011.
Riocan Real Estate Investment Trust (OTCPK:RIOCF) is Canada's largest retail REIT, boasting a portfolio of 54 million owned square feet in Canada and select parts of the United States. This REIT has been incredibly active in the last year, focusing heavily on its expansion into the northeastern states and Texas, and its partnerships in Canada leading to new and exciting property acquisitions, developments and re-developments.

Riocan's full year 2012 results gave a funds from operation of $1.52 per unit, giving it a Price to FFO ratio of 16 based on its most recent price of $24.32. Of this $1.52 per share, Riocan offers a dividend of $1.41 projected for the full year 2013, resulting in a yield of 5.80%. At this level, I believe Riocan constitutes an incredibly strong investment opportunity both from its current valuation level and from an operations standpoint.
Cash Flows and Funds From Operation
For the year ended December 2012, Riocan generated $440M in Funds from Operation, up from the prior year's $380M and its third consecutive increase from 2009. In turn, the trust paid out $1.38 per unit in both years, resulting in a total payouts for 2012 and 2011 of $400M (90.8%) and $367M (96.5%), respectively.
In terms of adjusted FFO, whereby the funds from operation are adjusted to reflect non-cash compensation and capital expenditures that would be considered maintenance, the payout ratio is even higher:
| | | |
| --- | --- | --- |
| Payout Ratios | 2012 | 2011 |
| Funds From Operation (FFO) | 90.8 | 96.5 |
| Adjusted Funds From Operation (AFFO) | 99.3 | 107.0 |
Riocan's successful ability to continue generating increased funds from operations stem from both regular increases in its portfolio of properties as well as the stream of acquisitions in Canada and the U.S. However, as seen above, Riocan is surely not using the funds from operations to finance any significant part of these acquisitions.
Growth in FFO does not mean growth in FFO per unit.
Therefore, the concern remains as a long-time investor, at what cost are we increasing FFO and is it worth it? If each new property in which Riocan invests results in a higher FFO but a lower FFO per unit, unit holders would be losing out on growth and the value of their units diluting with each successive investment.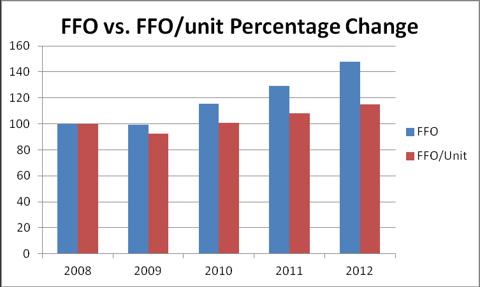 Taking the percentage increase of both FFO and FFO per unit, we can see that Riocan is successfully increasing returns to unit owners as it expands and completes acquisitions. While Riocan grew the FFO total by over 40% during the period, the returns per unit grew by 15% for existing unit owners.
This increase also takes into account the effects of the very poor year in 2009 where FFO in total declined and FFO per unit declined even further as more units were issued to earn less FFO. Should we be headed into another such economic circumstance in the near future, this would have a severely adverse effect on the value of Riocan's shares.
Taking only the most recent four quarters, the picture is even brighter: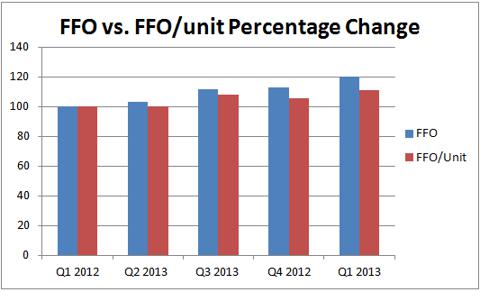 During the year ending in the first quarter, Riocan was able to increase FFO in total by 20 percent, and increase the FFO per unit by 10. Riocan is therefore able to generate improved returns per unit from its increases in total FFO.
Debt and Leverage
A more concerning aspect of Riocan's operations is the high degree of leverage employed. Riocan's debt of $5.477B gives it a debt to total assets ratio of 43.7%, although this figure is based on the more subjective fair value of the assets employed under the International Accounting Standards.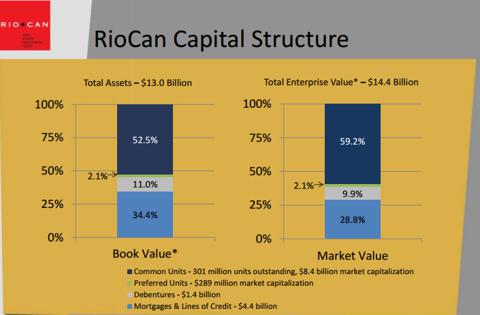 The overall weighted average interest rate on the debt is of $4.5%, or a percent and a quarter lower than the dividend yield on the shares. Management has strived to lower this rate through refinancing in the current low interest environment, and this average descends going forwards with debt at the 5+ years maturity bearing an average of 4.1%.
In terms of cash flow, $3.5B of this debt will come due in the next five years, with the remainder becoming due afterwards. This will put pressure on Riocan to continue issuing units or financing debt
Financing Debt and the Rising Interest Rate Environment
The impact of a future rate increase on Riocan's operations will be limited, at least in the short term. Only 6.3% of the total debt is at a floating rate, which means the vast majority of the debt will be isolated against the impending long-term rise in interest rates. Debt obligations taken on going forward for refinancing or future expansions will, however, be affected by these rising rates and this trend should slow Riocan's current expansion pace.
A larger concern to investors would be the continued sell-off of REITs. The current low-interest rate environment has caused yield hungry investors to take on more risk to match the returns required by their portfolios and this helped push the prices of Riocan and its fellow REITs in the past few years. As interest rates return to normal levels, we should see a good deal of this money flow out, which would result in negative pressure in the coming months
Capital Structure and Financing

In order to match its cash needs in 2012, Riocan increased its debt and equity by a total of $2,188M in the prior year, of which a third was through debt financing and two thirds through the issuance of units.

Of the total approximately 21 million units issued, the majority of these were under public offerings and Riocan's DRIP program, where investors can reinvest their distributions in trust units at a slight discount.
Riocan's two public offerings in 2012 were achieved at an average price of approximately $27.28 per unit. No such offerings have occurred so far in 2013, however, with the share price 10% lower than the average issuance price in 2012, this opens current investors to some degree of dilution should there be any more such offerings in the near term or should the unit price fail to recover.
Highlights from Operations - U.S. Expansion
Earlier in October 2012, Riocan announced the dissolution of a partnership with Cedar over its Northeastern U.S. properties. Riocan followed suit with a dissolution of its other major U.S. partnership with Retail Properties of America, Inc. in the first part of 2013.
Riocan's expansion into the U.S. was spearheaded with a partnership with the U.S. Cedar Realty Trust Inc. (NYSE:CDR) in 2009 for an 80% interest in 8 shopping centers in the Northeastern U.S. In the following three years, Riocan grew this portfolio to 25 properties through acquisitions, all the while relying on Cedar's expertise for their leasing and management.
Riocan followed a similar model for its expansion into Texas by forming a partnership with the U.S. Retail Properties of America, Inc. (NYSE:RPAI) for joint operation of retail properties in Texas
In 2012, however, Riocan grew apart from its partners, and its goals evolved into having control over these properties and acquiring many more. Through the opening of two regional offices, one in New Jersey and one in Texas, Riocan began to directly oversee its operations and acquisitions in the respective areas. Riocan dissolved the two partnerships in the last twelve months and exchanged ownership with its former partners to retain full control over the U.S. properties.
These dissolutions are favorable, in my view, as one of Riocan's greatest strengths is its management team, and this leaves the company with much more freedom in its U.S. operations, having let it first test the waters before diving in.
But Riocan still maintains a great deal of very important partnerships that are either beneficial or promising.
Tanger Partnership
One such partnership is with Tanger Factory Outlets Centres Inc. (NYSE:SKT) from the U.S. Currently, four properties are being developed in Ontario and Quebec with another site in Calgary being pursued. Tanger has an excellent business model, which results in a very profitable and high occupancy rate in its properties.
This partnership represents Tanger's expansion into Canada, and presents Riocan with a great opportunity to develop quality properties. With Riocan's own occupancy rate of 97% lagging behind Tanger's 99% and even its own peers, it could without a doubt benefit from this partnership, and it is my hope that this partnership won't end the same way Riocan's expansions into the U.S. did.
Conclusion
Like all REITs, Riocan relies on the funds raised from debt and unit offerings to pursue its acquisitions and operations. My biggest concerns with a continued investment in a REIT in the middle of a huge acquisition spree is that unit returns from acquisitions start to diminish should the units become diluted as part of the financing of these acquisitions. So far, Riocan has managed to successfully continue increasing returns year over year since 2009 through a combination of its acquisitions and increases in its existing properties. It has a promising line-up of acquisitions and should be able to continue doing so into the near future.
Coupled with the recent decline in share price across the entire sector, Riocan is in an excellent position to buy.
Sources: Riocan's 2012 Annual Report and Press Releases
Disclosure: I am long OTCPK:RIOCF. I wrote this article myself, and it expresses my own opinions. I am not receiving compensation for it (other than from Seeking Alpha). I have no business relationship with any company whose stock is mentioned in this article.