Telecom giant AT&T (NYSE:T) reported solid second quarter results, fending off intensified competition from T-Mobile (TMUS). Revenue grew 1.6% year-over-year to $32.1 billion, slightly ahead of consensus estimates. Earnings per share excluding one-time items rose 2% year-over-year to $0.67, falling a penny shy of consensus estimates. Free cash flow was relatively strong at $4 billion, equal to 12% of revenue.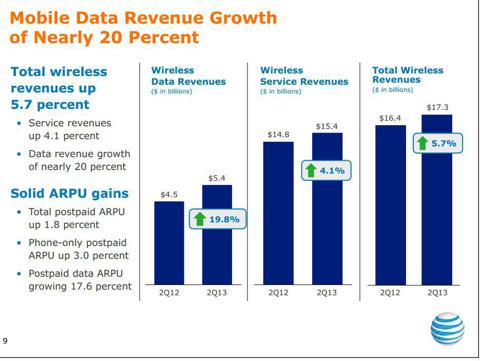 Image Source: T 2Q2013 Investor Presentation
Mobile data growth remained robust during the second quarter, surging 20% year-over-year to $5.4 billion. AT&T activated 6.8 million smartphones, posting a record quarter for Google's (GOOG) Android devices and LTE (35% of all smartphones). While we didn't get specific commentary on Apple (AAPL) iPhone activations, management noted that it activated more iPhones than in the prior year (3.7m units). 88% of all postpaid activations were smartphones, which is a very favorable trend for revenue growth.
During a quarter where rival T-Mobile finally started selling the iPhone, AT&T saw little customer defection, suggesting that the firm's service is improving. It also suggests, in our view, that customers are becoming aware of how important network speeds are for smartphones (so those companies with inferior networks such as T-Mobile may not be able to win over as many new customers).
Wireless EBITDA margins declined 340 basis points year-over-year to 42.4% as smartphones became a higher percentage of the product mix. We aren't worried about this development, but we do fear the new Sprint (S) will put downward pressure on industry prices. We'd like to see this number stabilize in the back-half of the year before Sprint starts to truly upgrade its network.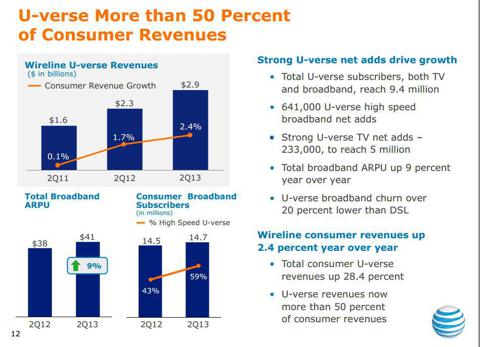 Image Source: T 2Q 2013 Investor Presentation
AT&Ts growth on the wireline side of the business continues to be slightly less exciting, but we are seeing solid broadband internet ARPU growth (up 9% year-over-year) and strong U-verse growth (up 28.4% year-over-year). As speed becomes more relevant to consumers, we anticipate high-speed U-verse revenue will continue to grow at a strong clip.
Business revenues were not as strong, declining 2.2% year-over-year to $8.9 billion. AT&T's management team singled out weak economic growth as the excuse, but we've seen enough strong data from other firms to know that such an excuse is invalid. We suspect a more mobile workforce simply may lead to greater wireless activations, leaving wireline less relevant. On the positive side, AT&T's Strategic Business Services revenue increased 15% year-over-year to $2.1 billion. In our view, this metric suggests enterprise and small business customers are having no issue with investing in AT&T's services if said services are relevant.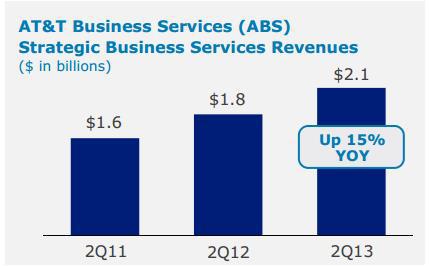 Image Source: T 2Q 2013 Investor Presentation
Valuentum's Take
AT&T did a solid job fending off wireless competition during the second quarter, and it appears LTE network investments are progressing as planned. Cash generation was once again very strong, and the firm repurchased a whopping 89 million shares for $3.3 billion during the quarter.
AT&T's network isn't up to par with Verizon's (VZ) just yet, and it will require considerable capital spending to bring it up to speed. Further, we think Verizon has a superior balance sheet and dividend growth profile. All things considered, AT&T has yet to pique our interests for a position in the portfolio of our Dividend Growth Newsletter.
Disclosure: I have no positions in any stocks mentioned, and no plans to initiate any positions within the next 72 hours. (AAPL) and (GOOG) are included in our Best Ideas portfolio (AAPL in our Dividend Growth portfolio, as well). I wrote this article myself, and it expresses my own opinions. I am not receiving compensation for it (other than from Seeking Alpha). I have no business relationship with any company whose stock is mentioned in this article.