"If you have an important point to make, don't try to be subtle or clever. Use a pile driver. Hit the point once. Then come back and hit it again. Then hit it a third time - tremendous whack." - Winston Churchill
That's exactly what I'd like to do with this article and Rock Tenn Company (RKT). While I will provide some company and market statistics that highlight the company's market leading position, as well as catalysts which I think have created a speed bump and short window of buying opportunity for the stock, in addition to additional growth prospects, my goal is to present to you what I believe is an excellent alpha rich opportunity as quickly and concisely as possible, so that you can do some of your own diligence and eventually decide for yourself if RockTenn is right for you. Now that we have the formalities out of the way, let's get started.
The Company
Rock Tenn Company is an $8.5 billion small cap company that was worth just over $5 billion at the beginning of 2013 and is one of North America's leading integrated manufacturers of corrugated and consumer packaging.

For the company specifics, rather than reinventing the wheel, I'll give you Yahoo! Finance's version:
"The company manufactures and sells corrugated and consumer packaging products in the United States, Canada, Mexico, Chile, Argentina, Puerto Rico, and China. The company provides containerboards, corrugated sheets and packaging, and preprinted linerboards for corrugated box, and industrial and consumer product manufacturers; converts corrugated sheets into corrugated products; and provides structural and graphic design and engineering services, and packaging machines. It also offers folding cartons for packaging applications; express mail envelopes for the overnight courier industry; and coated recycled and bleached paperboard products to manufacturers of folding cartons and other paperboard products. In addition, the company manufactures temporary and permanent point-of-purchase displays for consumer product companies; provides contract packing services, such as multi-product promotional packing and product manipulation; and manufactures lithographic laminated packaging. Further, it provides specialty recycled paperboard products and gypsum paperboard liners; and converts specialty paperboard into book cover and other products. Additionally, the company designs, manufactures, and sells solid fiber and corrugated partitions for glass container, beer, food, wine, spirit, cosmetic, pharmaceutical, and automotive industries; and offers die-cut paperboard components. It is also involved in recycled fiber brokerage and collection operations, including procuring, sorting, grading, baling, and processing various grades of recovered paper; and collecting aluminum and plastics for resale to manufacturers of these products, as well as the provision of waste reduction services that extract additional recyclables from the waste stream. The company markets its products through its sales force, independent sales representatives, and independent distributors. Rock-Tenn Company was founded in 1936 and is headquartered in Norcross, Georgia."
RockTenn simply puts it this way:
"RockTenn is one of North America's leading producers of corrugated and consumer packaging and recycling solutions. Based in Norcross, Ga., we employ approximately 26,000 people and operate more than 240 facilities in the United States, Canada, Mexico, Chile, Argentina and China.

With a low-cost position in the marketplace, RockTenn commits every day to creating and delivering value with innovation that produces new product ideas, generates revenue gains, improves equipment effectiveness and increases the quality of our work force. A performance-based, data-driven culture also helps us continuously reduce costs and increase customer satisfaction."
Clear Position as Industry Leader, Priced at a Discount
Now that you know what the company is all about, let's talk about why RockTenn seems to represent such a great alpha-rich opportunity. To start, RKT has seen incredible stock price appreciation YTD, climbing 65% already. Of course, that climb hasn't been without warrant, as the company has been crushing earnings estimates every quarter this year. Below you can see earnings guidance and actuals for RockTenn, as well as the corresponding share price. Although the entire year has been impressive, RTK's most recent quarter was certainly a sight to behold, as a $0.50 beat led to an instant 5.5% pop in the stock, from $106 to $112.


RockTenn has been led by its ridiculous, top-of-the-industry revenue and earnings growth rates. RKT's year over year quarterly revenue growth now sits at 6%, compared to close competitors Sonoco (NYSE:SON) at 2% and Bemis (NYSE:BMS) at -1%. Virtually all other paper and packaging competitors post lower revenue growth as well, including Avery Dennison (NYSE:AVY) at 1%, Domtar (NYSE:UFS) at -4% and MeadWestvaco at 1%, among others.
Even more impressive than revenue growth, has been RockTenn's ability to grow earnings as well. RKT delivered year over year quarterly earnings growth of 140% for Q3, crushing consensus estimates of $1.66 by $0.50. Again, competitors such as Sonoco, Bemis and Avery are posting EPS growth of 7%, 25% and 7% respectively, highlighting overall growth in the industry, but also reflecting RockTenn's emergence from the pack.
Below you can see yearly expected earnings for RockTenn, Sonoco and Bemis.

RKT also sports margins that rank the company at the top of the industry, and continues to improve them as a result of its initiative to focus on cutting operating costs through synergies. While RKT's gross margin of 18% is in line with industry standards (18% for SON and 19% for BMS), RockTenn's operating and profit margins (8.12% and 6.73%) are at and better than Sonoco's and Bemis's, which are 7.74% and 4.29%, and 8.53% and 3.74%, respectively.
Expanding RockTenn's margins is its initiative in reducing operating costs through the realization of economies of scale and the leveraging of synergies. As part of the company's recent Q3 earnings release, RKT stated that synergies and performance improvements were realized in the quarter that were $60 million higher than in Q3 of 2012, improving its already attractive margins. As you can see in the below slide from the earnings presentation, RockTenn has another $100 million of savings to realize in order to hit its goal of $550 million by Q3 2014. Given RKT's success already, and the fact that the Q3 time frame is actually an accelerated time frame, it seems that the company is positioned well to grow its margins even further, adding to its already surging earnings.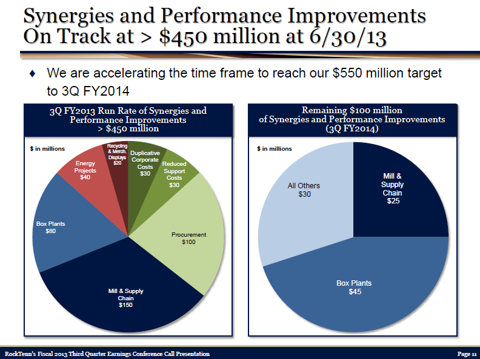 Lastly, RockTenn generates incredible cash flow, and has used this cash to steadily increase dividends, as well as to hint at stock buybacks and/or potential acquisitions. RKT had $216 million of cash flow available for dividends, investments, acquisitions and pension contributions in excess of expenses and net debt reduction. RockTenn believes that there are significant opportunities for investment which could represent 15% - 20% returns after tax.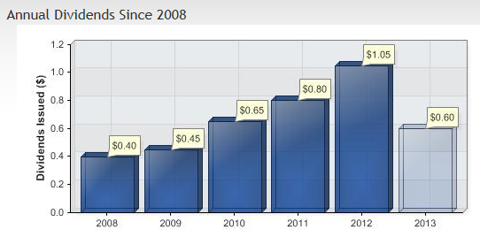 From RockTenn Website
Despite all of these advantages, RockTenn looks significantly cheaper than its previously mentioned close competitors, based on trailing twelve months' earnings, RKT's P/E current sits at 13.4, while SON is at 19.8, BMS is at 23.2 and Avery at 19.9. Price to sales and price to book ratios are a little more in-line with the industry, but still hint at the fact that RKT is undervalued given its growth, margins, cash flow and market outlook.
Below is a snapshot of how RKT stacks up to some of its competitors.

Recent Events Have Created a Short-Term Buying Opportunity
Even though RockTenn's rocket like trajectory appears to be unstoppable, there have been a couple of events that may have at least slowed the stock down just enough to offer an opportunity to jump on board.
The first and most obvious is the stock trading ex-dividend, which as expected generates a slight pull back. As with most dividend payers, especially a high flyer like RKT, this offers a good opportunity to get in at a slightly lower price that likely won't last.
Additionally, on July 25th, Deutsche Bank downgraded the stock from Buy to Hold while it traded at just over $114. The stock took a slight dip of a few dollars afterwards, but has since held steady and is now at $116. One interesting note regarding analyst coverage, DA Davidson downgraded the stock from Buy to Hold as well on April 24th while it traded at $99 and it was also downgraded by Longbow in September of 2012 while trading at $63 per share.
The only other analyst activity over the past year was the initiation of coverage by Barclays and KeyBanc in January and March.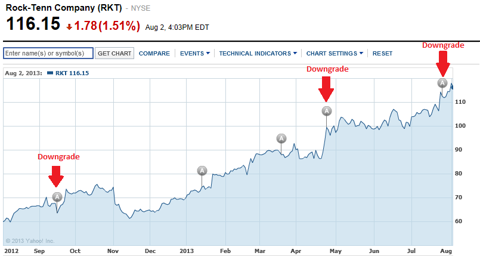 Chart Courtesy of Yahoo! Finance
Lastly, RockTenn recently announced management changes, with CEO Jim Rubright retiring on Oct. 31st of this year. Current COO Steve Vorrhees will become the CEO upon Rubright's retirement. Voorhees joined the company in 2000 as CFO and became president and COO in January of this year. At the same time, independent company director Stephen Felker will become chairman of the board and Ward Dickson will join the company from Cisco Systems as CFO.
These management changes and downgrades are not necessarily bad signs, and likely represent additional pieces of news that have slowed the stock just enough for more alpha seekers to hitch a ride.
Short and Long-Term Catalysts for Earnings Growth
In addition to the previously mentioned metrics which seem to position RockTenn very well, there are several short and long-term catalysts which I believe will continue to drive the stock higher during the rest of the year and for years to come.
The first near term catalyst (Q4 2013) is key input pricing, and more specifically the price of natural gas. The company uses an estimated 35 bcf of natural gas per year, and paid on average $4.09 in Q3 2013, compared to $3.34 in Q2 2013 (per mmbtu). The Q3 cost brings full year estimated usage to $143 million. Over the last couple of months, natural gas prices have come down considerably, and now hover at $3.34, the same average range that RKT paid in Q2. As inventories continue to keep prices low, or even push them further down, at these levels, RockTenn would recognize an additional $6mm in savings for Q4, just on natural gas savings. This savings would equate to $0.08 of incremental EPS.
Another shorter-term catalyst (Q3 2014) will be the savings that are recognized in earnings as part of RockTenn's continued focus on synergies and process improvement. RKT has already realized $450 million of savings as part of this program and expects to generate another $100 million of savings over the next 12 months. Given its already stellar success in this field, I see no issue with the company meeting this goal, a goal that could add $1.39 of earnings per share over the next year. Those incremental earnings alone would equate to an addition of $20 to the stock price, even at an industry low P/E of 14, if all of the savings were to pass through to the bottom line.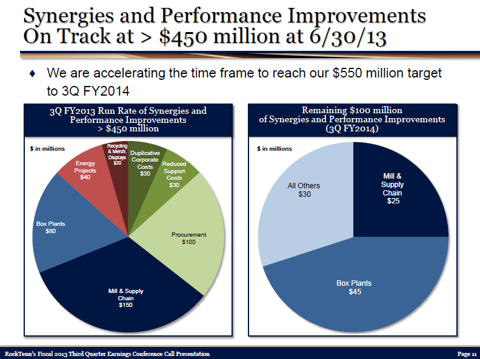 Cash flow and balance sheet, and as a result, mentions of buybacks and strategic acquisitions represent additional catalysts that could drive RockTenn's revenue, earnings and price higher. Although, as previously mentioned, RKT has steadily increased its dividend over the years, the company's payout ratio of 1% is considerably lower than what you'll find among its competitors, with payouts ranging from 2.5% to 3.5%. Investors seem to be okay with the lower payout, and I believe this highlights RKT's dedication to reinvesting in the business and growth through acquisitions, and is a big reason why the company has positioned itself very competitively.
Lastly, my favorite growth catalyst and is a long-term one, and is what has drawn my attention to this industry and RockTenn in recent months. The catalyst involves the growing concern around the levels of BPA found in canned foods and also in plastic containers, given its link to child development and cancer. I believe growing concerns could continue, and eventually increase the rate at which companies package their goods for consumption in something other than cans. While glass containers are ideal, they can be tedious and expensive to make, especially relative to more sustainable, paper based products. You may have noticed that you are beginning to see more products on shelves that are now stored in boxes, rather than cans or plastic bottles.

The most common examples of this currently include soups and juices, especially those sold as all natural or organic. A private company named Tetra Pak makes many of these types of containers, but I believe RockTenn has positioned itself very well to take advantage of what could be an incredible revenue opportunity in the coming years, as consumers look to move to a more healthy alternative. This is especially the case given RockTenn's focus on sustainability, and since questions have been raised around refining the design of Tetra Pak type containers. The canned food market is estimated to be worth over $80 billion annually. Just imagine every can of Campbell's (NYSE:CPB) soup in a small box made by RockTenn, rather than a can.
Conclusion
Given RockTenn's revenue and even more incredible earnings growth, along with its already industry leading and improving margins, the company seems poised to take advantage of its industry's expansion, capturing market share through the economies of scale that it has developed as a result of being one of the industry's largest players, and through the incredible cash flow that the company hints at using for share buybacks and strategic acquisitions. As management continues to dump cash into the business in order to expand, which is highlighted by RKT's lower than average, but growing dividend payment, and as the company continues to hammer away at its goal of saving a total of $550 million in operating costs through synergies and process improvements, I believe the stock will continue to beat analyst estimates for the foreseeable future. Of course, this is all in addition to RockTenn selling for roughly 5 times earnings less than all of its closest competitors, which makes this growth superstar undervalued by roughly 35%.
All that said, I have a 12 month price target of $150 on the stock which represents a 30% upside. I'm also eager to see how the BPA and canned good story will play out over the coming years, and at this moment I believe this potential transition makes RockTenn a very interesting stock to watch and own for the long term.
In closing, this article is not meant to be an exhaustive analysis of RockTenn, but rather highlight what I believe to be major contributing factors to the company's previous and coming success. I encourage all readers to review the company's Q3 earnings presentation, as well as the presentation used at a recent Deutsche Bank conference presentation for additional info about RockTenn (links below). There is quite a bit of additional information there which I did not go into for space limitations, but that likely strengthens the case for RKT's success
Deutsche Bank Conference Presentation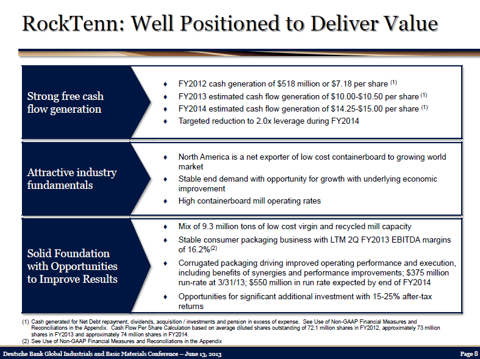 Disclosure: I have no positions in any stocks mentioned, and no plans to initiate any positions within the next 72 hours. I wrote this article myself, and it expresses my own opinions. I am not receiving compensation for it (other than from Seeking Alpha). I have no business relationship with any company whose stock is mentioned in this article.
Additional disclosure: This article expresses the opinion of the author and is not a solicitation to buy or sell any security. Before making any investment decisions you should always consult a personal financial advisor.