The dismantling of the Russian potash cartel is expected to put serious downward pressure on potash prices and as a result, all the major potash producers saw their stocks fall off a cliff last week.
Russia's Uralkali is leaving the cartel and plans to sell potash below market levels to capture market share, looking to increase volume sold, sacrificing price. The disbandment of the Russian potash cartel leaves Canpotex as the remaining cartel, which includes Potash (POT), Agrium (AGU) and Mosaic (NYSE:MOS). All these major potash producers are now down at least 15% year to date...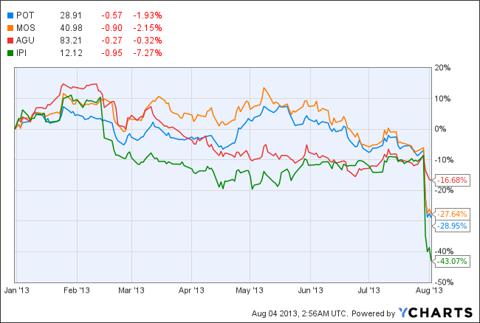 Based on Uralkali's actions, prices of global potash could fall up to 25%. Looking across the spectrum of major potash producers, POT has the best return on invested capital. Agrium gives POT a run for its money when it comes to free cash flow...

...and the nice thing about POT is that it saw over a much greater overreaction, down nearly 29%, compared to Agrium's only 16% pullback. But POT reigns supreme with a 4.8% dividend yield, more than double Agrium's 2.4%. POT hasn't offered investors this type of dividend yield since the early '90s.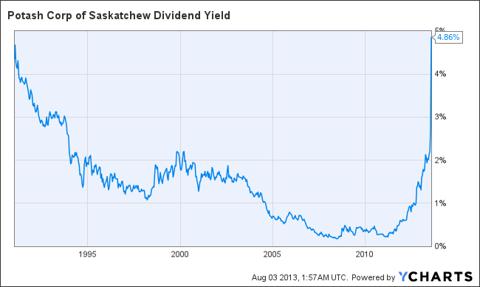 POT is the world's largest integrated fertilizer products company by capacity. It's also the largest producer of potash in the world. The company believes its operations makes up 20% of global potash capacity.
Quick history
The government of Saskatchewan founded POT in 1975 and in 1989 it became a publicly traded company, with the government divesting its interests. POT had annual production capacity of 15 million tons of potash (compared to the near 8 million tons at the end of 2012) from six mines in Saskatchewan and one in New Brunswick.
POT's breakdown for gross profits includes 58% from potash in 2012, with North America representing 40% of segment sales. Phosphate makes up 13% of gross profits and PCS nitrogen accounts for 29% of gross profits.
Despite a potential 15% to 25% fall in the average selling price of potash for POT in 2013, the nitrogen and phosphate segments should help hedge these declines.
Nitrogen, phosphates and potash are the three primary plant nutrients that are essential for proper crop nutrition and maximum yields. These three are required. No substitutes allowed. Population growth, improving food consumption awareness (i.e. diet) and urbanization of emerging markets are all long-term secular tailwinds that should boost the industry.
Why invest now
So the real question is where should the potash companies trade?
The potash companies are now trading relatively in line with other major miners, such as Vale (NYSE:VALE) with an 11x P/E, Alliance Resource Partners (NASDAQ:ARLP) 11x, BHP Billiton (NYSE:BHP) 17.5x, Freeport McMoRan (NYSE:FCX) 10.4x and Southern Cooper 11.7x.
However, the correction in pricing could have overcorrected.
Let's have a look at how POT's now trading. After the pull back it's now trading at a P/OCF that's well below historical levels. The last time POT traded around 7x operating cash flow was in 2008, when the stock was $18.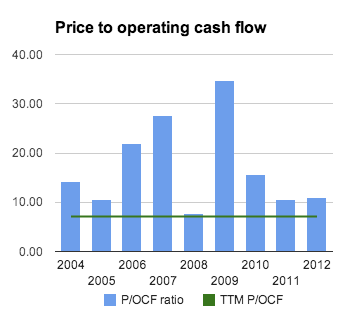 Earnings estimates took a dive after the pricing scare, with 2013 EPS estimates falling by over 12%. The current 2013 estimated EPS is in the mid-range of POT's recent guidance of between $2.45 and $2.70.

Prior to the pullback, POT traded at...

But after the pullback in the stock's price and revised EPS estimates the stock is trading at a P/E that's at a steep discount to just a week ago...

All-in-all
There's still a fair amount of blood in the streets, with the exact fallout of the news still being digested by the markets. For now, the major potash producers have appeared to show levels of stabilizing. We believe the market overreaction is a great opportunity to get into the leading potash producer for the long-term. POT CEO said it best during the 2Q earnings announcement...
As this need for crop nutrients, especially potash, continues to grow, we believe it translates into significant opportunities for our company. As we have seen throughout our history, the timing of increases in demand and prices is not perfectly predictable, but we are confident that a commitment to running our business responsibly and with patience will be rewarded. We will continue to do the right things for long-term success, managing our assets to maximize the benefits for all our stakeholders.
Disclosure: I have no positions in any stocks mentioned, and no plans to initiate any positions within the next 72 hours. I wrote this article myself, and it expresses my own opinions. I am not receiving compensation for it (other than from Seeking Alpha). I have no business relationship with any company whose stock is mentioned in this article.