Commodity prices continue to come under pressure with red arrows across the board this morning. We would point out our 'Chart of the Day', which once again highlights palladium. It appears that the rally did in fact stall out at the $750/ounce level and now we will have to see whether traders push the metal back down to the $650/ounce level or even the $600/ounce level. If vehicle sales continue to gain strength, and should a rebound occur in those sales in Europe, then any downturn will be short-lived. We are not buyers of the metal, nor those equities which have exposure to it, but for readers who are interested North American Palladium Ltd. (PAL) is one name traders have historically liked to use to trade and gain exposure to movements in physical palladium.
Chart of the Day: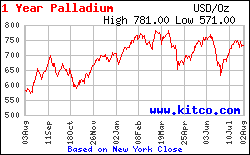 Source: Kitco
Commodity prices this morning are as follows:
Gold: $1305.70/ounce, down by $4.80/ounce
Silver: $19.69/ounce, down by $0.222/ounce
Oil: $105.85/barrel, down by $1.09/barrel
RBOB Gas: $2.9543/gallon, down by $0.0404/gallon
Natural Gas: $3.336/MMbtu, down by $0.011/MMbtu
Copper: $3.16/pound, down by $0.0125/pound
Platinum: $1444.60/ounce, down by $6.90/ounce
Oil & Natural Gas
As we pointed out in our article on Friday, it is becoming very clear that 'Big Oil' is falling behind in production growth versus the shale drillers, and historically, whenever the large oil companies have fallen behind in production growth their share prices have tended to underperform, for obvious reasons. Bloomberg has an article out this morning (located here) discussing the situation and how bad the actual numbers are. Bloomberg does highlight EOG Resources (EOG) which will report earnings tomorrow and we would argue that most of the positive points the article makes would also apply to Chesapeake Energy (CHK). Further, if one was looking at this situation as an opportunity for 'Big Oil' to buy these domestic shale plays, we think that Chesapeake would make a far more attractive target long-term than other names possessing exposure to just one or two shale formations.
Looking back a few years would give one an idea of what Chesapeake could be worth if someone were interested in buying the entire company. We think it unlikely, but it is within the realm of possibilities now that new blood has been put in place.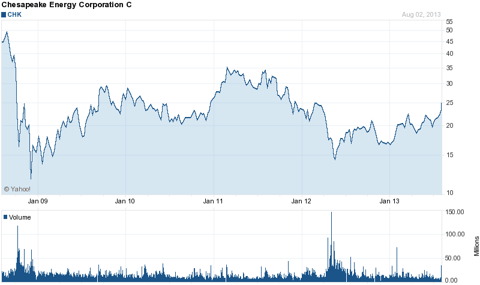 Source: Yahoo Finance
Coal
On Friday we also discussed coal as Alpha Natural Resources (ANR) reported its quarterly results which were below the market's expectations and the guidance was not rosy. Our thinking was that shares could test the 52-week lows, and shares did trade within the zip code, but never really threatened. What we did find interesting is that both Alpha and Arch Coal (ACI) are now trading near the June lows (when both set their 52-week lows) and both are trading beneath levels we have previously pointed out as being psychologically important. When Alpha is beneath $5/share and Arch below $4/share, one has to wonder how much uglier this can get.
No matter how you look at these two names, either a 1, 2 or 5 year chart, the pattern is always the same - from the upper left hand of the chart to the lower right, and that is most certainly not bullish.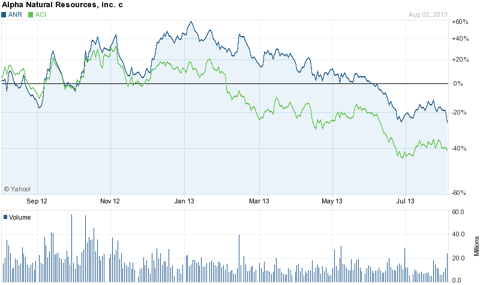 Source: Yahoo Finance
Calling a bottom after the comments by Alpha's management team during their conference call (transcript located here) is nearly impossible, especially as we now know that exporting via the Atlantic is not profitable, generally speaking. We are closer to a bottom today than we were a month ago, but other than saying we are a month closer to that bottom, one cannot say definitively how much closer we are. With Australian prices declining as well, we think that this might be the last shoe to drop. With that said, we are continuing to pay attention to this situation as we have been for the past year or so.
Disclosure: I have no positions in any stocks mentioned, and no plans to initiate any positions within the next 72 hours. I wrote this article myself, and it expresses my own opinions. I am not receiving compensation for it (other than from Seeking Alpha). I have no business relationship with any company whose stock is mentioned in this article.